Playtex Baby Nurser With Drop-Ins Liners 4oz Baby Bottle 3-Pack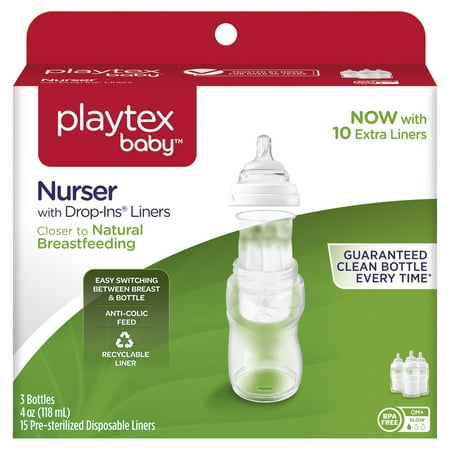 MSRP :

$14.99





Sale :

$13.97

Sold & shipped by Walmart
Product Description

Additional Information

Reviews
Product Description
The Playtex Drop-Ins 4-oz Bottles feature holders and pre-sterilized, disposable liners that collapse to keep air out of the bottle. The bottle's design incorporates a clear holder for optimized intake monitoring. The drop-ins collapsing liners enable regular breathing and suction patterns. After each feeding, the liner of the Playtex nurser bottles is discarded, which makes cleanup easier. This unique system has been clinically shown to help reduce gas, colic and spitting up. This set of 3 Playtex baby bottles are BPA-free. The bottles feature a wide-based soft silicone NaturaLatch nipple that's easy on a baby's gums. The Playtex Drop-Ins 4-oz Bottle are designed for quick and easy switching and preparation, making this product ideal for busy parents that are always on the go.
Additional Information
CLOSER TO NATURAL BREASTFEEDING! Simulates same suck, swallow and breathe patterns as breastfeeding
CLINICALLY PROVEN to help baby latch on naturally
EASY SWITCHING BETWEEN BREAST and BOTTLE FEEDING
Reviews
ChristinaR
Title
I used the original drop in bottles for my oldest son which is 13y/o, and use them still for my second child which is 4mo. It has always been easy to use. Neither of my babies had or has issues with colic. I do prefer the bag liners rather than the drop ins. Although I can only get about an ounce less than the size of the bag in there; I wouldn't use anything else for the newborns!
JBais
Measurements off and Nipple collapses
I️ bought theses bottles because I used them with my first two children (now 8 and 11 years old). I loved using them with my first two children and therefore didn't think twice about using them again for my newborn. Now that my newborn has started using them I've realized that they changed in many ways. A few of the things that I've noticed so far: The measurements are off. The liner no longer expands like I did in the past. You have to continually squeeze the air out of the bag everytime you remove the bottle from the baby's mouth. The nipple keeps collapsing. It's so soft it has made it hard for my baby to latch on. I'm very disappointed in this new version of drop ins. I wish the old ones would come back. It's also disappointing because I feel like I've wasted my money buying the set. At this point I really would like my money back.
Kristin12345
Measurements are wrong
I love the bottle itself but it's very frustrating that the measurements are wrong on the bottles. We have to pour the water in another bottle to measure and then pour over into the playtex bottle. Playtex should correct this or note this on the box or in the directions. When mixing water to powder formula it makes a difference! I use the 8oz bottles and they are an 1 whole ounce off, which is a half of scoop of powder formula. Why is this not noted for parents? I also wish they would make it easier for parents to get hand all the way in the push the air out.
Arijax
Bring the bags back!!
These are terrible and I'm so mad that the original bags aren't an option anymore. The bag liners allowed for the removal of all the air!! Why change a good thing! 4 babies and I've always used the standard liners, baby #5 means I will be using a different brand.
CourtneyMitchell
Hate hate hate the new design.
I have three kids and for my two oldest I used the playtex dropins and loved them. After my second finally moved on to sippy cups i gave them all away to a friend. Biggest mistake ever!!!! When I found out I was pregnant with my third I didn't hesitate to buy these again. At first I thought the new design was great, that lasted all of 2 minutes. First, when I run them threw the dishwasher all kinds of soap and gunk gets trapped in the lip were the two parts come together. Second, they leak!! Every single one leaks around the twist to click "spill proof" lid. Third, I have always squeezed the air out of the liner before giving it to my baby with no problems. But with the new design the liner always comes loose from the ring and I get a formula shower. I'm on WIC and formula is so expensive I don't like to waste a drop so this really upsets me. I loved the old bottles, but now it seems I have wasted a lot of money because I bought 8 of the 4 packs and can't even use them or return them.