Playtex Baby Nurser With Drop-Ins Liners 4oz Baby Bottle 3-Pack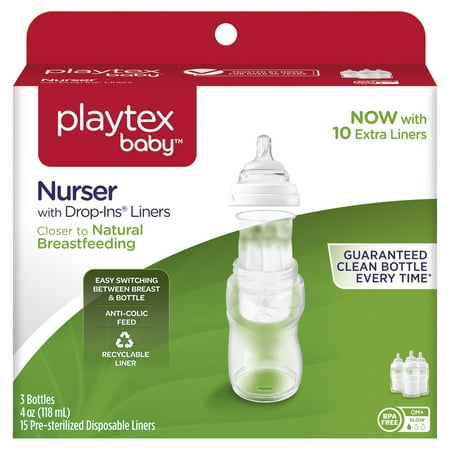 MSRP :

$7.55





Sale :

$6.79

Sold & shipped by Walmart
Product Description

Additional Information

Reviews
Product Description
The Playtex Drop-Ins 4-oz Bottles feature holders and pre-sterilized, disposable liners that collapse to keep air out of the bottle. The bottle's design incorporates a clear holder for optimized intake monitoring. The drop-ins collapsing liners enable regular breathing and suction patterns. After each feeding, the liner of the Playtex nurser bottles is discarded, which makes cleanup easier. This unique system has been clinically shown to help reduce gas, colic and spitting up. This set of 3 Playtex baby bottles are BPA-free. The bottles feature a wide-based soft silicone NaturaLatch nipple that's easy on a baby's gums. The Playtex Drop-Ins 4-oz Bottle are designed for quick and easy switching and preparation, making this product ideal for busy parents that are always on the go.
Additional Information
CLOSER TO NATURAL BREASTFEEDING! Simulates same suck, swallow and breathe patterns as breastfeeding
CLINICALLY PROVEN to help baby latch on naturally
EASY SWITCHING BETWEEN BREAST and BOTTLE FEEDING
Reviews
Baybee
Timeless security!
I have used Playtex nursers with drop ins with all 3 of my children! The third uses them right at this time! And for 11 years they have been a timeless addition! I can always depend on them to be easy affordable as well as dependable! They have never ripped on me, they have also been easy to clean! All though the designs have changed the awesome quality has never changed! ( I must admit i sometimes use the classic ones) My babies have all stayed on the nurser aslong as they were on a bottle and have refused any other kind of bottle when it was offered to them! Playtex has been helping me raise healthy children since 2004!!
Kara
Love them !!
The playtex drop ins are amazing. My mom used them 22 years ago with me and have me one of my bottles to use for my first son 21 years later. My first born never had gas or anything. And now number two uses them and they both used the bottle I used as a baby. I love that I can push the air out and not worry about any extra air getting in their bellies. :) love them and I always tell everyone they are great bottles. Easy clean up too, throw the drop in away and you only have to boil the nipple and rings. Just wash the bottle and don't need to worry about formula getting gross in them! Plan on using them with every child.
TammyE
Best bottles ever made!
I breastfed all 3 of my children and I tried every bottle on the market to use to supliment my children while on the go. When I tried Playtex nursers we were hooked! My daughter would break suction with every other bottle we tried, even the high dollar bottles, she didn't have that problem with playtex nursers. Also babies don't swallow air so they don't get fussy. My oldest is 18 about to be 19 and will be having his first child soon. I already bought playtex nursers for my grandchild! I even bought some for my friends baby who was having the same problem my daughter had, she is doing better now.
Daniellerosaria
The best bottle ever!
I have 3 kids, and we always used playtex ventair well after they discontinued he standard ones, and while our newest baby was only A few months old, we had no choice but to choose a new bottle. We caved and tried this one. The only upsetting thing was me not using them for my other 2 kids!! What an easy concept this is!!! No worrying about washing bottles and getting the gross milk of the bottom of a bottle.. No xtra pieces to put back together! I just love it!! I wish I tried them even sooner!!
Fania2148
Very Convenient!
I Have Used Playtex Bottles With My First And Second Born Children.....My Second Child Is Now 8!!! They Were Great Back Then.... And Way More Improved Now! I Was So Happy They Still Made Them So That I Was Able To Get Them For My Third! They Are So very Convenient... Especially When You Are Traveling. They Also Are Very Sanitary.... Dont Have To Worry About Washing Bottles Out Because Of The Convenient Liners!!! I Absolutely Love These Bottles.