Playtex Baby VentAire Complete Tummy Comfort 6oz 3-Pack Baby Bottle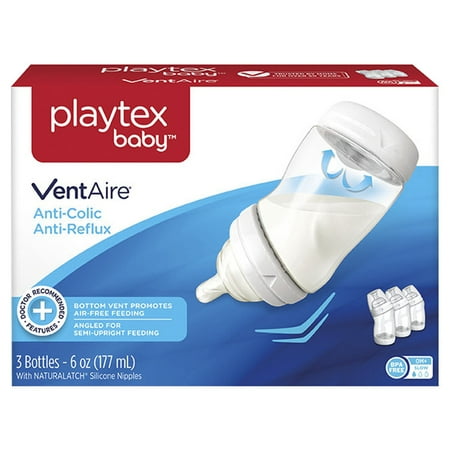 MSRP :

$12.18





Sale :

$7.09

Sold & shipped by Walmart
Product Description

Additional Information

Reviews
Product Description
Playtex VentAire Bottle Comfortable Feeding:
Playtex knows babies best for better beginnings. And the proof is in our Playtex VentAire bottle. The VentAire is uniquely designed to reduce colic, gas and spit-up through a bottom venting system that helps reduce air ingestion.
Additional Information
Unique ANTI-COLIC BOTTOM VENT
Angled Design HELPS PREVENT EAR INFECTIONS
EASY SWITCHING BETWEEN BREAST and BOTTLE FEEDING
Reviews
Tatt2edtears06
Lovely Bottles.
I recently received VentAire 6oz bottles set of 3 with wide slow flow nipples. My daughter seems to really like them, but I need to get her faster flowing nipples, she is a little too old for the slow flow. I love the venting in the base, helps child with gas it seems, and the fact that it all unscrews for easy cleaning is awesome. It gets a little tricky sometimes when you screw on the lid, as you want to hold on to the bottom, but cant without accidentally unscrewing it as well. I LOVE LOVE LOVE the wide nipples. They are much more natural feeling than the skinny nipples and my daughter seems to enjoy them. Also I freeze my breast milk into ice cubes, and these wide nipples and neck of bottle make it easy to just pop a few cubes in the bottle to let it pre-thaw. Last but not least the curve of the bottle, I like this because my daughter doesn't quite get the idea that she must hold her bottle up for anything to come out, I really think this aides in the whole self feeding. Lovely bottles, will most likely buy more in the future.
Mamachapman
I love these bottles, but...
I when I had my first baby in 2012, I tried a lot of bottles before settling on these ones. They helped so much with gas pains and fussiness! There are a lot of pieces, but is much easier to clean in my opinion. When I had my second baby this winter, I bought more of the 6oz size and noticed they're a little different. They're a little more ergonomic to hold, and they're a little wider. The main difference though, is the ink they used for the markings. They are scratching off pretty easily after only a month of use, which makes the bottle very difficult to use when you use formula like I do. I am very disappointed about this, because I truly love these bottles and have recommended them time and time again, but if I can't read the markings they aren't very worthwhile. I should add that I mostly hand-wash the bottles, occasionally they go in dishwasher on top rack (which says is ok).
Barbie
Problem With the Bottom Seal
Hi. I have an issue about the new bottles I bought from Playtex where the bottom can't be completely sealed. The water or milk spill everytime. When sealed, it's easily removed by simple move. Would you know where can I write or email a complaint about it? I never had these issues with the Ventaire Slim bottles, just with this new release. My friend bought 2 sets with 5 bottles inside and 3sets with 3 bottles for me in the US, Los Angeles, total of 19 bottles that we can't use. Please let us know how you can help us. Thanks.
Amis
Love these...
Ever since my son, who is now one, was bornI've used the playtex ventair bottles. I wouldn't use any other bottles. I fell in love with them because at the time of my son's birth, he had a lot of issues with colic, and just being gassy in general. I quickly noticed that when I used the Ventaire products, my son's gassiness and fussiness decreased considerably. I owe the first few months of my sanity in that tough time to Playtex.
Julissas Daddy
Disappointed SMH
I Got these bottles as a gift and they seemed good at first so we bought some more, now they are horrible.. They leak every time my baby girl drinks from it. Even when we shake it. So much milk goes to waste and that's milk my baby isn't getting to drink anymore. The bottom doesn't even close evenly, I tried to match the arrows but still not closed good enough..I want new replacement or something bcus was just a waste of money.