Playtex Baby VentAire Complete Tummy Comfort 6oz 3-Pack Baby Bottle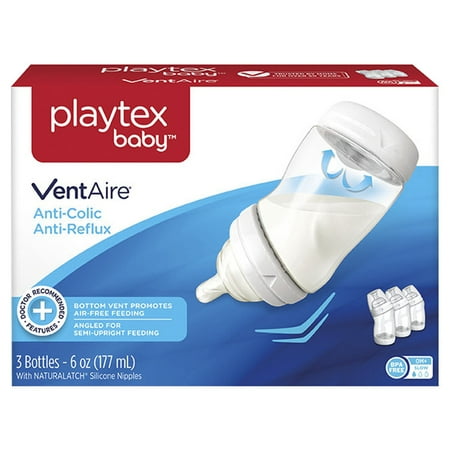 Sale :

$12.18

Sold & shipped by Walmart
Product Description

Additional Information

Reviews
Product Description
Playtex VentAire Bottle Comfortable Feeding:
Playtex knows babies best for better beginnings. And the proof is in our Playtex VentAire bottle. The VentAire is uniquely designed to reduce colic, gas and spit-up through a bottom venting system that helps reduce air ingestion.
Additional Information
Unique ANTI-COLIC BOTTOM VENT
Angled Design HELPS PREVENT EAR INFECTIONS
EASY SWITCHING BETWEEN BREAST and BOTTLE FEEDING
Reviews
Tatt2edtears06
Lovely Bottles.
I recently received VentAire 6oz bottles set of 3 with wide slow flow nipples. My daughter seems to really like them, but I need to get her faster flowing nipples, she is a little too old for the slow flow. I love the venting in the base, helps child with gas it seems, and the fact that it all unscrews for easy cleaning is awesome. It gets a little tricky sometimes when you screw on the lid, as you want to hold on to the bottom, but cant without accidentally unscrewing it as well. I LOVE LOVE LOVE the wide nipples. They are much more natural feeling than the skinny nipples and my daughter seems to enjoy them. Also I freeze my breast milk into ice cubes, and these wide nipples and neck of bottle make it easy to just pop a few cubes in the bottle to let it pre-thaw. Last but not least the curve of the bottle, I like this because my daughter doesn't quite get the idea that she must hold her bottle up for anything to come out, I really think this aides in the whole self feeding. Lovely bottles, will most likely buy more in the future.
ksbest
Not a big fan
My daughter is 4 months old and wasn't a huge fan of this bottle. To be fair, she is almost exclusively breast-fed and not used to having to drink from a bottle. When she does use a bottle she has to use a medium/fast flow nipple- these are SLOW! The nipple was therefore awkward for her to use and she did not want to use it. (Note- The nipples are silicone not latex- just something to be aware of if you're comparing bottles on the market.) I didn't care for the bottle because I found it bulky and difficult to hold. I'm not a fan of the design. I had problems with getting the bottle screwed back together so it didn't leak. Please note I was doing the latter while holding a baby! For me, these aren't a good product. I like the "classic" bottle design...
AshleyB
Worked wonderfully!
So I had both the VentAire Wide bottle and the Drop Ins bottles for my son. I nursed him but I had to change over to just pumping and bottle feeding for him instead. I tried the silicone nipples that came on the bottle and he didn't take to them, he choked a lot from lack of being able to latch from being a nursed baby. So I changed out to the latex nipples and he did wonderfully with them. We stopped using the Drop Ins pretty quick because he was quite pukey with them even if we pushed the air out. Having the VentAire bottle instead he was able to be more upright drinking making him much less pukey. The only thing we had issues with, and that was even far and few between, was the bottle leaking from the bottom. Like I said it very rarely happend but when it did it would be at inconvenient times-like in the diaper bag soaking all his diapers and his bag when we were out and about and I didn't have extra milk with either :( but either way we liked them and they worked so well for him that we will be using them for his baby sister in a few weeks when she is born! And we've recommended them to all our friends and family as well to use!
ChelseaB
Awesome Bottle!
There are sooooo many bottles out there! I honeslty didnt know which one to choose! I finally gave up and chose the Playtex VentAire Bottle. I got the standard ones then the wide one ones because at the last minute I wanted to breast feed! But these bottles were amazing! I will keep on buying them for all my kids! Thanks Playtex for making an AWESOME bottle!!!
MeganM
Great bottle without the high price tag
I love this line of bottles, if you listen you can actually hear the bottle venting the air at the bottom of the bottle. I got a few of the real pricey avent bottles with a breastpump and my baby would swallow so much air with them compared to the playtex ventaire which are about 40% cheaper.