Playtex Baby Drop-Ins Liners For Playtex Baby Nurser Bottles 4-6oz 100 count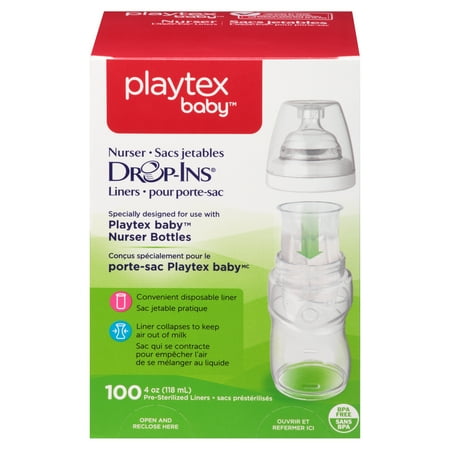 MSRP :

$7.17





Sale :

$10.77

Sold & shipped by Mr. Medical
Product Description

Additional Information

Reviews
Product Description
Playtex 4-oz Drop-Ins Disposable Bottle Liners are pre-sterilized and guaranteed to be the strongest you can buy! Drop-Ins pre-formed shape allows for one-hand holder assembly, making it quick and simple to prepare a bottle even while holding baby! Liners collapse as baby feeds, so no air gets into the milk. This Playtex Drop-Ins Liners system has been clinically shown to help reduce gas, colic, spitting up and support baby's natural feeding rhythm. The Playtex 4-oz Drop-Ins Disposable Bottle Liners has been shown similar to the natural sucking, swallowing and breathing patterns of breastfeeding. When feeding time is through, simply dispose of the liner - no clean-up necessary!
Additional Information
CONVENIENT, DISPOSABLE LINER collapses like the breast to help prevent air from mixing with the milk
COMPATIBLE with PLAYTEX BABY NURSER WITH DROP-INS LINERS BOTTLES
BPA FREE
Reviews
deja22
Great shape to measure accurately unlike 8oz liner
If you're making bottles on demand for 4oz, it's hard to get the powder in since the water fills it. These will do great with mixed formula ready to be poured in. Not 5 or 6oz as I thought. Only 4oz
kssk
slight smell and walmart price hike
The liners are good, they can be used with either the 4oz or 8oz bottles. Like the other reviewer reported, I noticed the following: 1. sometimes the liner can leak at the rim of mouth where the nipple cap is tightened.. i have not figured out why.. 2. the liner smells slightly of some petroleum 3. walmart was selling these for 4.49 for 100ct until sept, sometime around oct they changed the price to 7.49.. quite a big increase..
Sami0929
ONLY USE THESE
They are much cleaner and more sanitary than regular bottles, and my oldest two kids had acid reflux. These helped so much. Will be using with baby on the way also!
Kwstacey00
ONLY USE THESE
Great price and easy clean up.
ShoppingMomofonlyonekid
Love These
I love Playtex Drop-Ins Disposable Bottle Liners and the Playtex bottles that are used with them. Before I started using Playtex bottles with liners my baby was so fussy throughout the day and night. She would cry for hours and I couldn't really figure out why. After discovering that the regular bottles I was using could have been the cause to her gas I ran across these in the store. I started using them and I was very satisfied with the results. I no longer have a crying baby. You can actually pour the milk into the liner, squeeze the bottom of the liner through the hole on the bottom of the bottle and push the milk up to the top. That will push the air out the bottle then seal on the cap. It sounds complicated but it actually helps. You don't have to that because the bottle is designed to reduce air anyway but it just gave me much more confidence. The other best thing about this product is that you don't have to wash out any more bottles. You may want to clean around the rim of the bottle for milk build up but most times the bottle doesn't show any sign of milk residue. You will have to wash out the nipples. I like that they are sanitized and gives your baby a fresh bottle every feeding. I remember using baby dish detergent to wash out bottles and it always left a smell of whatever kind of detergent it was. That caused me to have to boil the bottles. Overall I love these and wish I would have known about them sooner.