Playtex Baby VentAire Complete Tummy Comfort 9oz 5-Pack Baby Bottle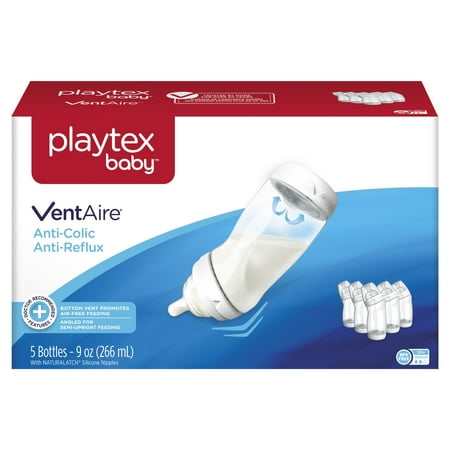 MSRP :

$15.99





Sale :

$12.99

Sold & shipped by Walmart
Product Description

Additional Information

Reviews
Product Description
These Playtex VentAire Bottles are uniquely designed to reduce colic, gas and spit up through a bottom system that helps reduce air ingestion. Micro channel vents keep air at the back of the bottle as baby drinks so virtually no air mixes with the milk and gets into baby's tummy. The angled design of these Playtex baby bottles in a 5-pack promote semi-upright feeding, which is recommended by pediatricians to help prevent ear infections. They have a wide design that makes them ideal for moms who are breastfeeding and/or bottle feeding. These BPA free baby bottles with a 9 oz wide design are compatible with all Playtex nipples and caps for more feeding flexibility. It's easy to mix and match bottles and nipples for the perfect combination that fits your babies evolving preferences. These Playtex VentAire Bottles come standard with a Naturalatch silicone nipple.
Additional Information
Unique ANTI-COLIC BOTTOM VENTAngled Design HELPS PREVENT EAR INFECTIONSEASY SWITCHING BETWEEN BREAST and BOTTLE FEEDING
Reviews
AshleyB
Worked wonderfully!
So I had both the VentAire Wide bottle and the Drop Ins bottles for my son. I nursed him but I had to change over to just pumping and bottle feeding for him instead. I tried the silicone nipples that came on the bottle and he didn't take to them, he choked a lot from lack of being able to latch from being a nursed baby. So I changed out to the latex nipples and he did wonderfully with them. We stopped using the Drop Ins pretty quick because he was quite pukey with them even if we pushed the air out. Having the VentAire bottle instead he was able to be more upright drinking making him much less pukey. The only thing we had issues with, and that was even far and few between, was the bottle leaking from the bottom. Like I said it very rarely happend but when it did it would be at inconvenient times-like in the diaper bag soaking all his diapers and his bag when we were out and about and I didn't have extra milk with either :( but either way we liked them and they worked so well for him that we will be using them for his baby sister in a few weeks when she is born! And we've recommended them to all our friends and family as well to use!
chrisandsherry
I love playtex, but, these bottles leak.
Our son is a little more than 3 months old. I used to breastfeed. The nipples are perfect for breastfed babies. I love the fact that you can take the whole bottle apart to clean it. I have never used heat to clean the bottles, so this can't be the reason they leak. We have tried everything to stop the leaking, but, can't figure out why they leak. If they did not leak, I would have given them 5 stars. Besides the leaking, they are awesome bottles. By the way, this set comes with 5 medium nipples, not slow nipples. So, until your baby starts to eat faster, you might want to buy some slow nipples.
ChelseaB
Awesome Bottle!
There are sooooo many bottles out there! I honeslty didnt know which one to choose! I finally gave up and chose the Playtex VentAire Bottle. I got the standard ones then the wide one ones because at the last minute I wanted to breast feed! But these bottles were amazing! I will keep on buying them for all my kids! Thanks Playtex for making an AWESOME bottle!!!
MeganM
Great bottle without the high price tag
I love this line of bottles, if you listen you can actually hear the bottle venting the air at the bottom of the bottle. I got a few of the real pricey avent bottles with a breastpump and my baby would swallow so much air with them compared to the playtex ventaire which are about 40% cheaper.
Tabbi
My son loves this bottle
This is an excellent bottle. We used the playtex drop-ins before we used the ventaire and switched because he was very colicy. These bottles have helped and he has no problems with the nipples.