Litter Genie Cat Litter Disposal System Refills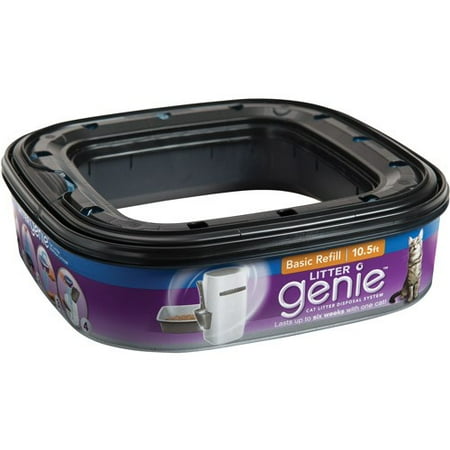 MSRP :

$5.88





Sale :

$5.66

Sold & shipped by Walmart
Product Description

Additional Information

Reviews
Product Description
The Litter Genie Refill Basic system includes a unique five-layer bag that helps contain and eliminate odors. It is constructed to provide six weeks of germ and odor control when utilized for one cat. This Litter Genie for cats refill is designed with a system that tells you when it is time for a new refill.
Additional Information
Litter Genie Cat Litter Disposal System Refills
Reviews
Joannasummers
Tired of buying bad refills
I'm going to give the litter genie refill one more shot with the next paycheck. But after that I'll stick to grocery bags. I can't keep buying refills and having to pull out 2 feet of bag before the start of the bag comes out of the dispenser.
Lacydeau
Out of sight out of mind!
I'm very happy with the Litter Genie! I love its sleek, discreet design and how convenient and easy it is to use! We not only have a cat in our home but also dogs. Our dogs tend to visit the cats litter box on occasion and like to take the cats "buried treasures". Gross right??! Having the Litter Genie makes disposable so easy to avoid this happening! Locking it as well as odors away tight from not only the dogs but from everyone having to endure the sight and smell! This product is amazing and I recommend to anyone who has pets! I received a free sample from #Crowdtap and #Litter Genie. #sponsored
Tommyleg1
Refill comes out screwed up...every time. Uggghhh
Every time I've bought a refill the bag comes out in 2 layers until 4-5 feet. It is very very frustrating. I end up sitting stuffing the bag back in for 15 mins. I wish the bag had a tab or some indicator so I pulled the right side.
Five2Nine
The Litter Genie is Awesome!
I have had the Litter Genie for almost a year now and really love it. With three cats, it is extremely nice to have a convenient storage of litter until trash day when I toss it out. Two of my cats are outdoor cats also, so one bag can last me a week before changing it. I have purchased refills before. After going to the pet store and finding they had run out, I started ordering online from Amazon. This time I found Walmart to be cheaper than Amazon, until it arrived. That's when I noticed there are TWO different refills available, one for 2 months and one for 6 weeks. I thought there was only one refill and I accidentally ordered the smaller size. With 3 cats I want it to last longer so I don't have to change it as often. So, I don't think the value was any different. The reason for just 4 stars was it wasn't clear there were two choices in sizes. However, the product is outstanding!
grasumish
This is 10 feet, v the Standard refill 14 feet
CAVEAT EMPTOR! I was about to buy a quantity. Then I saw the number of feet! I found a drugstore chain (don't think I can mention). They have the 14' standard refill for 7.49. This comes to .535 per foot versus this one .588. This matters to me because I have 3 cats. Google Litter Genie Standard Refill - 14 feet to comparison shop. Walmart's 14' refill is quite expensive. I think Walmart should say it's 10 feet. I only happened to see it on the picture when I enhanced it. CAVEAT EMPTOR! I WISH WALMART WOULD OFFER THE 14' REFILL AT A REDUCED COST