Litter Genie, Cat Litter Disposal System, 1 Pack Refill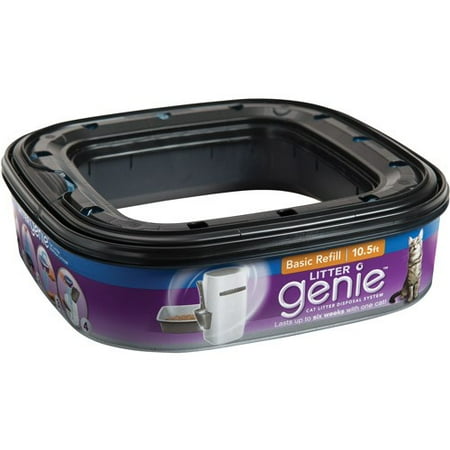 MSRP :

$5.88





Sale :

$5.66

Sold & shipped by Walmart
Product Description

Additional Information

Reviews
Product Description
The Litter Genie Refill Basic system includes a unique five-layer bag that helps contain and eliminate odors. It is constructed to provide six weeks of germ and odor control when utilized for one cat. This Litter Genie for cats refill is designed with a system that tells you when it is time for a new refill.Litter Genie Basic Refill:Refill contains unique 5-layer bag with built-in odor barrier technology to help protect against odors and germsBasic-size refill should last up to 6 weeks with 1 catReady to be replaced when you see a black line on the filmThis cat litter disposal refill is an ideal solution for cat waste odor control
Additional Information
Litter Genie Cat Litter Disposal System Refills
Reviews
Five2Nine
The Litter Genie is Awesome!
I have had the Litter Genie for almost a year now and really love it. With three cats, it is extremely nice to have a convenient storage of litter until trash day when I toss it out. Two of my cats are outdoor cats also, so one bag can last me a week before changing it. I have purchased refills before. After going to the pet store and finding they had run out, I started ordering online from Amazon. This time I found Walmart to be cheaper than Amazon, until it arrived. That's when I noticed there are TWO different refills available, one for 2 months and one for 6 weeks. I thought there was only one refill and I accidentally ordered the smaller size. With 3 cats I want it to last longer so I don't have to change it as often. So, I don't think the value was any different. The reason for just 4 stars was it wasn't clear there were two choices in sizes. However, the product is outstanding!
grasumish
This is 10 feet, v the Standard refill 14 feet
CAVEAT EMPTOR! I was about to buy a quantity. Then I saw the number of feet! I found a drugstore chain (don't think I can mention). They have the 14' standard refill for 7.49. This comes to .535 per foot versus this one .588. This matters to me because I have 3 cats. Google Litter Genie Standard Refill - 14 feet to comparison shop. Walmart's 14' refill is quite expensive. I think Walmart should say it's 10 feet. I only happened to see it on the picture when I enhanced it. CAVEAT EMPTOR! I WISH WALMART WOULD OFFER THE 14' REFILL AT A REDUCED COST
Krystal
In part, my bad.
I thought this was the 14 ft one (yes, yes, even though it says 10.5 ft on it because I'd only ever bought the 14 ft kinds before and didn't realize they had other sizes). I have six cats so the 14 ft one works better for the amount of... kitty presents I need to clean. Given I have 7 litter boxes and 4 litter genies, it was easier to see the 10.5 ft ran out quicker in the areas that are more heavily visited. For the ones that aren't, the 10.5 ft worked okay. However, breaking down the cost per ft of the 10.5 ft here ($ 0.56) vs buying a six pack of 14 ft ones ($ 0.47), it's more cost effective and prudent for me to get the 14 ft sets. Granted, the product for the 10.5 ft worked fine but it's not quite what I want for the cost I'd be paying. http://smile.amazon.com/Litter-Locker-6-Pack-Refill-Cartridge/dp/B007Z8LBJE/ref=sr_1_2?s=pet-supplies&ie=UTF8&qid=1437743044&sr=1-2&keywords=Litter+Genie+Cat+Litter+Disposal+System+Refill+Cartridge
Catlover247
Thieves
We love the litter genie. Have 3 cats so we spend a lot of money on refill bags. We opened up a new refill bag today, and the bag was reversed so we had to pull the entire bag out to reach the opening. Thanks for improper design, system flaws, and stealing our hard earned money. I'll make sure to spread the word on your mistake.
sicl
Double liner bag problem
Hello, I am a caretaker with a set amount of supplies to take care of the employer's companion. I am concerned about a double bag refill. Is there a way to use it longer than half the time? (assuming it is exactly doubled.) Please advise. Thank you