Intex 140 Bubble Jets 6-Person Octagonal Portable Inflatable Hot Tub Spa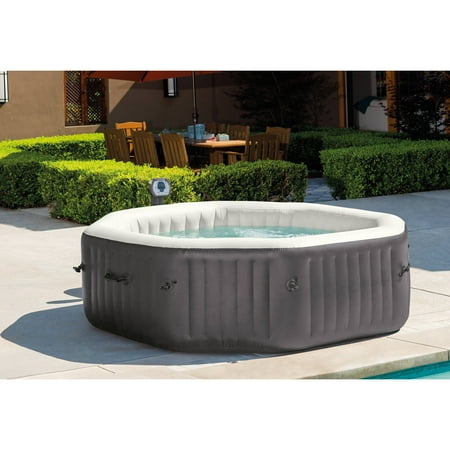 Sale :

$499

Sold & shipped by Walmart
Product Description

Additional Information

Reviews
Product Description
Pamper yourself in relaxing heated water surrounded by soothing bubble jets. The PureSpa provides relaxation at the touch of a button for up to six people. The Fiber-Tech Construction and the puncture-resistant three-ply laminated material provide the ultimate comfort, support and durability. Made with an innovative octagonal shape, this PureSpa will bring the look and feel of luxury to any space. The easy-to-use control panel activates the 120 high-powered bubble jets surrounding the interior of the spa for a refreshing massage. The heating system adjusts to fit your personal temperature preference allowing a stress-free spa experience. PureSpa provides simple maintenance with two easy-to-replace filter cartridges for clean refreshing spa water. The built-in hard water treatment system makes water gentler on skin for a soothing experience. An insulated cover and lock is included to minimize heat loss and provides an added safety feature.
Additional Information
Intex 6-Person Octagonal PureSpa with 140 Bubble Jets:
Provides relaxation at the touch of a button
Spa capacity: 6 people
Fiber-Tech construction and the puncture-resistant 3-ply laminated material provide ultimate comfort, support and durability
Innovative octagonal shape brings the look and feel of luxury
Easy-to-use control panel activates 140 high-powered bubble jets surrounding the interior of the spa for refreshing massage
Heating system adjusts to fit your personal temperature preference
Includes built-in hard water treatment system that makes water gentler on skin for a soothing experience
Included contents: tub, insulated cover, hard water system, two filter cartridges, thermal ground cloth, inflation hose, carry bag, floating chlorine dispenser, test strip
Inner Dimensions: 66" x 66" x 28"
Outer Dimensions: 86" x 86" x 28"
Due to state restrictions this item cannot be shipped to California
Reviews
Cadillac1
Decent hot tub for decent price
Bought this in hopes that it would suite my needs instead of spending $$$ on a bigger tub. I've used it a few times and I'm happy so far. Very easy to set up, fill up and maintain. We had it blown up and filled up in under an hour. The CONS were what I already read about. The cover does seem to lose air over a couple days, and the small filters get dirty quick. I was able to rinse mine off but I'll probably buy a few. It says it'll hold 6 people but you could get 5. We had 4 in and had to sit Indian style. If you are filling up with cold tap water it'll take approximately 1 1/2days to reach top temp of 104. In a half hour of running jets it'll lose about 6 degrees. Wish it had a stronger heater but it does the job. All in all, I'm happy with it. Didn't want to spend $$$$$ on a hard shell tub since I'm a first time homeowner so this one was on sale and thought what the heck. I look at it this way, if you take car of it and keep up on the maintenance and it lasts 3yrs, you'll get your money out of it. I throw tires all day ranging from cart tires all the way up to commercial farm tires with a bulging disk and the tub works wonders on my back. If your looking for a tub on a budget, buy this one. I plan on building a gazebo around it for privacy and to keep it out of the elements.
Thomasj
Great Spa!!
Wow this thing is awesome !! Bigger than we thought it would be hard to believe this came out of a box!! This was a great purchase for my wife and I, years ago we had a 4 person spa from that company that was supposed to be the number one spa company, it was only big enough for two people and cost ten times as much. We moved and sold it along with our house and had been looking to get one every since but didn't want to pay thousands. This spa is a gem, 140 bubble jets is just what we needed , no fancy bells and whistles but great for the price!! plenty of space , Looking at it and being in it you would never believe it came out of a box!!!
Kathie
Good for the money
Good-easy set up Nice size Sturdy Bubbles are strong No so good-bladder on cover loses Air Error E90(no water flow) once a week and you need to change the filter, even if the spa is not in use
WSNJ
Great portable hot tub
I had it for 1 month. I love it. Only con is temp lowers when turn on bubbles. Heats up well when covered. The sides are much stronger then I expected being it is inflated. Very quiet except when bubbles on. Fast to setup and take down.
Cessnakid
Do Not Purchase This Product
Attached Photo: Draining tub after I found it was leaking I received this spa end of March 2017. I had it up and running for a few weeks and the tub started leaking on of the seams it was unrepairable. After cutting up the tub literally cutting up the tub to prove to Intex my claim was valid, I then had to ship them the cut up pieces on my own dime. The spa then functioned normally for the remainder of the season. At the end of the season I deflated the tub, and stored it in the nylon bag it came with and stored it in a temperature controlled environment. 3 Days ago I pulled the Spa from storge inflated the tub filled with water and began heating within 1 hour the tub was almost flat leaking on a seam again. I called intex which has horrible customer service and they will not replace my tub since I am out of warranty on the original tub. Customer service is horrible I had to hunt for the "American" number. Please do not buy this product you will be disappointed.