Intex 120 Bubble Jets 4 Person Octagonal PureSpa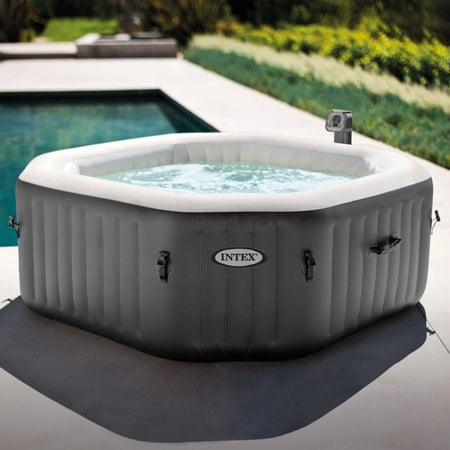 MSRP :

$399





Sale :

$358

Sold & shipped by Walmart
Product Description

Additional Information

Reviews
Product Description
Pamper yourself in relaxing heated water surrounded by soothing bubble jets. The PureSpa provides relaxation at the touch of a button for up to four people. The Fiber-Tech Construction and the puncture-resistant three-ply laminated material provide the ultimate comfort, support and durability. Made with an innovative octagonal shape, this PureSpa will bring the look and feel of luxury to any space. The easy-to-use control panel activates the 120 high-powered bubble jets surrounding the interior of the spa for a refreshing massage. The heating system adjusts to fit your personal temperature preference allowing a stress-free spa experience. PureSpa provides simple maintenance with two easy-to-replace filter cartridges for clean refreshing spa water. The built-in hard water treatment system makes water gentler on skin for a soothing experience. An insulated cover and lock is included to minimize heat loss and provides an added safety feature.
Additional Information
Intex 120 Bubble Jets 4 Person Octagonal PureSpa:
Provides relaxation at the touch of a button
Spa capacity: 4 people
Fiber-Tech construction and the puncture resistant 3-ply laminated material provide ultimate comfort, support and durability
Innovative octagonal shape brings the look and feel of luxury
Easy-to-use control panel activates 120 high-powered bubble jets surrounding the interior of the spa for refreshing massage
Heating system adjusts to fit your personal temperature preference
Includes built-in hard water treatment system that makes water gentler on skin for a soothing experience
Includes insulated cover and lock to minimize heat loss, thermal ground cloth and carry bag for easy storage and transportation
Inner/Outer Dimensions: 59" x 59" x 28"/79" x 79" x 28"
Due to state restrictions this item cannot be shipped to California.
Reviews
Angry
Poorly made
Had this hot tub not even a year an it started deflating, have only used it a handful of times, it was great when it wasn't deflating, I'm very busy an didn't get around to lookin at it finally after blowing it back up for a while I finally got to chance to look an found a pinhole in the seam it was in the indent of the seam that the factory did, tried to patch it which didn't really work but I got it to stay inflated for about a week before it started deflating again looked an found another pinhole right below the first one that had nothin to do with me haven't even been in it since I patched the first one, now after finally finding the pinhole an all the reblowing back up an finding another one I'm a couple months past my warranty an intex won't do anything about it! Horrible customer service, I'm on a very fixed income an cannot afford to buy another one, I'm so bummed got it up late last year so only used it like 3 or 4 times before we had to take it down before winter an this year have only been in it 2 or 3 times before it started deflating, I'm now out of money an a hot tub
Angry
Love -So far good -but time will tell
Love it Set up was simple Very clever well engineered item However box with instructions should be labeled with such ..of course, they were found in last box opened in bottom of box Intex CAN DO A BETTER JOB ON THAT As per review on line we read ... we went to U-Tube for further (wonderful) assistance Bubbles add far more massaging on back neck than we imagined We are hoping that there are no technical problems as others have noted We were frustrated about 1) Who how where when to add use chemicals Ugh delayed use of item SO.... Strongly urge u2 research what chemicals & how before it arrives if u want to use right away Intex is NO HELP in this area They told me 2go2 local spa who wanted me to return it & spend $4K w/them Also be prepared (we were not) it cannot be in direct sunlight for extended amt of time. We have ugly tarps on our deck until we can decide how better to protect. Love using it, hope it lasts Per instructions cannot be left out in weather under 39degrees so unless you use it inside,house & heat it is a 3 season item.
Ljsplace
Went through three don't waste your money
The first hot tub I purchase the world separated in it and it would not hold air so I had to put in for a warranty replacement the people that I had to deal with for the replacement or from another country and could barely speak any English it took over a month and a half almost 2 months to get a replacement in and when the replacement finally got here it was the wrong hot tub so we contacted Intex to let them know that they needed to send us the right one and they made us cut up the brand new hot tub and send pieces back to them before they would send us the correct hot tub we finally got the correct hot tub and had it set up for 2 days and the world separated and it balloon again as you can see in the pictures this is the third part of we had an issue with my friends had purchased a hot tub like this and they have the same problem I highly suggest if you are looking into a hot tub do not purchase one of these because you will become very frustrated like I have and you will be wasting not only your time but your money as well
friskytiger
Pure joy PureSpa
Hopefully I'm not jumping the gun on excellent rating however at 3 days of use I'm extremely happy with Intex PureSpa . Certainly I would like a permanent spa and preferably in my master bathroom however (1) my home is a dbl wide manufactured home which presents challenges, (2) price either in home or outside permanent Jacuzzi is prohibitive. At the Walmart price for the PureSpan I figure I can't go wrong. I've been researching these options for longer than I can recall. There are two issues I have with this unit which are fairly minor, (1) air supply line for inflation should be on side or back of power unit, (2) water drain connection should not be where power unit is or at very least further from it. I ordered 12 pk of filters and pillows, snack tray, and seat from Amazon, sorry Walmart you were most reasonable on price for Jacuzzi but Amazon beat you buy half price on accessories.
MikeInVermont
Amazing! Wish I never waited this long.
My wife and I have been researching hot tubs for 2-3 years. Jets vs Bubble, Hard Body vs Soft Body vs Inflatable, 220 vs 110, etc. Price was a huge factor, and since many people buy a hot tub and then sell them within 3-5 years, we thought we better play it safe and get a cheap one first. We then researched the inflatable tubs that are available. Coleman/Bestway (same company) vs Intex, mainly. The Coleman tubs are slightly bigger and therefore hold more water, which means heating takes longer. We also chose the Intex for the looks & ease of use for the interface. In comes this octagonal Intex tub. Setup was a breeze. It came with a DVD that's only minutes long. I was able to setup the tub in 20 minutes. Filling it with water took another 45. It heats up just as much as a hard body tub (104 degrees). It did indeed heat between 2-3 degrees an hour. We went from 60 degree water to a 104 degrees in 1 day. The bubbles are amazingly effective. It's like a thousand tiny men massaging your back all at once... hard to explain really... but it's heaven. With a hard body tub, you have jets that shoot a concentrated amount of water on 1 or more spots on your body. You also can't really move around much in a hard body tub because the seats are built in. With this Intex tub, you can move around, scoot next to your loved one, and stretch out any old which-way you want. You have to make sure the tub is on a flat patio or something similar. The tub will not hold up well if it's slanting a couple degrees. In the pictures attached, you'll see I made a makeshift patio out of bricks I had laying around. It also will not heat up very well if the air temperature is below 50, meaning you can't really use it in the winter seasons. I live in Vermont, so this tub can only be used between May and October. The water cannot be heated while the bubbles are on. The bubbles come from the outside air, so the air will cool down the water when in use. We have used this tub when the temperature was both warm and cool. When warm, we were able to stay in the tub for 30 minutes (which is the timer for the bubbles) and the temperature only fell to 99 degrees. When cool outside, the water temperature dropped to 99 degrees in less than 20 minutes. Still, only a 10-15 minute soak is all that most manufacturers recommend, no matter what type of tub you have. If you buy this tub, you have to consider the fact that you will also be buying 1-inch chlorine tablets, shock, and other chemicals to keep it clean (could run $100 a year or more). I spend 5 minutes a week taking care of the water. The directions ask you to drain the tub and refill with new water every 3 months. The drain plug is... for some reason.... located right near the machine itself. That's the only design flaw I can think of. In summary, this is probably the best purchase under $10,000 that I have ever made in my life. I am no longer sore when I go to bed. I stay asleep all night long. I wake up every morning feeling refreshed. I spent a fraction of what I planned on spending, and I'm far happier about it. Keep up the great work, Intex! You probably have a customer for life.