Intex Twin 8.75" Classic Downy Inflatable Airbed Mattress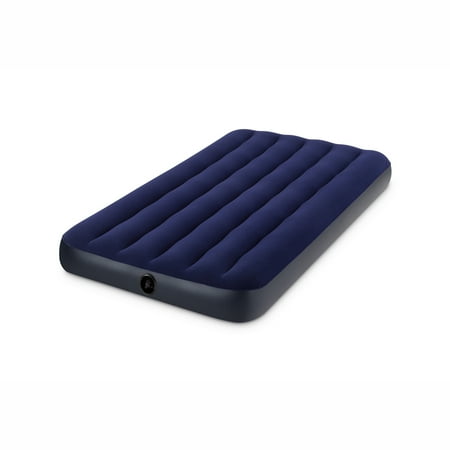 MSRP :

$15.97





Sale :

$7.97

Sold & shipped by Walmart
Product Description

Additional Information

Reviews
Product Description
Make sure everyone has a place to sleep with the Intex Twin Classic Downy Airbed Mattress. It makes a useful addition to your camping gear or it is handy to have right at home for extra guests. The twin airbed mattress is made from wave beams that create a uniform sleeping surface to help ensure you get a good night's sleep. The item has soft, plush flocking that helps to keep sheets in place for a more comfortable sleeping surface whether you are using a sleeping bag or bed sheets. This Intex mattress is the size of a twin bed and will fit twin size sheets. Keep it at home for when the kids have friends sleep over or use it when you are traveling. The Intex Twin Classic Downy Airbed Mattress is soft and comfortable.
Additional Information
Intex Twin 8.75" Classic Downy Inflatable Airbed Mattress:
Perfect for both in-home use and camping
Plush flocked top
Flocked top keeps the sheets in place
Easy to clean
Compact for storage
Extra wide valve openings for fast inflating and deflating
Measures: 39"L x 75"W x 8.75"H
Model# 68757WL
Reviews
Franchise2k
For $13, are you kidding me?
Why would you rather sleep on the couch, floor or a futon with a bar in your back when for $13 measly dollars you can sleep in comfort? I am 6' 3" 275lbs and it has supported me for a month with no issues. I bought this to toss over the (above mentioned) futon that I have in the back room of my shop. It fits like it was made especially for my 6' futon. I don't know the exact durability for something that never goes outside, but for what I paid, it is still holding air! I give it a shot of air about every 4-5 days, mostly to keep it firm for my taste, not because its "flat". So overall Value: 10 out of 10 for price Durability: 8 out of 10 based on what I paid, It isnt a $100 camping mattress. Meets Expectations: 11 out of 10 because its ONLY $13! If you used it once, it would pay for itself and its by far cheaper than one night in a motel.
1oldsquare
54 Days and counting.
Circumstances have made it necessary to sleep on my living room floor for awhile. I bought the Intex Twin because it was cheap enough to replace as often as need be. I luckily already have a pump. I inflated it and let it stand for two days to "stretch" naturally without the stress of my 190 pounds on it. During those two days I stitched a thin quilted bedspread together to create "sock" of sorts to protect the mattress, and put something between me and the vinyl. I have now slept on it for 54 consecutive days, and have only added air one time. I find the mattress quite comfortable as do my two cats. I am pleasantly surprised this inexpensive mattress is holding up so well, and is actually comfortable...now don't get me wrong, I will be quite glad to get back onto my queen-sized Serta, but until then this is ok. At that time I'll put this away for when my children, and/or grandchildren come to visit. I would definitely recommend this to anyone needing temporary and portable sleeping accomodations.
JamesRUs
Nice air mattress on a tight budget
I bought this air mattress at the last minute, finding out my college son was bringing home one more friend to stay the night than I expected. I had already purchased the Intex Raised Airbed, Twin size for double the price of this one about a week ago. Since it was a second air mattress, I wanted to save money. I worked well for our needs, but if you're able to pay more, I'd go with the raised airbed (it's a little more comfortable, being thicker, but it also includes a nice storage bag and this one does not). I would recommend checkiing out YouTube.com for inflation ideas. We found a video of someone inflating their air mattress with a vacuum cleaner. I thought it sounded stupid at first, I mean, vacuum cleaners suck, not blow. But apparently what sucks must also blow. We hooked up a hose to the underside of the vacuum where the air blows out and it inflated this mattress within one minute. The mattress held it's air all night, no problems. It's a good deal on a tight budget.
mitchell1204
Good for the Money.
I've slept on several of these air mattresses the past two years traveling. Using them full time they last about 6 weeks before a seam weld breaks inside and a bubble hump forms. But for $7 I'm not complaining. It is plastic not a $400 pillow top mattress. If you use it 1 week a year it would probably last 6 years. They are very comfortable is why I repeatedly buy them. I had the other big name brand and it's not as good as these. In fact those last 6 weeks before it develops a bubble but it's huge and round instead of oblong down one side. When I first bought these they would develop a leak at the very same spot on a heat seam. I've emailed them and they seem to have fixed that problem. You need an air pump which I use a 12v one and it takes about 2 minutes to fill up. The first night or two the plastic stretches and you might have to add air. I just fill it up tight and it stretches to where I like it. Again, 6 weeks use on average, very comfortable and cheap to buy.
MikefromMN
Decent but be careful
I bought this mattress about a year ago and used it on two camping trips. It is easy to inflate and is comfortable and sturdy. I would recommend this product to a friend, in fact I have to run out and purchase a new one. No, it did not give out, it was not defective or of poor quality. But, it is made out of vinyl (plastic) and is not exactly impervious to temperature and the elements. I live in Minnesota and I stored this mattress in my shed. I retrieved it in April as I was having guests over and needed the extra bed. I know I had stored it on a shelf but found it on the floor of the shed. Not thinking about it I brought it in the house to warm up. Upon unrolling it I found out the it had not fared well in the sub-zero Minnesota winter, or in the apparent fall off the shelf. It looked as if it had shattered on impact. I will be returning to Walmart for another one... though this time it will be stored in my nice warm house instead of the shed.