Intex Twin 18" Raised Pillow Rest Airbed Mattress with Built in Pillow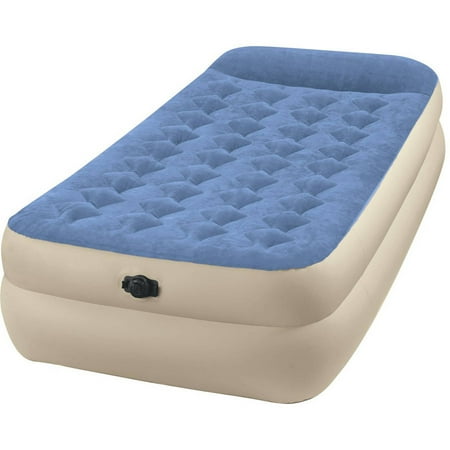 MSRP :

$44.99





Sale :

$31.94

Sold & shipped by Walmart
Product Description

Additional Information

Reviews
Product Description
The Intex raised airbed makes a terrific spare bed for camping or putting up out-of-town guests. Soft, plush flocking on the Intex airbed provides a premium sleeping surface, while helping to keep the sheets in place.
Additional Information
Intex Twin 18" Raised Pillow Rest Airbed Mattress with Built in Pillow:Great spare bed for camping and out of town guestsSoft, plush flocking helping keep sheets in placeEasy to cleanModel# 67718WLIntex camping air bed mattress comes in cobalt and beige
Reviews
Unknown Customer
Avoid this airbed
the concept is a good one, inexpensive bedding... bad idea! After only 90 days of use, the internal air bladder system started popping. Now my bed looks like a pregnant roller skate, and I'm back on a pallet on the floor. When I contacted the manufacturer, I was informed this item has NO WARRANTY WHATSOEVER! Since I purchased it over 90 days ago, it's not eligible for a Walmart.com return either.... My advice? Buy a real bed... if you must buy an inflatable, try another manufacturer, because these folks have no intention of standing behind their products.
meganeverafter
Lasts Forever
I've been reading some of the other reviews and am just baffled at how this bed was such an inconvenience for them. This bed for me has been nothing but reliable. I use it everyday as my regular bed and it hasn't lost its air once, still just as firm as the first day I put air into it. I should also include the fact that I am close to the weight limit on this bed, so given the fact that it hasn't lost its firmness is great. Maybe some of the other customers have the airlock in the wrong position or don't have it fully clicked in? Who knows, maybe they just had defective beds. In the end, at least for me, this is the best air bed I have ever used. If I had to give a complaint, the only thing I don't like is the built in pillow at the top. I just don't like it because I like to lay completely flat and it raises me a bit too much. If that is my biggest grip about this product, don't worry about purchasing it. It's just how I prefer to sleep, not the beds fault, haha. :) I recommend this, highly!
MrMet2012
I love this mattress
I bought this because on the boy scout sleep over we were allowed to bring air mattresses but only twin no queen so for 32 bucks I gave it a shot and am so glad I did! I am over the weight limit and am 6'5"and have back problems and I couldn't ask for more it was probably the best sleep I've had in awhile. Now being I was over the weight limit I did baby it a bit and didn't"plop" down on it. But I have to say it held up like a trooper. I liked it so much I bought the queen for Cub parent weekend. (see the queen size for that review). Both beds held up great and are a fraction of the price of other beds i've seen. My daughter will get this one for our camping trip. I would defiantly recommend this for comfortable camping or when visiting family or friends. I also like that I was able to use standard twin fitted sheets on it. While they might be a little loose the flock top helps to hold them on nice so they don't move around. For the money you can't beat the value.
divemaiden
Good, but developed air distrib. prob.
I use this as my every day mattress. I have had it for a little over a year. It has been very comfortable and has never developed a leak, like the other two air mattresses I've owned did (each of which only lasted a few months). I also like that when you open the cap to add air it doesn't let the air escape and deflate the mattress (unlike the other two losers I had). However, recently it developed an air distribution problem and I can't figure out why, as I hadn't added more air or deflated it. For lack of a better term, it developed a "blister" on the full length of half the mattress. It causes everything to roll off and is very uncomfortable to sleep on. I've tried deflating it as well as adding more air, and I can't figure out how to fix it, or if it can be fixed. Unfortunately, I did not save my receipt and I did not purchase the extended warranty. So, I can't get my money back or get a free replacement. But for less than $30, I think I will purchase another of the same brand.
famgeno
Above Expectations!
I bought two of these air beds by Intex for a camping trip with my sons. Once we got set up and the beds were inflated to what we thought was comfortable for us we didn't have to inflate them again during the two night stay. They did go down a bit but we found that they were even more comfortable with that bit of less air in them. They are sturdy and well made. If I ever have to purchase air beds again I will most definitely purchase Intex air beds. The cost was very reasonable also, I paid less than $75 for both of them and they were shipped to my home within a few days of ordering which I was happy about as we were leaving for the trip in a few days. Both of us are not little people with little weight, but are heavy - almost 200 and almost 340 pounds and these beds held up wonderfully. Also they are easy to deflate and put away in the bag that comes with them. Great beds, great price, great service. They don't come with the air pump but we had one from another air bed and it worked fine. Well worth the price.