Intex - Dinoland Pool or Play Center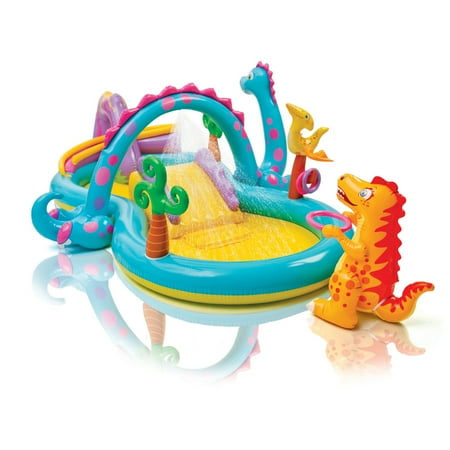 MSRP :

$59.99





Sale :

$53.5

Sold & shipped by Windy City SuperStore
Product Description

Additional Information

Reviews
Product Description
Watch as your kids have a roaring good time with the Dinoland Play Center. This outdoor water slide features plenty of extras to keep your little ones busy all summer. The movable Dino Arch water spray will attach to any garden hose. Kids can also slide and splash into the wading pool. This dinosaur play center also includes Fun Ballz, Dino Hoops and a volcanic ball roller game. It can hold up to 74 gallons of water and has a maximum weight limit of 178 lbs. It is designed for children ages 3 years and up.
Additional Information
• Intex - Dinoland Pool or Play Center • Keep cool with the movable Dino Arch water spray which attaches to a water hose • An included soft slide with a landing pad will be a delight to everyone • A drain plug in the pool floor is provided for convenience • Approximate inflated size: 131 inches L x 90 inches W x 44 inches H • Water Capacity: 74 gallons (6 inches of wall height) • Maximum Weight Capacity: 178 pounds
Reviews
Owiefixer
Hours of entertainment!
My 3 y.o daughter absolutely loves this activity center! She plays for hours. It is durable, light weight, brightly colored, and lots of fun. I'm very glad I bought it and would definitely purchase again!
Eric
Air pump a must!
I love this, very colorful and lots of things to interact with rather than a plain inflatable pool. Stays inflated very well. You will need an air pump to inflate. There are probably ten different nozzles that inflate items separately, not just one main nozzle to pump up entire pool, so be sure to have some patience. Took me 20minutes to inflate entire thing using a small pump designed for air mattress. The problem is that the nozzles are of the small variety and takes even the pump way longer to blow up that way- and most of them are the type you have to a squeeze while blowing air in. (Again, get an air pump or you will spend the entire day blowing this up and quite possibly die from exhaustion). The water is a good level - you're not going to "swim" in it, it is more for getting your feet wet and splashing around, which is great bc the water isn't so deep that it is freezing cold or nervous about your kid falling or being in over their head. If more of the ancillary items were part of the main air valve, it would save so much more time and energy blowing this thing up. Once inflated though, you can enjoy a job well done and the smiles on your child's face. Haven't deflated yet but I'm assuming that will be a pain as well bc I'll have to squeeze the nozzles for each thing while squishing it. Worth the price and a great value in my opinion!
Rainny
It popped!
Actually, it was a beautiful one and my boy loved it so much! Even the air was not stay that long, we still kept it till the blue dinosaur popped after we had used it for only 4 times in the backyard. I'm not sure if it's because of the heat outside. Anyway, it supposed to be there because this pool is for outdoor activity. So, I just returned it to Walmart.
Grandma
Amazing!!
This is amazing! My 41/2 yo granddaughter loves it! Definitely need a pump but got mine for $5 at Walmart of course! This is sturdy and worth much more than it costs! She told my husband it was better than going to Disneyland ! Don't hesitate to buy!
ChelsF
Tons of fun!
This has already given us hours of fun! It didn't take long to get all of the pieces blown up, but I have an air compressor. It is the perfect size for my 4 and 2 year old. We especially love that the sprinkler dinosaur can be moved and used separately. Overall, we are very pleased. I would buy again in a heartbeat.