Intex Inflatable Red River Run I Pool Tube, 53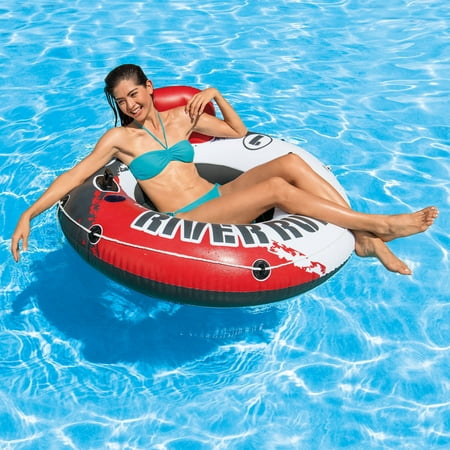 MSRP :

$38.99





Sale :

$23.99

Sold & shipped by My Quick Buy
Product Description

Additional Information

Reviews
Product Description
Sit and relax in the pool or on the lake with the Intex Inflatable Red River Run I Tube Float Lounge. It comes equipped with a built-in backrest, durable handles, two cup holders for holding cool drinks, a mesh bottom and a grab line around the edge. This river floating tube has dual air chambers that provide you with additional security. The inflatable unit also comes with a patch for quick and easy repairs.
Additional Information
Intex Inflatable Red River Run I Pool Tube, 53":Built with a comfortable backrest2 built-in cup holdersIntex float tube has durable handlesMesh bottom to keep coolAll-around grab line2 air chambers for added safetyIncludes a repair patch
Reviews
Arthy77
2 seasons strong!
I purchased two of these tubes in June 2011. My son and i had two good seasons with these tubes (20 river runs) on a rocky river with minimal rapids. We had no leaks or troubles with the valves. We we able to fish from them during our 3 hour tubing trips which was nice. The third season my son fell through the tube when the mesh bottom ripped. The tube is really big so it was no longer functional for him to use, even though the ripped liner did not make the tube deflate. My tube is still holding on strong, but i plan to buy two more of them, since I expect mine's to rip soon too. Overall, we never rough housed in them or let them snag branches etc, but they were fine running over the occasional submerged rock or two. I made sure to hop out of the tubes before we ran them aground on banks and rocky points, which is the stuff you need to do with $15 tubes. Spending $7.50 a season on each tube was well worth it, and that's why Im back for more.
b2dafalls
Worth a second look
I bought this tube for another adventure down the Maury River with some great friends.... blew it up, and it deflated w/in 20 minutes!! I was beyond mad! (This was the 2nd bad tube purchase in 2 days, so i was beyond livid!) I could hear the air coming out! After floating a while, stopping to inflate (by mouth!!) and trying to fix the leak with a plastic sandwich baggie (hey - on the river you use what you have!) i stopped to take a second, more detailed look. After checking again, I noticed the problem There is one valve with 2 caps. One is larger for easier deflating and one is smaller to fit your air pump attachment. The thin rubber ring that holds both small and large valve caps to the actual valve housing had slipped up onto the threads. This, of course, didn't allow it to seal properly - thus my deflating problem! Once I fixed the rubber ring below the threads, No more leaks.. and hours of river fun. This tube is still going strong and plan to buy more for the kids and adventure out again! After much cursing, I'm glad i took a second look! :o) Maybe this will save someone else the headache and check first!
mumblemumble
About what you'd expect for the price..
A group of us purchased about ten of these for a two mile trip we were taking down the river. They were comfortable and big, a few of the guys are well over 200 pounds and they had no issues what-so-ever with room or staying afloat. The plug was an issue though on about half of them. For some reason when closing it wouldn't seal correctly. Luckily we realized that before we ever got on the river and because a few of us have been rafting before we used a little trick, licking the plug before closing it, and it worked every time. Don't ask me why, it's just what my dad taught me. If you have the extra cash, buy a pump. It makes it so much easier and there are ones that will plug into the lighter in your car. And we actually had two of them that had holes in them before we even got them completely inflated. I'm not sure if it was because of shipping and maybe being cut when a box was opened or if it was just because of the quality. They will probably last about a summer, maybe two if I don't use them as much as I've used some in the past. But if you are needing something quick, they are a good choice.
RissaWhoLikesToFloat
Red tube or blue tube
It's exactly like the blue river run brand tube tube it's just not blue! So you pay $5 less for the same exact quality of tube. Just in case any of you were wondering like I was haha
Lovemyoldfartofadog
Better than sliced bread
I've owned two of these for two years, and they have been amazing. I've accidentally scraped them on rock even. No problem at all. I especially love the mesh in the bottom. It keeps my skinny butt from falling through, and my arms don't get tired having to hold myself up. Last week, my 350 lb buddy was on one, and not only did he fit, he was quite comfortable. I paid almost $20 each on amazon, so this is a fantastic buy here. I'm back for more, because all my friends want to float with me now. We tie off together, tie a line to an anchor, and with a floating cooler....it's blissful on a hot summer day. I won't buy anything else now. I currently own five.