Marvel MM14R Mystery Oil 1 Gallon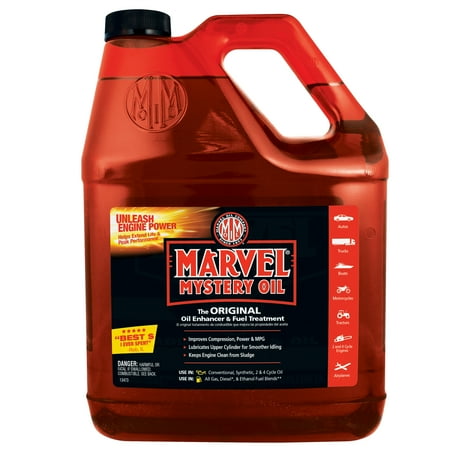 MSRP :

$62.99





Sale :

$15.87

Sold & shipped by Walmart
Product Description

Additional Information

Reviews
Product Description
Marvel Mystery Oil cleans and lubricates fuel injectors and carburetors. It reduces and prevents varnish and gum build-up.
Additional Information

Marvel Mystery Oil, 1 Gallon:
Positive lubrication for smoother starting and longer tool life
Marvel mystery oil gallon dissolves gum and sludge that cut down tool speed and power output
Prevents rust and corrosion
Smoother riding and idling
Helps extend life and peak performance
Improves compression, power and MPG
Lubricates upper cylinder
Use in conventional, synthetic and 2 and 4 cycle oil
Use in all gas types including diesel and ethanol blends
Available in a convenient 1-gallon jug
Reviews
jjeep2009
Most trusted and reliable product!!!
I work on alot of small engines for a hobby. I also fix and maintain alot of my friends and familys cars. Used alot of additives for the fuel and different oil additives to. (lucas, stp, bardall, tech, etc) But none of them can ever compair to MMO!!! I revived ALOT of mowers, weed eaters, snow blowers, and even vehicles by using it in the oil and fuel. Does a great job cleaning all the carbon out of the injectors, carb, and crankcase! Also it is absolutally a FABULOUS product for preventative maintnance on a car! I only use quakerstate semi-synthetic (conventional mixed with some synthetic) motor oil with a quart of marvel mystery oil. even after 5,000miles when i change it the oil is suprisingly cleaner and holds its viscosity WAY better than full synthetic motor oil!! It was such a great additive that you will find out that in world war 2 the USA and the British used this product in all of their tanks, fighter jets, and carriers! If its that good of a product that even the army uses it and it held up in battles its great enouph for my car! Also its made and packaged in the U.S.A!!! SWEET!
Billy
Most trusted and reliable product!!!
Look...just use the darn stuff. After four or five doses, you vehicle will run better and no water in the tank.
Gulfcoasttex
MUST READ!
We had 6 WWII Stearman aircraft (converted) used for crop dusting in South east Texas. We had 300 and 450 HP engines which were only suppose to go for 1500 hours before something critical would go wrong due to the fact these engines were almost always ran at full throttle under loads. We put in 1 Gallon Mystery oil per 5 Gallon tanks and these engines could go 2000 hours easily before rebuilding. 25% more. I put a quart in my vehicle at each oil change at 3,000 to 5,000 miles. My 1995 Ford Aerostar got 497,000 miles without touching internal engine parts. I sold and bought a 2000 Ford Explorer and put 400,000 miles with same result. I have now 245,000 miles on my 2004 Ford Explorer with same results. None have ever used oil between oil change. One other note is that I have NEVER touched or changed the transmission fluid. I HIGHLY RECOMMEND MARVEL MYSTERY OIL.
mark
used in my LTX 1045 cub cadet lawnmower
We bought new cub cadet 3 years ago so we put old cub cadet lawnmower out to pasture. Never started or moved it in those 3 years. Well i didn't check oil and blew a hole in engine of new mower. So i got old mower and started working on it. Carburetor was all gummed up. I cleaned with carburetor cleaner and it still wasn't running right . When i used Marvels Mystery Oil in gas it cleaned the rest of deposits out and now it runs great.
Sutton
Works amazingly
I used this product on an industrial air system in the oil cups. The air system was always getting stopped up causing multiple problems,just after a few days of using this product the system worked great increasing productivity well work using