Marvel MM14R Mystery Oil 1 Gallon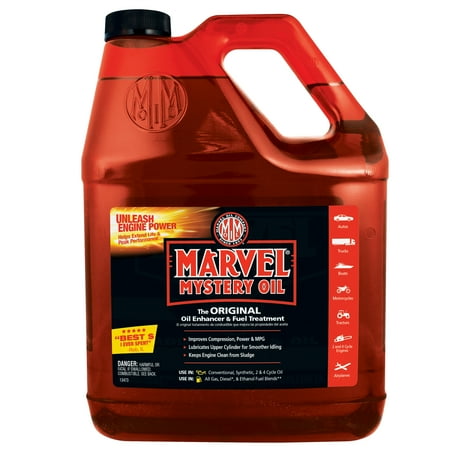 MSRP :

$62.99





Sale :

$15.87

Sold & shipped by Walmart
Product Description

Additional Information

Reviews
Product Description
Keep your car maintained and operating efficiently with Marvel MM14R Mystery Oil 1 Gallon. It works to clean and lubricate fuel injectors and carburetors for smoother starting and longer tool life. It's suitable for use in a variety of vehicle makes and models and can improve the miles per gallon on your automobile. Marvel mystery oil 1 gallon also reduces and prevents varnish, gum and sludge build-up.
Additional Information

Marvel Mystery Oil, 1 Gallon:
Positive lubrication for smoother starting and longer tool life
Marvel mystery oil gallon dissolves gum and sludge that cut down tool speed and power output
Prevents rust and corrosion
Smoother riding and idling
Helps extend life and peak performance
Improves compression, power and MPG
Lubricates upper cylinder
Use in conventional, synthetic and 2 and 4 cycle oil
Use in all gas types including diesel and ethanol blends
Available in a convenient 1-gallon jug
Reviews
Ed66
Step son trouble
Several years ago my step son (at the time) was getting himself into a little trouble, in a part of town he should not have been in. he was driving his mother's 1993 Pontiac grand prix. A very upset man chased him into the street and shot at him as he was driving away. One of the bullets ricocheted and stuck the oil pan or the car and obviously the oil drained out. The young son drove about 2 miles and the engine seized. I pushed the car home with my truck. The next day I fixed the oil pan, pulled the spark plugs, and poured marvels mystery oil into the cylinders. I let it sit for one week. I put a breaker bar and socket on the crank and she freed right up. Cranked it over with the starter to clear out the extra oil and put the plugs back in it and took it for a test drive, it ran well for the rest of the time we had the car. As with all things in life (maybe just my life) things are always changing, the car is gone, the step son is gone and so is his mother, but I still keep and use that "mystery" oil.
Uncle grandpa11
Marvelously Mysterious Uplifting Results
I managed a parts store for a large automotive parts retailer in southern Georgia. A customer came in with a mangled valve lifter removal tool that had been rendered ineffective by a stuck lifter in a 302. We talked about it and I suggested he soak it in some MMO overnight, but he left with a new tool and new determination to extract the reluctant lifter. He returned an hour later with the second tool in hand, just as mangled as the first. More discussion, another suggestion to soak in MOM and another warranty replacement, he left with the final lifter removal tool in hand. He was frustrated when he returned for the third time, yes, with the last tool in hand, equally mangled. With no more tools and figuring that the current strategy was going to ruin my P&L, I GAVE him a bottle of MMO. He returned early the next morning with the errant lifter in hand and paid for the bottle I gave him and bought two more. It is really amazing stuff.
jjeep2009
Most trusted and reliable product!!!
I work on alot of small engines for a hobby. I also fix and maintain alot of my friends and familys cars. Used alot of additives for the fuel and different oil additives to. (lucas, stp, bardall, tech, etc) But none of them can ever compair to MMO!!! I revived ALOT of mowers, weed eaters, snow blowers, and even vehicles by using it in the oil and fuel. Does a great job cleaning all the carbon out of the injectors, carb, and crankcase! Also it is absolutally a FABULOUS product for preventative maintnance on a car! I only use quakerstate semi-synthetic (conventional mixed with some synthetic) motor oil with a quart of marvel mystery oil. even after 5,000miles when i change it the oil is suprisingly cleaner and holds its viscosity WAY better than full synthetic motor oil!! It was such a great additive that you will find out that in world war 2 the USA and the British used this product in all of their tanks, fighter jets, and carriers! If its that good of a product that even the army uses it and it held up in battles its great enouph for my car! Also its made and packaged in the U.S.A!!! SWEET!
Gulfcoasttex
MUST READ!
We had 6 WWII Stearman aircraft (converted) used for crop dusting in South east Texas. We had 300 and 450 HP engines which were only suppose to go for 1500 hours before something critical would go wrong due to the fact these engines were almost always ran at full throttle under loads. We put in 1 Gallon Mystery oil per 5 Gallon tanks and these engines could go 2000 hours easily before rebuilding. 25% more. I put a quart in my vehicle at each oil change at 3,000 to 5,000 miles. My 1995 Ford Aerostar got 497,000 miles without touching internal engine parts. I sold and bought a 2000 Ford Explorer and put 400,000 miles with same result. I have now 245,000 miles on my 2004 Ford Explorer with same results. None have ever used oil between oil change. One other note is that I have NEVER touched or changed the transmission fluid. I HIGHLY RECOMMEND MARVEL MYSTERY OIL.
Teddy01
First time trial on a 1995 Jeep Grand Cherokee
My first trial is excellent !! I can tell a difference in the Engine power .. It is running quiet & smooth. I used as directed in a gas fill up & in my oil. Wow !! What a difference !!!