St. Ives Acne Control Face Scrub Apricot 10 oz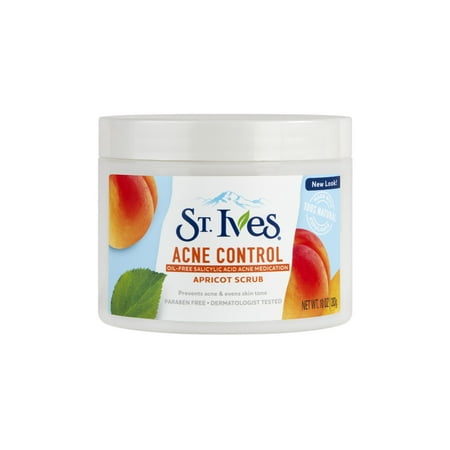 MSRP :

$6.46





Sale :

$5.44

Sold & shipped by Walmart
Product Description

Additional Information

Reviews
Product Description
St. Ives Naturally Clear Apricot Scrub is a product with 100% natural extracts that can help treat acne. The Blemish Blackhead Control Oil Free Scrub, 10 oz., exfoliates to prevent blemishes before they occur. It provides gentle skin care and is oil free. The St. Ives Scrub fights blemishes, and cleans pores without over drying your skin. St. Ives Naturally Clear Apricot Scrub features salicylic acid acne medication with 100% natural exfoliants. With St. Ives Naturally Clear Apricot Scrub, you can clear blemishes and control blackheads to reveal clearer, more nourished skin.
Additional Information
St. Ives Acne Control Face Scrub Apricot 10 oz
Our Acne Control Face Scrub deeply cleans pores and contains 2% salicylic acid to help prevent new blackheads and blemishes from forming
Made with 100% natural exfoliants
We use delicious apricots grown in various sunny destinations including California
Each dollop delivers a high exfoliation factor to deeply clean pores
Tell me more! This scrub is dermatologist tested, paraben free, non-Comedogenic (not tending to cause blocked pores), and oil free.
Use St. Ives Acne Control Apricot Scrub for the treatment of acne and to help prevent new acne pimples and acne blemishes from forming
Reviews
sawnglant
Rarely used for face but....
First I rarely use the scrub for my face because my skin is thin and the exfoliant is too rough for me. However it makes an excellent body scrub particularly for the bottoms of my feet and my underarms. The walnut exfoliant removes both deodorant residue and dead skin with ease. The salicylic acid deals with the odor causing bacteria and the apricot oil conditions and smooths my skin. I also use it before I apply shea butter when I go to the beach to prevent patchy and uneven tanning. In addition this product is not tested on animals and even their glycerin is plant sourced. Yay!! I love St Ives!!
chiomaa1234
Rarely used for face but....
I have been trying out this scrub for a month. I can tell you now that this is a good scrub. It deeply cleanses your skin and leaves it feeling soft and fresh. I would not recommend this to someone who has sensitive skin because the scrub particles are hard. However if you have acne prone skin this is might be the scrub for you!
chiomaa1234
Rarely used for face but....
I been looking for a face scrub that will do what it says is suppose to do. I believe I found it!! I have been using St. Ives scrub for 2-3 weeks now. Is part of my night routine. And I already see a difference. My blackheads on my nose area are gone and my face looks less stress and smoother. I have tried other products much more expensive than this and they haven't even work. I definitely recommend this product.
indihdez
Rarely used for face but....
It is very good scrub, it smells delicious and it frees my skin of oil, it feels super clean and fresh. The only thing I do not like is that the exfoliator is a little aggressive, and my skin is delicate, I have many acne marks and I always look for a lighter exfoliator. But the product is very good.
ashleymorrise3852c69
Rarely used for face but....
This is one of the best acne control products out there. The smell is refreshing and it is super affordable. You can find it anywhere and I have used this product off and on for years.