St. Ives Acne Control Face Scrub Apricot 10 oz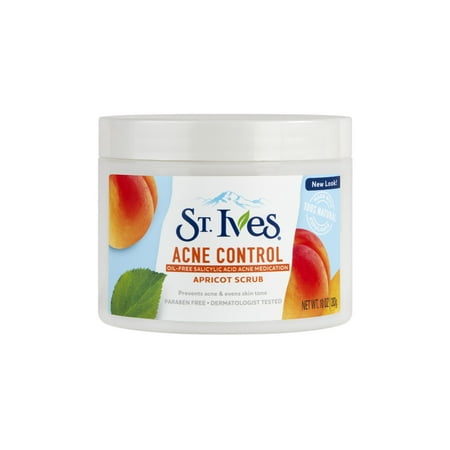 MSRP :

$6.53





Sale :

$5.44

Sold & shipped by Walmart
Product Description

Additional Information

Reviews
Product Description
St. Ives Naturally Clear Apricot Scrub is a product with 100% natural extracts that can help treat acne. The Blemish Blackhead Control Oil Free Scrub, 10 oz., exfoliates to prevent blemishes before they occur. It provides gentle skin care and is oil free. The St. Ives Scrub fights blemishes, and cleans pores without over drying your skin. St. Ives Naturally Clear Apricot Scrub features salicylic acid acne medication with 100% natural exfoliants. With St. Ives Naturally Clear Apricot Scrub, you can clear blemishes and control blackheads to reveal clearer, more nourished skin.
Additional Information
St. Ives Acne Control Face Scrub Apricot 10 oz
Our Acne Control Face Scrub deeply cleans pores and contains 2% salicylic acid to help prevent new blackheads and blemishes from forming
Made with 100% natural exfoliants
We use delicious apricots grown in various sunny destinations including California
Each dollop delivers a high exfoliation factor to deeply clean pores
Tell me more! This scrub is dermatologist tested, paraben free, non-Comedogenic (not tending to cause blocked pores), and oil free.
Use St. Ives Acne Control Apricot Scrub for the treatment of acne and to help prevent new acne pimples and acne blemishes from forming
Reviews
sawnglant
Rarely used for face but....
First I rarely use the scrub for my face because my skin is thin and the exfoliant is too rough for me. However it makes an excellent body scrub particularly for the bottoms of my feet and my underarms. The walnut exfoliant removes both deodorant residue and dead skin with ease. The salicylic acid deals with the odor causing bacteria and the apricot oil conditions and smooths my skin. I also use it before I apply shea butter when I go to the beach to prevent patchy and uneven tanning. In addition this product is not tested on animals and even their glycerin is plant sourced. Yay!! I love St Ives!!
Disappointed
Rarely used for face but....
Have broke out worse since I've traded to this product
KatyPotter
BEST SCRUB EVER
I suffer from teenage acne and... WAIT!!! I sufferED from teenage acne, but not anymore thanks to this incredible scrub. My face is is sooooo smooth and clear and refreshed. Totally worth the money!!! Recommend this to anyone who suffers with their skin :)
Karen90
My favorite facial wash product
I used this product all throughout highschool, and I never really had much of a problem with acne or bad skin. Somewhere around my 3rd year of college I stopped using it, I don't remember why. Perhaps to save money or I just didn't think of it, but my skin went berserk. The last few years I've had the worst acne I've ever had, due to stress and a less healthy diet. I tried dozens of acne-specialized skin care products, even trying the expensive brands. Nothing worked, if anything, some made them worse. I bettered my diet and lifestyle but still had awful skin. I picked up a bottle of the apricot scrub earlier this week, and after only 4 days of use my skin is already 90% cleared up. No new acne is forming, and the old spots are vanishing overnight. My tone is clearing up noticeably as well, and it doesn't make my dry skin worse. I will be a buyer of this product for as long as it sits on retail shelves. It seems to be the one facial product my skin actually enjoys. Thank you St. Ives!
Karen90
My favorite facial wash product
I love this exfoliant, its texture is good, exquisite smell, what I can highlight the most is its effective work on the skin, leave your skin smooth and without fats