St. Ives Acne Control Face Scrub Apricot 10 oz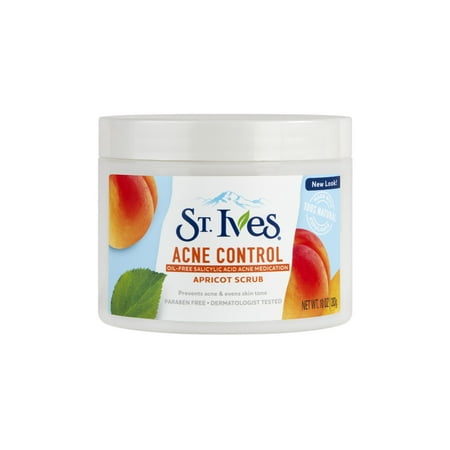 MSRP :

$6.53





Sale :

$5.44

Sold & shipped by Walmart
Product Description

Additional Information

Reviews
Product Description
St. Ives Naturally Clear Apricot Scrub is a product with 100% natural extracts that can help treat acne. The Blemish Blackhead Control Oil Free Scrub, 10 oz., exfoliates to prevent blemishes before they occur. It provides gentle skin care and is oil free. The St. Ives Scrub fights blemishes, and cleans pores without over drying your skin. St. Ives Naturally Clear Apricot Scrub features salicylic acid acne medication with 100% natural exfoliants. With St. Ives Naturally Clear Apricot Scrub, you can clear blemishes and control blackheads to reveal clearer, more nourished skin.
Additional Information
St. Ives Acne Control Face Scrub Apricot 10 oz
Our Acne Control Face Scrub deeply cleans pores and contains 2% salicylic acid to help prevent new blackheads and blemishes from forming
Made with 100% natural exfoliants
We use delicious apricots grown in various sunny destinations including California
Each dollop delivers a high exfoliation factor to deeply clean pores
Tell me more! This scrub is dermatologist tested, paraben free, non-Comedogenic (not tending to cause blocked pores), and oil free.
Use St. Ives Acne Control Apricot Scrub for the treatment of acne and to help prevent new acne pimples and acne blemishes from forming
Reviews
Unknown Customer
No break-outs
Let me start off by saying I got this on an influenster campus vovbox which was sent to me for free to review but this is completely my honest opinion, I have been looking for a scrub that would get rid of my dead skin cells but would not break me out because I am not acne prone what so ever but it seems that when ever I use a scrub I break out because of it and ST. Ives hasn't done that for the time that I've used it so I am very impressed plus It's a deep cleaner which I love because I'm not into gentle scrubs because I feel like they don't do the job. I have not used this enough to know if it removes blemishes but I will update. [This review was collected as part of a promotion.]
sawnglant
Rarely used for face but....
First I rarely use the scrub for my face because my skin is thin and the exfoliant is too rough for me. However it makes an excellent body scrub particularly for the bottoms of my feet and my underarms. The walnut exfoliant removes both deodorant residue and dead skin with ease. The salicylic acid deals with the odor causing bacteria and the apricot oil conditions and smooths my skin. I also use it before I apply shea butter when I go to the beach to prevent patchy and uneven tanning. In addition this product is not tested on animals and even their glycerin is plant sourced. Yay!! I love St Ives!!
BlairS
A little abrasive but it works!
I received this product in my Campus Voxbox for testing and review purposes. I decided a week or so ago to bring this out for a at home spa day and I was expecting a more liquid soap. It was more along the consistency of toothpaste, really gritty toothpaste. It works as a great exfoliate but to be honest it hurt a whole lot. I understand its ripping layers of skin off but I have never had something this abrasive. A little whole after this cleaning , about 30 minutes, my face had tons of oil build up. With the exception of my chin and apples of my cheeks I don't get enough oil build up to me shiny. I felt like I had a swimming pool of oil on my face so I went back to my facial soap and it dried me up for a few hours when I had to wash my face again. I don't know if I was too rough but it made me uncomfortable. My sister tried it and it works just fine for her I guess I'm just difficult. [This review was collected as part of a promotion.]
nikkip
awesome stuff
i bought this because im breaking out from my previous changes of facial wash(neutrogena pink grapefruit scrub, maxipeel face wash) and in two days of using this twice a day my breakouts dried up.now they are just scab when i touch them and all i have to do is wait for them to all fall off.what i like more about this product is that it doesnt dry my face out, just the breakouts.and in the morning i dont have to put a full face makeup anymore, all i do is just dab my dark spots with my loreal truematch liquid foundation like im using it as a concealer.and i dont put anything else no more, even powders.cause this stuff made my skin brighter and i think it has tremendously helped remove the redness from my face.i think it made my face whiter too.while the neutrogena pink grapefruit made me breakout more and never dried up my pimples,(maybe because it contains MICA which ive read is pore clogging) , this stuff is so awesome that no pimple appears now each morning i wake up which rarely ever happens to me.so let me say thank you very much st ives for producing this stuff.it's really awesome.:)
E615
Good job
Ok my skin is good except for the hair on there!!! Ive been doing laser which has improved my skin 100% but im left with lil holes n my face mayb there pores frm where the hair use to be ..i was looking for moisturizer @ 1stand remembered   my mother use to use st ives collagen yrs ago ..after reading all the reviews on this site about the scrubs i decided to purchase what i felt i needed..i use the oatmeal as a mask and the other 2scrubs as scrubs ..idk which one is helper but  gettin good reviews frm my coworkers 2days after i used the products! My skin is smooth shiny not that over bearing shine but that , u have good skin shine..im n love and hopefully these products will continue to do the job