St. Ives Collagen Elastin Facial Moisturizer for Dry Skin, 10 oz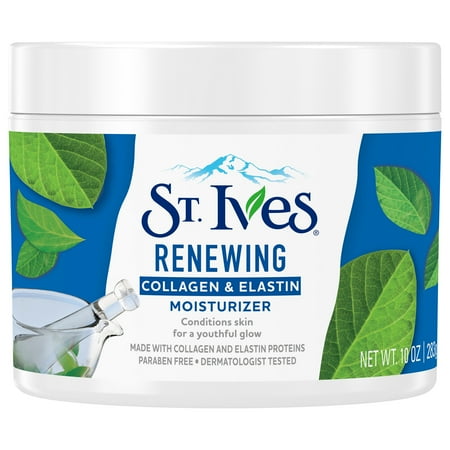 MSRP :

$7.2





Sale :

$5.44

Sold & shipped by Walmart
Product Description

Additional Information

Reviews
Product Description
Hydrate, smooth and protect your skin with St. Ives Swiss Formula Collagen Elastin. It contains collagen and elastin proteins that help improve elasticity, leaving skin looking younger and more vibrant. This St. Ives collagen elastin moisturizer also has safflower seed oil and glycerin to nourish and protect skin.
Additional Information
St. Ives Collagen Elastin Facial Moisturizer for Dry Skin,, ,10 oz
Our Renewing Collagen & Elastin daily facial moisturizer conditions skin for a youthful glow
Made with a 100% natural moisturizer, safflower seed oil
Our safflowers are lovingly picked from various countries like Argentina and Australia
Youthful skin is always in! This face moisturizer helps renew skin for a beautiful, healthy glow.
Tell me more! Our moisturizer is dermatologist tested, paraben free, and non-comedogenic (not tending to cause blocked pores)
Rub moisturizer into the palm of your hands. Smooth onto your skin starting with the cheeks, moving to the forehead, nose and finally chin
Reviews
MommytoJordan04
Something that FINALLY works for me!
I suffer from extremely dry skin - especially on my face. I also have very sensitive skin and tend to break out from everything! I was so sick of having a dry scaly face - my forehead, cheek bone area, nose, mouth and the whole nine yards. I have tried SO many different facial moisturizers, to no avail! They all either left me broken out - or just plain did NOT work. I checked out the reviews for this item and found that they had it in my local Walmart store. I was so ecstatic to try it. I have been using it day & night for 1 week now and I no longer have dry skin. After I got out of the shower any time before, my face would be a MESS - dry and red blotchy patches all over. I no longer have any dryness on my face and this product did not cause me to break out at all! Yay! FINALLY. $6 and some change (with tax included) for this container of moisturizer - and it will last a long time! How can I ask for anything better?!
Keke
Pleasantly surprised!!
My hormones are out of wack (again) which has become the norm unfortunately and so I'm dealing with yet another breakout. I'm using a drying charcoal soap to treat it and it's working but it leaves my skin tight, itchy, and so dry that it hurts. Anyway, I was looking for a good moisturizer to combat the dryness caused from the soap and came across this. First of all, you're getting this HUGE container of cream for just $5.44 that just so happens to be a really great moisturizer too! About the size of a jar of Noxzema for reference so it'll last for a really long time. I applied it after washing my face while it was still the tiniest bit damp and it sunk right in. No oily or greasy feeling. It has a whipped souffle kind of consistency so it's light yet effective. Last but not least, it didn't break me out. That's huge for me because almost everything else does. Oh yeah, it dramatically reduced the gross appearance of my breakout. From a distance you can't even tell anything's going on with my face lol. Anyway, this cream is definitely worth it's weight in gold. Wish I could rate it 10 stars :)
shootingstarz
Buy this!!!
Step away from that expensive moisturizer and try St. Ives! I have sensitive, combination skin, so finding a moisturizer with the right balance was always a struggle for me. I found myself getting more and more annoyed every time I dropped a small fortune on a tiny bottle of facial moisturizer only to have it it stick or flake on my skin like a chemical peel. Then St. Ives saved my skin and my bank account. This stuff soaks into your skin. It's not sticky. It has a light, pleasant scent. It makes your skin super-soft and doesn't cause break-outs. Also? It comes in a small tub. A TUB. Nice work, Unilever. I seek out more products in your family just because of this amazing gem.
ChiHoney
THE Best Face Moisturizer!
Ladies, I am 44 years old, my only child will be 25 years old this year, and people have told me I look like I am in my early 30's. Even my daughter tells me I am a vampire :) LOL (She means I look like I never age). I have been using this face cream for years. I do not have any lines on my face, and I do not have crow's feet. Enough said ;)
nicksauntie
My little secret
I recently lost 135 lbs and have loose skin everywhere. I was trying to find something that helped with the wrinkles. This formula is for your face but I use it on my popeye arms and my thighs - after 3 weeks I really see a difference. I have used expensive dept store moisturizers for years and this stuff work 100% better. I call it my little secret that I am sharing with you.