Coleman Camp Axe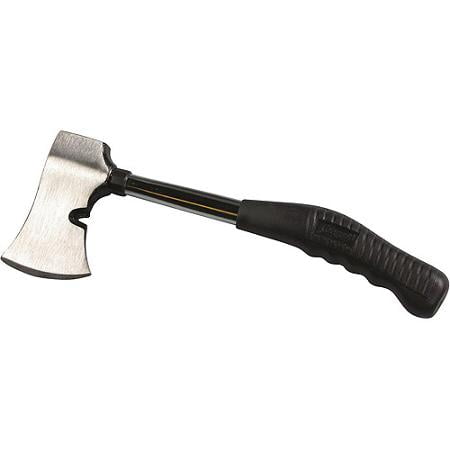 MSRP :

$9.99





Sale :

$7.79

Sold & shipped by Walmart
Product Description

Additional Information

Reviews
Product Description
An incredible tool for splitting firewood and kindling at a campsite is the Coleman® Camp Axe. The drop-forged carbon steel blade is strong enough to cut through stumps, yet the axe is still small enough to fit on your belt. The axe has a tubular steel handle with a comfortable, non-slip rubber grip. It also comes with a blade cover and vinyl case for safe storage. Drop forged carbon steel axe head; Forged steel handle; Ergonomic, non-slip grip; Dimensions including vinyl axe head cover: 12.8 in. x 4.6 in. x 1.1 in.
Additional Information
Coleman Camp Axe:
Drop forged carbon steel axe head
Forged steel handle
Ergonomic non-slip grip
Reviews
DnvrBC2317
Coleman Camp Axe
My husband and I were looking for something to split some wood approximately 6" - 8" in diameter for when we went camping... I got this and to my surprise it broke right where the indent thing is on the head of it, after only a couple of times of using it!!! Maybe it was just a defective one or something but I can not bring myself to getting another one... Guess the old saying is true... "YOU ONLY GET WHAT YOU PAY FOR". So now I'm looking for something better, if you want better then you must be willing to ante up for quality... Enough said about that....
Dorffey
Unbelievably Dullsville
This is obviously a hatchet, not an axe. That and the $5 price should have warned me. Bought it brand new and took camping to try. The edge is so dull it's like chopping with a hammer. You'll break the wood by blunt force before you chop through it. The novelty wore off quickly with our young kids, who got frustrated after eagerly waiting their turn. Might be usable but only after some serious power grinding, assuming the steel is any good. Hard to believe Coleman put their name on this.
CoachDan
Inexpensive, but Does the Job
The definition of Axe, Ax or Hatchet is always a debatable topic. By its small, one-handed size, I would call it a hatchet. Giving it its due, for so little dough, it will do what is expected in the morning dew. I know, that was a lot of do do, but I hope it gave you a haha while reviewing the review. To make an honest disclosure, I purchased this item to compare against other products between companies for inclusion in Survival Bug Out Bags for DisasterBOB's(c). It required sharpening before use, which should be expected for the price. Since it is forged, high-carbon steel, you expect to resharpen it after you use it a few times. It has a nice weight and feel to it and swings well. The reason it got a 4-Star rating instead of 5 was the cover. The site called it a vinyl head cover, so I expected a high impact, heavy vinyl similar to an Army Entrenching Tool or Axe cover, not cheap clear plastic not much thicker than a plastic shopping bag. All in all. it was worth the price I paid.
AltavistaShopper
Useful within its capacity
We have had this little ax for about 2 years. It has been used in clearing our land. It makes an excellent ax to delimb branches. It is good to cut away branches to make a trail. Was used to cut root balls and split small stumps to the ground. It is good for small work. It is useful within its capacity.
GeneVapeoff
decent...
I bought what I thought was a body spray but all I got was this stupid piece of garbage. I couldn't afford to send it back or buy some REAL body spray so I got in the shower and I started swinging this "Axe" all over the place, I ended up cutting all of my limbs off but it works well so 3/5 stars.