Coleman 4D Battery QuickPump Electric Air Pump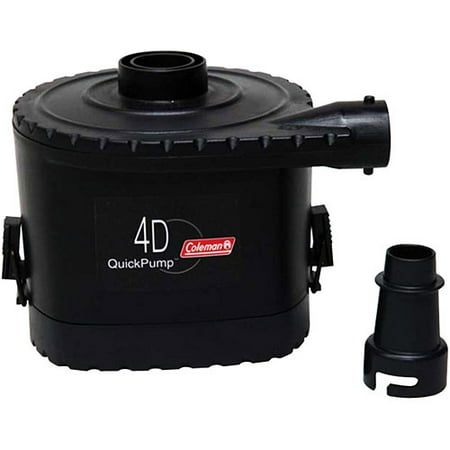 MSRP :

$23.99





Sale :

$14.7

Sold & shipped by Walmart
Product Description

Additional Information

Reviews
Product Description
Easily inflate and deflate air mattresses and other recreational inflatable items with the Coleman 4D Battery QuickPump Electric Air Pump. Featuring a lightweight, portable design, this battery-powered air pump is compatible with all Coleman air mattresses, Double Lock valves, quick valves, Boston valves, standard wide-opening valves, and most other inflatable products. Great for both indoor and outdoor use, this portable air pump features a side valve for inflating and a top valve for quickly deflating. The air mattress pump runs on 4 D-cell batteries (sold separately).
Additional Information
Portable air pump for inflating and deflating air mattresses and other inflatable itemsLightweight, compact design ideal for use on camping trips or at homeWorks with all Coleman air mattresses and most inflatable productsIncludes valve adapter for Double Lock/Boston valvesRuns on 4 D batteries (sold separately)
Reviews
fiskermama
TERRIBLE!
This stopped working before the first (twin-sized) air mattress was filled. A connection seemed to be loose, because it worked at first, though with sporadic power. If held at any angle besides perfectly straight, it groaned, lost power and stopped functioning. After an inconvenient nighttime run to the store from our campsite to purchase new batteries, the result was the same. We then concluded the pump we had must be defective. After a night spent on the hard ground we returned to Walmart, tried our new batteries in the two other units Walmart had in stock with identical results. It seems ALL of this these pumps have the same problem. Maybe it was a defective lot from the manufacturer - I don't know. We finally gave up and purchased a different brand at Kmart. What a disappointment and inconvenience - especially from Coleman, whose products are usually of excellent quality.
FriendlyOhioan
Awesome!
I have owned this pump for about 6 years now. Aside from having batteries run out, it has never failed me. I would recommend it to anyone.
Akito10
good small pump but can't finish the last step
I use this pump for my coleman queen airbed and it works very fast. 2min can get almost full but the problem comes with that. The pump is not powerful enough to get it firm. There are some other reviews said let it run for 5min and it will get better but I don't want to do that because it's waster of your time and battery life. I purchase a Coleman Dual Action QuickPump Hand Pump and use it to finish the last step to get the airbed firm. It works so good! The Coleman Dual Action QuickPump Hand Pump can pump the queen airbed about 5min if you don't want to waste your money for this Quick Pump you can use just the hand pump.
Nascarman
coleman battery powered quick pump
This pump works very well inflating and deflating my air mattress, would recommend for any camper.
PaulaHorseCamper
coleman battery powered quick pump
The pump was very effective at filling my Coleman Quickbed. The pump filled the Quickbed in about 5 minutes and is easy to use. I had an extra set of batteries with me but never used them. I filled the bed 3 times plus a daily boost each PM before I went to bed.