Coleman 5-Gallon Water Carrier, Blue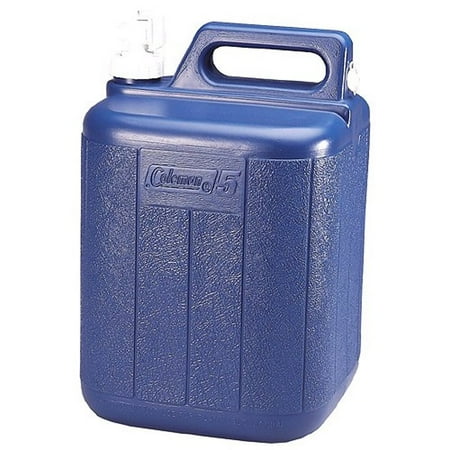 MSRP :

$21.47





Sale :

$24.27

Sold & shipped by Ron's Home and Hardware
Product Description

Additional Information

Reviews
Product Description
Bring cold, refreshing water with you outdoors with the **Coleman 5 Gallon Water Carrier**. The durable construction stands up to the wear and tear your adventures bring. The on/off faucet allows you to control water flow and the molded handle makes carrying simple.The **Coleman 5 Gallon Water Carrier** is proudly made in the USA. The Coleman water carrier is a must have for your next camping adventure. VMInnovations is an authorized Coleman dealer that sells new, warranted products! Please see our other listings as we have a wide variety of outdoor camping equipment.
Additional Information
Large jug holds up to 5 gallons of water
Easy-to-use spigot lets you conveniently fill up your drink
Ideal for drinking, cooking, and cleaning at the campsite
Molded handle for convenient carrying and lifting
Made in the USA
Reviews
GDLite
Great Container with weak Faucet Assembly
This is an old favorite in my camping gear, but the "redesigned" Faucet Assembly is weak at best. The original version of the faucet lasted 15 + years of rugged use, the container itself is STILL in great shape! However, the latest version has to be handled with extreme care or the faucet twisty handle will break off easily within weeks. The plastic is too thin at that point and will not stand up to anything above delicate use. Please bring back the old faucet design and you will have a customer for life!
Colemantent
New to Coleman
First I wanted a collapsible container but many of Colemans weak so I went with the hard plastic. Best thing I can say about this is that its not thin plastic, the spout is cheesy but very functional. The spout can be inverted when not in use to protect it during storage. When in use with the vent cap open, it allow s a steady controlled stream without wasting water all over the place. If you leave the vent close the stream is just enough to allow you to drink from it like a water fountain which is nice if you have a pet or lazy kids. Naturally once you fill it, its heavy. Guys don't leave this to your wife or kids to fill or carry. Its rugged enough that it stood up to 3 racoon attacks without be dragged away, dent, or punctured. Recommend you clean with baking soda to keep plastic smell out during storage
Nightstar71
Love this blue
I already do have 12 of them. I use then to bring mineral water and keep the water till I need to use it. I worried if water will be safe and will not burst up. It is safe. Container became as balloon, almost round but water stay in place. I close the vent by scotch to prevent vent from opening due transportation and very high gas inside, it is mineral water with carbon dioxide. Yes, it let some water to leak when we place it on the kitchen and open to be used but I do not mind. It is very small amount in the beginning and next day it is safe. Also maybe I do not use it correctly. There is ring inside the lead, very easy to lost. Be very careful with this ring. It is wight as lead and it took me long time to realize it exist. Very small and tiny. I think it would be better if they did it in red color that it will be easy to see. Price cannot find better. There were no any leak in car due transportation from Saratoga to NYC. I am very happy I did find what I need.
Nedd
Good except for spigot
The blue carrier is fine. It works well, is a good size/dimension to carry in a car, the hard sided square shape makes it easy to set up on a picnic bench or log. Unfortunately the spigot is the shortcoming on this product. Ours worked for 5 or 6 trips before breaking. I have 2 of this model, and both of the spigots have issues.
Siteguy
Durable
Easy to fill and carry does not take up much space