Coleman 5-Gallon Water Carrier, Blue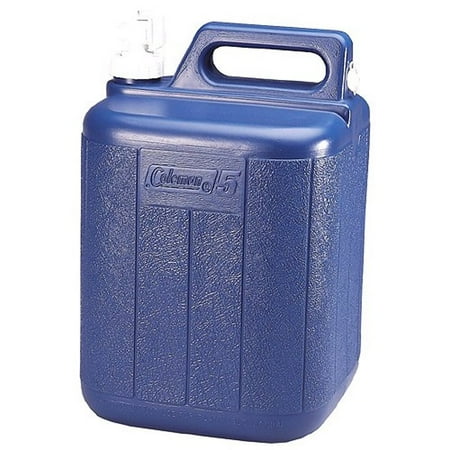 MSRP :

$15.15





Sale :

$12

Sold & shipped by Walmart
Product Description

Additional Information

Reviews
Product Description
Keep your water cold and refreshing in style with this Coleman Water Carrier. The Coleman water cooler holds 5 gallons. The 5-Gallon Water Carrier, Blue has a molded handle for stability and an on/off spigot for water control. The Coleman Water Carrier features a tough polyethylene construction, making it scratch- and impact-resistant. It is also well-suited for use at outdoor activities like baseball games, picnics and more.
Additional Information
Large jug holds up to 5 gallons of water
Easy-to-use spigot lets you conveniently fill up your drink
Ideal for drinking, cooking, and cleaning at the campsite
Molded handle for convenient carrying and lifting
Reviews
Colemantent
New to Coleman
First I wanted a collapsible container but many of Colemans weak so I went with the hard plastic. Best thing I can say about this is that its not thin plastic, the spout is cheesy but very functional. The spout can be inverted when not in use to protect it during storage. When in use with the vent cap open, it allow s a steady controlled stream without wasting water all over the place. If you leave the vent close the stream is just enough to allow you to drink from it like a water fountain which is nice if you have a pet or lazy kids. Naturally once you fill it, its heavy. Guys don't leave this to your wife or kids to fill or carry. Its rugged enough that it stood up to 3 racoon attacks without be dragged away, dent, or punctured. Recommend you clean with baking soda to keep plastic smell out during storage
Nightstar71
Love this blue
I already do have 12 of them. I use then to bring mineral water and keep the water till I need to use it. I worried if water will be safe and will not burst up. It is safe. Container became as balloon, almost round but water stay in place. I close the vent by scotch to prevent vent from opening due transportation and very high gas inside, it is mineral water with carbon dioxide. Yes, it let some water to leak when we place it on the kitchen and open to be used but I do not mind. It is very small amount in the beginning and next day it is safe. Also maybe I do not use it correctly. There is ring inside the lead, very easy to lost. Be very careful with this ring. It is wight as lead and it took me long time to realize it exist. Very small and tiny. I think it would be better if they did it in red color that it will be easy to see. Price cannot find better. There were no any leak in car due transportation from Saratoga to NYC. I am very happy I did find what I need.
Kelli E.
Very efficient traveling water carrier
This beats large 5 gallon water bottles or a bunch of small plastic water dispensers. It packs great, doesn't roll around or puncture, is easy to move esp if you fill it to 3 gallons. Easily refilled at camp spigots or at purified water dispensers. Loved it in Utah in May off-road camping.
bms29
Sturdy, looks good
I will be using this for long-term water storage. I have already rinsed in and put in a 50/50 mixture of Rubbing Alcohol and water -swished it all around, emptied it then turned it over to dry. (some people use bleach/water but I have found that a mixture of rubbing alcohol is great for sanitizing my kitchen cabinets, etc. (got that information from a doctor -they usually use 100% rubbing alcohol though for their instruments, chairs, cabinets, etc.) I will be filling this up with water and adding a Water Treatment because I do not want to have to empty & replace the water every month or so. I put a 4 star because it would be nice if the water spout could be turned over to the inside but I will just cover with a bag because I do not want dust, etc. getting all over it.
TheAssembler
VERY GOOD PRODUCT READ BELOW, DETAILED REVIEW!
For many of you I see many questions that need answering and I will make this as informative as I can and this review may cover all the necessary questions. 1. This is a BPA free container, and by law any item that comes in contact with food and water for long periods is supposed to be so. 2. This item will not hold or store alcohol, beer, fruit juice, milk or any other items that may spoil, cause damage to the plastics or otherwise compromise the integrity of it, it will also not hold or store hot teas, or beverages that are hot, or any liquid that is over 110 F-120 F or below temperatures of 50 F. 3. This item will not store water at sub freezing temperatures, its range is 50 F to 85 F or there about. 4. The jug is very durable, sturdy and will carry and hold 5 gallons of water for a very long time if proper use of a preserving agent is used. Drops sold in many retail chains that state they contain Tetraglycine Hydroperiodide are good for treating water only for bacteria not for storage, only tablets or drops that contain Sodium Hypochlorite should be used for water storage, or some other agent similar to Sodium Hypochlorite. 5. Proper care should be utilized when filling the container, rinse first, then eject the water, then fill to within 3 inches of the top, add drops, cap carefully making sure threads are properly aligned, then shake repeatedly and the cap interior covered in water while shaking, secure the cap lightly and allow small amount of water to escape to coat threads, then secure completely, port water through the main valve, then turn over and port water from the airflow valve. This will sanitize all ports as well. 5. Label with ink marker the date you store the water and the expire date, if opened prior to date retreat, and store again, making note of dates, 5 years usually for treated water. 6. Store water in a cool, dry, dark place, never outside. 7. Check the container every 6 months to assure it is secure and no leaks, making sure the water inside is intact and not able to leak from it through the ports, making sure the valve is in place and secure. 8. Making sure the container is clean and free of dirt, dust, animal waste and any other debris is always a good plan. Clean the exterior with a combination of 1 gallon warm water to 1 cap full of bleach. 9. Never, ever, rinse the interior with soap, bleach, or any other chemicals if you intend on using it for long term water storage.