Coleman Camp Bistro 1-Burner Butane Camp Stove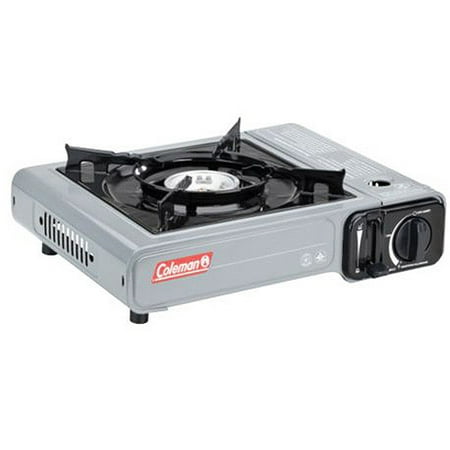 Sale :

$18.78

Sold & shipped by Walmart
Product Description

Additional Information

Reviews
Product Description
Easily serve up a hot meal in the outdoors with the Bistro Coleman Butane Stove. The lightweight, compact design and included carry case make it easy to take on your next camping trip or picnic, but don't let the size fool you. This 1-burner stove packs 7,650 BTUs of cooking power into its durable steel case, which along with the automatic ignition and variable temperature control, means you can cook all your favorite meals. After you're done eating, the enameled surface makes for quick and easy cleaning so you can enjoy more time outdoors.
Additional Information
Coleman Camp Bistro 1-Burner Butane:7,650 BTU adjustable burner for optimal cooking performanceColeman camping stove has automatic ignition, no matches necessaryDurable enameled steel case stands up to outdoor usePorcelain enameled cooking surface for easy cleaningLightweight, compact design on Coleman camping stove for easy storage and transportLarge stable base and wind shield for easy cookingBistro Coleman Butane Stove includes hard carry caseLasts up to 1 hour and 15 minutes on a disposable 8.8 oz butane cylinder (sold separately)
Reviews
uhaulcamperblog
Great little stove
Video review in action: http://youtu.be/y3D0_mWbLBA I like to cook outdoors, especially in the fall. (I always try to cook bacon outside on the back deck so I don't have to clean up the grease splatter in the kitchen.) I have a grill but not one with a side burner. I also have a 2-burner propane stove I've used for ~15 yrs camping. So I went looking and researching for one that I could use at home, at the park, or while camping. I stumbled on the Coleman 1-Burner Butane Stove. You'll want to shop around as I've seen the price vary from $16-35. This stove runs off butane instead of propane like many other camp stoves. The canisters are a bit smaller and should last at least an hour on full flame/heat. The nice thing about this stove is how easy it is to hook up the fuel. I've used a lot of different stoves over the years and most of them use a threaded design. This can be trouble for older children you're trying to teach how to use one and help out, older adults, and folks with dexterity issues (like rheumatoid arthritis or hand injuries for example). With this stove you don't have to thread/twist the canister on. Just drop it in the slot and push down on a lever that locks it into place and pressurizes the system. Then just turn the knob past max till it clicks and the igniter sparks into the gas. It's that easy and you're cooking! There's other things I like about this little stove too. Check out my video review to see how easy it is to operate and what else I like about it! Whether you're using this for camping, boating, back yard BBQ, or as an emergency cooking source when your power goes out, it's a great versatile addition to your gear.
izifaddag
Suitable for Semi Truck
I live in my semi truck. It is my home and my workplace. I eat here all the time and it is challenging to find a way to offer oneself a way to cook a variety of foods. I have a microwave, a small 12v oven (high end), a full size dorm refrigerator and I was using a Coleman stand up burner using 1lb bottles of propane fuel. I had the burner for many, many years and my biggest complaint with it was uncontrollability. It was often FULL on and needed to be watched. Secondly was instability. A little wobbly. This Coleman butane stove is waaaaaay better. It is stable 'coz it is flat and the butane fuel is just as good. The flame is superb. It can be turned down to a flicker and STAYS there! No screwing things together each time and everything built in like a piezo starter and the canister receptacle. I like the carry case too. I think fuel is expensive but compared to a Max Burton bought in a truckstop it is a giveaway. $2.97 a can as opposed to $5 + in a Petro or TA. Thanks Coleman.
TSiri
Highly recommend to anyone and everyone
This lightweight stove was ready for me to pick up when I purchased it site to store. My local store finally got it on the shelves. The butane bottles are sold at $2.97 each, and I've been using one for over a week now. The directions are easy to follow and the stove is a breeze to use. I use it mainly on low heat, because this thing is powerful. I'd highly recommend it for anyone's camping gear, a backup to a household or RV stove, for disaster kits, tailgaiting and for outdoor kitchens. It's well worth the money and should last a very long time with proper care. Oh, yeah, it puts out a tremendous amount of heat as well. If I were in a survival situation, I could set this up in a well-ventilated space and stay warm enough to live through a hard freeze. I use this stove every day.
Arnold
Easy to use!
I bought this portable Coleman butane stove to use in my van when I go camping. I have found it to be very easy to use, it always lights on the first turn of the knob and it boils water in my kettle fast. A canister of butane fuel lasts me about ten days and they are easy to replace and easy to dispose of as opposed to the green propane fuel canisters which are a bit of a pain to deal with as you have to find a drop off place to dispose of them properly. I have found that Walmart does not always carry replacement butane fuel canisters and I have had to buy my supply at other stores often at a much lower price than Walmart ($1.50 each compared to $2.79 each). This is surprising isn't it! The plastic box that the stove comes in is useful for storage. All in all, this is a useful and inexpensive product to boil water or cook food with and well worth the money!
Scooter
If it will not work don't worry read this
I have 2 of these and yes as many of you I have had the issue with the lever either not moving or not staying engaged (holding the butane can) rendering the stove worthless. Turn the stove over and locate the thing metal part closest to the lever. The thin metal thing is probably blocking the lever from moving. If you try to move the lever you will see it hit the small thin metal plate. Simply take a screw driver and remove the small spring from the thin metal part, This will allow the metal part to move freely and not block the lever. This is an awesome stove - it cooks great with great control.