Coleman Sundome 2-Person Dome Tent, Green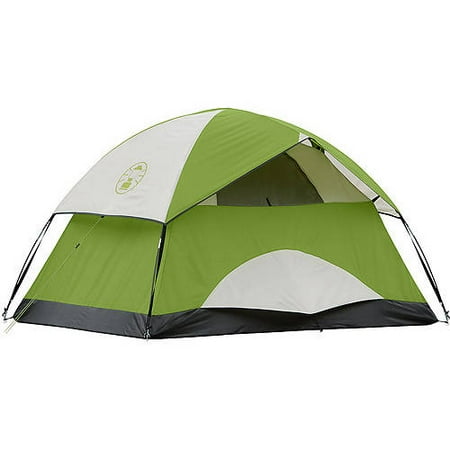 MSRP :

$109.99





Sale :

$39

Sold & shipped by Walmart
Product Description

Additional Information

Reviews
Product Description
A must-have for anyone who goes on frequent camping trips, the Coleman Sundome 2-Person Dome Tent can conveniently accommodate two people at a time. Designed with the exclusive WeatherTec system, this Sundome tent keeps you safe from the elements. With leak-free seams and waterproof floors, this 2-person tent ensures to keep you dry when it rains. On the other hand, the strong, wind-responsive frame resists wind. With adjustable Variflo ventilation, this Coleman tent lets you have control over the airflow inside the tent. The vent window ensures complete privacy, whereas the door makes for convenient entry and exit. The continuous pole sleeves, InstaClip attachments, and the pin-and-ring design make it easy to set up this camping tent. The dome structure of this Coleman Sundome 2-Person Dome Tent makes for convenient portability, while enabling quick and easy setup.
Additional Information
Dome tent with spacious interior allows you to move comfortably
Easy setup in only 10 minutes
WeatherTec system with patented welded floors and inverted seams to keep you dry
Large windows and a ground vent for superior ventilation
Measures 7 x 5 feet with 4-foot center height
Reviews
elyza45
Great first tent
This was my very first tent and camping experience, and the tent was used for a five day retreat in Southern California in mild weather. The tent is a good size for one person using a folding 4- inch thick sleeping pad, although given the choice again, I probably would have bought the 7x7 for a little more room, since I had a carry-on size suitcase and bags with me which did not leave much floor space, and as a tall person it was a challenge to stretch out to dress in the tent. Also the sides slope in and reduce some usable space around the edges. This tent does not provide outside space for storing items. The tent was comfortable and was high enough to hang a lantern from the top. One night was especially breezy and cold and I used a blanket over the open mesh top areas which are covered by the rainfly but still allow cold air to enter. Overall it did a great job for the purpose.
Malanka
I love this tent! Great 1 person + gear tent.
Tent was a very fast set up by myself. It is perfect for just me. I couldn't see using for a 2 person but its great for 1 and gear. I've used it twice already. I go on lots of campouts with my 3 sons for Cub Scouts and Boy Scouts. Both of these past weekends it poured! A scout saying is "anyone can camp in good weather" well with this tent it wasn't hard. Inside was very dry. Rule of thumb is to not have anything resting on the interior walls and it will remain dry, very true. Windows could have been bigger, my only complaint. But it's not a huge tent so it is what I expected. I am happy on the ground without an air mattress, just a foam pad and bag. so this tent was the perfect amount of space. I had room to maneuver to change clothes. nice to have the pockets inside for keys , flashlight, ect. Also I used site to store and it arrive 2 days before the promise date! Overall very pleased!
WalMartCustomerReviewer
not exactly what we expected
When we got the tent, we were happy to see that the picture on the outside of the carrying case (sans rainfly) showed at least one of the side windows as a half-window (it doesn't go all the way from side seam to side seam), which, along with the rainfly that completely covers the windows, wouldn't seem too bad as far as heat retention and wind. However, the actual tent has full width open mesh windows on both short sides (only the back window is zipper-closeable), which you can't tell based on the product picture and description online. There's also an approx. 18"x4" 'ground vent' mesh opening at the back bottom which only has an open fly over it (no zipper, no way to close it off). There's really nothing to keep rain from splashing up through there, and it looks like you'd have cold air coming in right at your lumbar region. The design for the rainfly support pole is kind of a pain - you need an extra set of hands to hold the rainfly in place while you get it attached or it keeps sliding off to one side or another, frustrating at best if you're setting it up alone, but I see this to be impossible in any kind of wind. We were looking for a three-season tent, but this one is definitely summer only, which I guess the Sundome name kind of alludes to.
RonColorado
Super Tent for camping
This is a great little tent, claims it fits 2 people but it would be tight, however for one person it is perfect, fits a single air mattress and still has extra floor space. You could sit up & move around ( I am 6'1") without jambing your head into the roof. Very rain proof, camped at the 7000 foot level in Rocky Mountains and hit a all night rainstorm, tent kept me dry. This tent folds up into a very very compact size and is EZ for one to put up. I think this is a super tent for the money..Ron/Colorado
kklady3
Easy
Purchased this small 2 person dome tent to use on weeklong road cycling trip. Easy up with one person, goes up super fast with 2 people. Make sure to secure the tie downs. The floor is like a bath tub so you don't have to worry about water seeping in. The zippers and screen netting keeps the bugs out. To make this the "perfect 2 person tent" I placed a tarp under the tent between the ground and the floor of the tent. I put a couple of pads down for the sleeping bags. Cozy. Packs away nicely in its little sack that comes with it, but you have to take your time to actually roll and fold the tent up prior to sticking it back in its little sack. The rain fly not only keeps the rain drops out, it keeps the sun from heating up the inside too much. It is very light weight and I would recommend this to any one looking for something small, lightweight and easy to put up and take down.