Coleman Sundome 2-Person Tent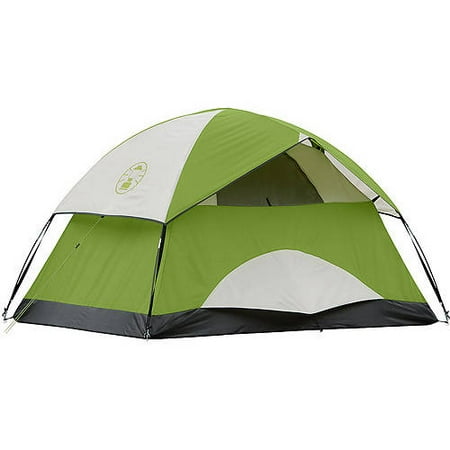 MSRP :

$69.99





Sale :

$39

Sold & shipped by Walmart
Product Description

Additional Information

Reviews
Product Description
A must-have for anyone who goes on frequent camping trips, the Coleman Sundome 2-Person Dome Tent can conveniently accommodate two people at a time. Designed with the exclusive WeatherTec system, this Sundome tent keeps you safe from the elements. With leak-free seams and waterproof floors, this 2-person tent ensures to keep you dry when it rains. On the other hand, the strong, wind-responsive frame resists wind. With adjustable Variflo ventilation, this Coleman tent lets you have control over the airflow inside the tent. The vent window ensures complete privacy, whereas the door makes for convenient entry and exit. The continuous pole sleeves, InstaClip attachments, and the pin-and-ring design make it easy to set up this camping tent. The dome structure of this Coleman Sundome 2-Person Dome Tent makes for convenient portability, while enabling quick and easy setup.
Additional Information
Dome tent with spacious interior lets you move comfortably
Easy setup in only 10 minutes
WeatherTec system with patented welded floors and inverted seams keeps you dry
Large windows and ground vent for better ventilation
Measures 7 x 5 feet with 4-foot center height
Reviews
RonColorado
Super Tent for camping
This is a great little tent, claims it fits 2 people but it would be tight, however for one person it is perfect, fits a single air mattress and still has extra floor space. You could sit up & move around ( I am 6'1") without jambing your head into the roof. Very rain proof, camped at the 7000 foot level in Rocky Mountains and hit a all night rainstorm, tent kept me dry. This tent folds up into a very very compact size and is EZ for one to put up. I think this is a super tent for the money..Ron/Colorado
glas
Great Little Tent
This is a great tent for primitive camping. Lightweight and easy to set-up. Fit 2 people (6'3" and 5'5") comfortably on 2 twin size air mattresses that were 72.5" long by 23" wide. The tent has 2 pockets inside, one on each end of the tent. Used seam sealer to waterproof the seams and it withstood a heavy spray down from the water hose. This is my second Coleman tent purchase in 10 years and I highly recommend this brand.
WalMartCustomerReviewer
not exactly what we expected
When we got the tent, we were happy to see that the picture on the outside of the carrying case (sans rainfly) showed at least one of the side windows as a half-window (it doesn't go all the way from side seam to side seam), which, along with the rainfly that completely covers the windows, wouldn't seem too bad as far as heat retention and wind. However, the actual tent has full width open mesh windows on both short sides (only the back window is zipper-closeable), which you can't tell based on the product picture and description online. There's also an approx. 18"x4" 'ground vent' mesh opening at the back bottom which only has an open fly over it (no zipper, no way to close it off). There's really nothing to keep rain from splashing up through there, and it looks like you'd have cold air coming in right at your lumbar region. The design for the rainfly support pole is kind of a pain - you need an extra set of hands to hold the rainfly in place while you get it attached or it keeps sliding off to one side or another, frustrating at best if you're setting it up alone, but I see this to be impossible in any kind of wind. We were looking for a three-season tent, but this one is definitely summer only, which I guess the Sundome name kind of alludes to.
DrawAndRelease
Great tent!
Bought this a few months ago and I have already used it about 4 or 5 times. Me and my boyfriend go camping as much as possible with friends. It's held up in bad winds (barely budged) and held out through a lot of rain without leaks. If you sleep in it with another person, you will be a little close (not too bad). My boyfriend is 6'2" and fits comfortably without having to scrunch up at all, plus we can fit all our gear in here pretty much! We used an air mattress last time we camped, which was a queen size that was one of the tall air mattresses, which did make the tent puff out at the bottom so next time we would probably use one of the shorter ones. Other than that, it is a must have for campers who want something durable and not crazy expensive!
tonka279
kept dry through thunderstorm
bought for my son who is going on a week long wilderness camp this summer. tried it out prior over the july 4th weekend. we set it up dry on thur afternoon, it thunderstormed like crazy thur night and continuously rained hard until sat morning. tent remained dry the entire time but we did place a tarp underneath when set up. Worked Great! Only negative I would say is space is small. you could sleep two inside with no gear but it is really better for one person with gear. Set up is easy, just 2 poles for tent plus 1 for rain fly and my 12 year old can do it himself. Tent easily goes back into carrying bag for storage.