Malibu Tan Hemp Golden Glow Skin Firming Bronzing Moisturizer, 18 fl oz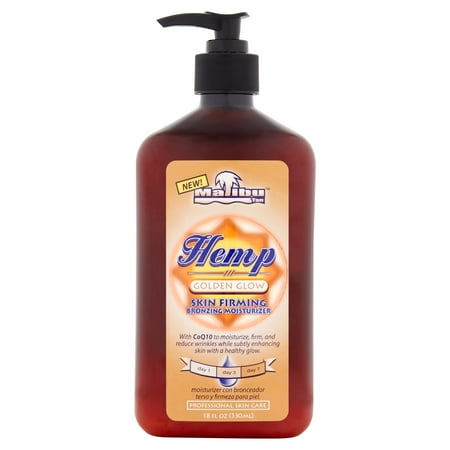 Sale :

$5.87

Sold & shipped by Walmart
Product Description

Additional Information

Reviews
Product Description
With Malibu Tan Hemp Golden Glow Skin Firming Bronzing Moisturizer you can enjoy a healthy glow. This product will help you achieve toned skin year-round. Formulated with a pinch of DHA, your skin receives a kiss of color which will subtly deepen over about a week of use. This item is designed to give the user a natural, soft tone to the complection. This hemp bronzing moisturizer comes in an 18-fl-oz size.
Additional Information
Product Features
Professional skin care
Contains no mineral oil to clog pores!
No animal testing
Pump - Recyclable
Creative Laboratories, Inc.,
1325 Eagandale Ct. #110,
Eagan, MN, 55121.
Reviews
tristin
Best indoor & outdoor tanner ever!
I used to be a sunworshipper when I was younger and sunbathed daily with numerous tanning oil and lotions. Since turning 60 a few years ago, I realized I should lessen my time in the sun so I decided to buy a tanner that I could use indoors as well as outdoors. When I bought this at Walmart, I assumed it was just like any other tanner. Boy, was I surprised with the results. Not only does it feel great on my older drier skin, it smells nice, is easy to apply, reasonably priced, and gives my skin a beautiful golden tan unlike any other product I've ever used. It also lasts thru several showers or tub baths before completely fading away so u don't have to apply it daily. If u tan outdoors, this will allow your tan to blend evenly without white patches that the sun missed. I only use it during the summer months and even though the bottle I have is three years old, it is as good as it was when I bought it. Outstanding!
MMMM
Amazing and Undervalued
This product is way undervalued. If you ask someone about how they got their natural looking, flawless tan, they are more likely to mention some $50+ dollar designer product or say it's a spray tan. But this stuff is just as good or better! You aren't going to get an immediate deep dark bronze with this product, if that's what you are looking for this isn't it. This does show soon after use but it's buildable and natural. I find that no extra I are needed when applying, unlike with most self tanners, you just rub this stuff in and it does it's job.
Karen
Amazing and Undervalued
I've been using this product for several years. Smells great..."beachy" and combines moisturizer with gradual tanning. Works nice for subtle color on my fair skin.
SAHM
Love it
I waited till I used it all up before making a review; 2 months of face-to-feet use twice a day. This is a white lotion, so no tinted cheat. It has a nice creamy feel that doesn't feel greasy. If you feel greasiness it's because you didn't rub it in; pamper yourself and really massage it in, that's the only way you'll see firming also. It has a nice, soft floral scent that my husband loves. I'm happy it adds a soft, but ultra-feminine scent that blends in with my grapefruit perfume. Does it firm? Yes. My husband saw a difference within a week. My stretch marks are nowhere near as visible and are actually blending in significantly in color. Does it tan? Yes, my face, arms, and legs are several shades darker than my bum and belly (oops). Does it work? My skin is glowing and baby-soft. I've already re-ordered and this product has been permanently added to my beauty arsenal.
Meg
Forgotten but remembered Holy grail
I used to use this in high school a bunch and then somewhere down the line forgot all about it. Recently I have been looking for a good natural boost of color and remembered this product. Picked it up for about $5 at my local store, didn't really expect too much. After two days I looked down to see a complete tan line where I wear my watch. I had not been outdoors at all and wasn't wracking my brain to figure out how I got tan without being outdoors. I honestly forgot how great this stuff was. After years, it's still an amazing product. Will continue repurchasing!!