STANLEY STST18612W 2-IN-1 Mobile Work Center Plus Flat Top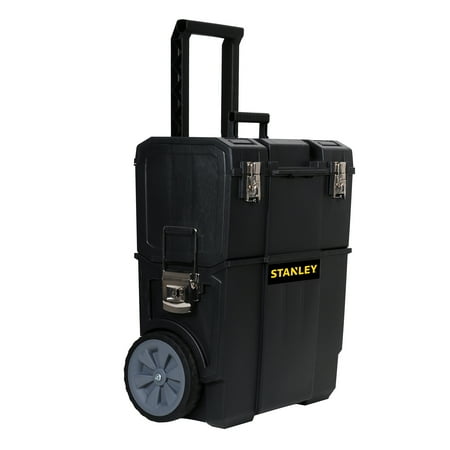 MSRP :

$24.97





Sale :

$23.42

Sold & shipped by Walmart
Product Description

Additional Information

Reviews
Product Description
The Stanley Mobile Work Center plus Flat Top 2-in-1 STST18612 features an innovative design with a robust structure that can handle a large volume. It also utilized a telescopic handle for convenient maneuverability and folds down for storage as well as having a removable tray that allows enough space for larger tools to be stored underneath.
Additional Information
STANLEY STST18612W 2-IN-1 Mobile Work Center Plus Flat Top:
Mobile work center has a 2-in-1 design that separates easily with metal latches and padlock eye for locking
Removable tray allows for larger tools underneath
STANLEY work center has a telescopic handle for maneuverability
Handle folds down for easy storage
Makes it easy to keep your tools close at hand
Reviews
Marti
Sturdy but short
Bought this a few years ago for my husband to use as a mobile crime scene kit (powders, gloves, tweezers, tapes, shoe covers etc.). He now uses it for his supplies to clean his service weapon & other firearms. He had been using a tackle box to keep supplies organized, but his is much better. For his purpose it's wonderful. It's convenient bcz it's mobile & the storsge is easy to access. The only negative is that the handle is too short (he is 6') so he usually just ties something to the handle to extend it to pull.
Gally619
It will work for a class I am taking
The interior tray is at least 1/8" to small and useless. It flops around like a wet fish in the bottom of the tool box. Unfortunately there is no replacement part that would fit. Also without anything in it the bottom of the unit scrapes which will eventually ware through with continuous use . Handle could be longer or if an optional tray was available it would compensate for the handle length.
Tweetyicu
It will work for a class I am taking
Excellent way to transport equipment! Very sturdy.
Nobodysinn
Just what I needed...
I needed a place to store all my tools together. The bottom section is open and able to contain my circular saw and my drill, with room left over for more. The "small" top section functions as a hand tool box for all my screwdrivers, drill bits and pliers, etc. My only reservation is that, without the tools in the bottom, the unit is top heavy. As long as there is a counterweight in the bottom, it works great. It met all my needs...and yes, I would buy it again.
Gordon
For the home owner but not for the pro
This tool carrier is of decent quality and design. It has many fine features such as the detachable top storage compartment and the large open lower storage compartment. It was a regrettable purchase for me as it was unable to withstand daily travel secured appropriately in a work van. The materials used in it's manufacturing, i's design, and it's functionality preclude this tool storage unit from being a practical solution to daily travel and usage. Because of the positive qualities of this unit, I would recommend this for the home owner that may have the need to transport small, light weight items on occasion around their property.