Glisten Dishwasher Magic Machine Cleaner and Disinfectant, Lemon, 12 Fl Oz, 2 Count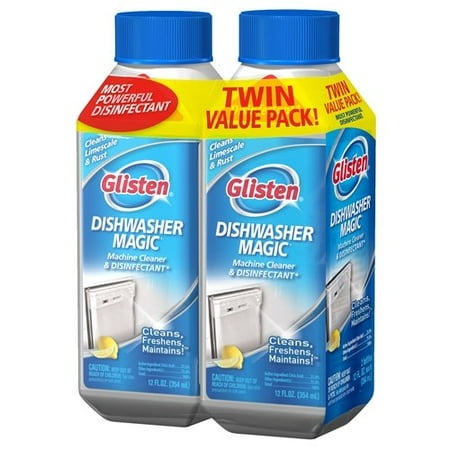 Sale :

$6.97

Sold & shipped by Walmart
Product Description

Additional Information

Reviews
Product Description
Glisten Dishwasher Magic Machine Cleaner & Disinfectant intensively removes lime, rust, grease, and other build-up that affects your dishwashers cleaning effectiveness over time. Unlike other machine cleaners, Glisten cleans, disinfects and removes germs from even the hidden areas. Keep your machine clean, fresh and maintained.*NEW_LINE*
Additional Information
#1 selling dishwasher cleaner economical twin pack
Powerfully removes limescale, rust, grease and other build-up caused by hard water, detergent and food residue
Only EPA registered dishwasher cleaner and disinfectant against E-coli and Salmonella
Design for the Environment certified product
Safe for all dishwashers, plumbing and septic
Use monthly to keep dishwasher clean, fresh and maintained which improves cleaning performance and extends machine life
All dishwasher manufacturers recommend regular cleaning to maintain dishwasher performance
Reviews
DeltaLady1946
Couldn't believe my eyes.....
Our dishwasher was only cleaned when the dishes were being washed but after TEN YEARS the brown rust stains from the well water made it looked so gross and disgusting, I searched on line and found a few articles on GLISTEN d/w cleaner. They all swore it worked like a miracle so I searched for it in my local Super Walmart in Wake Forest and found the two pack of it for less than $6.00! Since it was so cheap, and I was desperate, I bought it and today I ran it thru my washer. The directions said you had to run hot tap water so the water in the d/w would be as hot as possible.. All I had to do was take the top off the bottle, turn it upside down in the silverware basket and run the d/w thru it's longest cycle. When the d/w finally shut off (before dry cycle).....I ran into the kitchen and opened the door to the appliance and was truly shocked! It was white, clean and 99% stain free! What a fantastic surprise! I had taken some before photos so I could tell my friends about how it worked...but after using it, I'm really glad I did because they may also need to "see it to believe it!" There are a few tiny stains here and there, but the 2nd bottle will knock those out in no time and then my d/w will look "factory new!" Sorry I had no way to add the photos....you'd be amazed too! :) February 2015
fredx4
Couldn't believe my eyes.....
Great item to clean the dishwasher and the price was right.
Sarah
Gets the Gunk OUt
My dishwasher filter had black gunk in it that wouldn't come off. I took it out, soaked it, and scrubbed, but I couldn't get the black stuff out. I put it back in the dishwasher and used the Glisten, and it got rid of all the crud that was stuck on. I will use it again.
CaliWoman
Looks like we bought a new one!
I actually thought our dishwasher had a matte finish. It was covered with so much grime from long before we moved in. Even the wheels weren't rolling well on the trays. Now it is shiny and beautiful. Everything moves smoothly and quietly. Just make sure to follow directions carefully, like running the water in the sink until it's hot before starting the cycle. That's really important. I feel the negative reviews are a result of skipping that step.
KCEJ
Love it
After using the product, my dishwasher is sparkling clean and looks like new. I use it once a month. I highly recommend this product.