Men's Tag Free Classic White Briefs, 7 Pack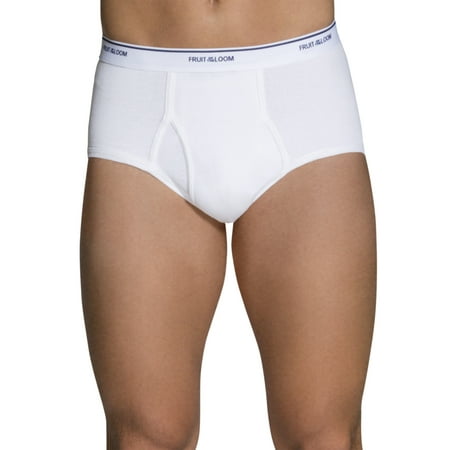 MSRP :

$22





Sale :

$15

Sold & shipped by Walmart
Product Description

Additional Information

Reviews
Product Description
Fruit of the Loom Men's Tag Free Classic 7-Pack White Briefs offer secure all day support with full coverage. The classic fit of this brief will keep you in place all day comfortably and with full coverage. The comfortable soft waistband will not bind or pinch your skin allowing for ease of movement. The comfortable full cut provides pinch free leg openings with secured support. These 100% cotton Fruit of the Loom White Briefs have a Tag Free waistband that is soft against your skin for all day comfort. With 7 Fruit of the Loom Tag Free Classic White Briefs in a pack you will have enough in your underwear drawer for every day of the week.
Additional Information
Fruit of the Loom Men's White Briefs
Fruit Of The Loom Men's Full Cut 100% Cotton White Briefs - 7 Pack (7P7601).
Enjoy a comfortable fit with these soft, full cut briefs made of 100% Cotton.
Package comes with 7 briefs so you'll have plenty in your underwear drawer.
Full cut construction for a comfortable fit. Non-binding, exposed elastic waistband with repeating logo.
Seamed contour pouch for support. Seamless rear for a smooth look. Tagless.
Open fly. Package includes 7 briefs.
For Big Man sizes, please see Fruit Of The Loom Big Man Full Cut 100% Cotton White Briefs - 7 Pack 7P7601X.
Reviews
Cynthia95
He loves to wear them
Picked these up for my boyfriend he usually wears hanes but he enjoyed these more because they are comfy and little more stretchy and the fabric is still soft after washing a few times unlike hanes most of the time so ever since i got him fruit of loom instead of hanes ive seen him wear them more often and theyre great for sleeping in or wearing as pj's instead of shorts. I recommend buying a pack of these whitey tighties for your guy he will enjoy them.
Zerodough
Great price on some very nice underwear
I bought these as a bundle and the price for two is amazing. I prefer Fruit of the Loom over Hanes because my wife told me so. I couldn't tell you the difference in the dark but I think the Fruit of the Loom lasts longer. My wife won't let me tell you how long I keep underwear but I'll say that some are nearly teenagers. I wanted to try out some colorful alterations to these so I dyed them. They dye well. I used the stove top method and black dye. I made one batch black and the second batch a blue grey all with one pot of dye.
Amon8796
Awesome Tighty Whities
When I was around 7 I switched from theses to boxers. Around when I was 14 I started wearing boxer briefs. And then around when I was 16 1/2 I stated wearing these again at first I didn't like them. But then they changed designs and they were awesome before I turned seventeen I tried the hanes brand because the size M was to big bit by two months into my 17 year hanes was to big and hanes size S was to small so I came back and got this brand in size small. I was so happy that they fit. To be honest as a teen at first even though comfortable and supportive I thought they were dorky. Some of my friends have made some quips about them. They might have even given me some wedgies here and there but they were just messin around and it was all good fun because some of them also switched to these and I got them back. These are making a comeback and in my opinion are very comfy and don't ride up to much naturally
OldArmyDog
Old fit made NEW
Grew up in FTL briefs and so glad they moved back to the old farm-boy fit with a shorter rise and more room in the loins to make that "POUCH" that allows each Male to fit his own needs. "The other Guys,..., H......." use a ridiculous high rise to make room and it does not work. The material could be softer but after enough washings and Downey,..., Man these FTL compete look wise AND FIT against any other brands and their prices are unbeatable. The fit is great as I am an INSHAPE Retired US Army NCO and I like a midrise brief,.., what a nice surprise after washing in HOT and drying in Medium heat a few times,..., they take up just right. AND they have NO ride-up, Boxer Briefs as well. I buy LG for running and XL for everyday wear and my GFs love how they look on,..., THAT COUNTS! I'm a WHITE underwear ONLY Male and wish they made all WHITE packs of all their best instead of these poolboy colors. Ever see their "Sure Fit" Cotton/Poly line, BUY THEM,..., They are really great, same fit just softer and best for Southern Summers under the fitted Italian Slacks!
Ohiofarmer
Comfortable underwear
I know briefs aren't the most popular choice among guys my age but they are the most functional underwear for me. Like most guys I switched to boxers but always have just like the fit of briefs better and just gave up on boxers. I guess the underwear our moms bought us growing up is the best underwear for daily wear and function. I recommend every guy have some of these briefs because they great briefs to wear from day to day. I still prefer buying these white briefs because the colored briefs usually have bright colors that I don't like. Once you get over the whole tighty whitie sterotype, you start to just wear what underwear you find the best fit for you