Olay Regenerist Micro-Sculpting Cream Face Moisturizer, 1.7 oz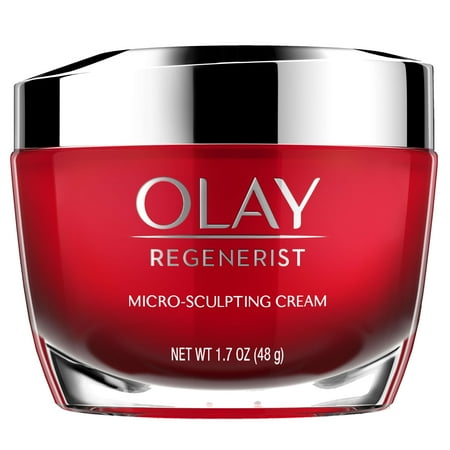 MSRP :

$34.62





Sale :

$24.93

Sold & shipped by Walmart
Product Description

Additional Information

Reviews
Product Description
Olay skin scientists have formulated the #1 selling anti-aging moisturizer with an advanced Amino-Peptide Complex to penetrate deep into the skin's surfAce to visibly reduce the appearance of wrinkles. Olay Regenerist Micro-Sculpting Cream Moisturizer with hyaluronic acid hydrates to plump cells from within the skin's surfAce. The luxurious-feeling moisturizer immediately leaves skin hydrated and softens the look of fine lines and wrinkles, reducing the look of 10 years of wrinkles in just four weeks. It also firms the look of skin with plumping hydration. Dramatic transformation. Not drastic measures.
Additional Information
Olay Regenerist Micro-Sculpting Cream Face Moisturizer, 1.7 oz:
Visible Wrinkle Results Start Day 1
Regenerist Micro-Sculpting Face Moisturizer has a Moisture-Binding Formula which Instantly Plumps & Lifts Surface Cells
Anti-Aging Moisturizer Formula Penetrates Deep Into Skin's Surface, Improving Texture & Elasticity
Formula with Amino-Peptide Complex II Regenerates Skin Surface, Correcting the Look of Deep Wrinkles
Luxurious-Feeling Face Cream is Infused with Hyaluronic Acid, Amino-Peptide Complex II and Niacinamide (Vitamin B3)
Reviews
Amber
Loved it!
I absolutely love Olay products and the Regenerist Micro-Sculpting was no exception! This product did not dry out my skin and left it feeling nice and smooth. I plan on repurchasing it! #contest.
SweetPea1357
Wonderful!
This moisturizer does simply what is says it will do. For me visible firmness started immediately. I have sensitive skin that is just undecided at this point in time if it should be dry, combo, or just plain oily. I will soon be 42 and it's about that time for everything I've got to go bonkers. However, through all the ups and downs, twists and shouts, and cries for help my skin loves this moisturizer. From day one this stuff has been wonderful. It has become the one and only constant in my daily routine. It is never too much or too little always perfect. I have never had a breakout or anything with this, I just can't say enough good stuff about it. I do not wear foundation or BB or CC creams I only wear eye makeup (eyeliner & mascara) and that's occasionally. Most people think I look between 32 & 35. I'm no health guru yoga queen, just an average busy woman with two teenagers. I don't do reviews either, but ladies you got to give it a try. What've you got to lose? A wrinkle?
PatriciaNY
My face got a fresh start!
I am in love with this Olay Regenerist Micro-Sculpting Cream and I don't say that without really really having tried out this product. This is just the product my face needed. As I am getting older I am finding the need to take care of skin. My skin had been getting dry in areas and I had fine lines at the corners of my mouth starting. I have been using Regenerist for a few weeks now and I can say without a doubt that this cream has given my face a new start. It is moisturizing and penetrates my skin. It has completely removed the dry patches on my skin. At times I would leave a bit of this cream on my dry patches for extra protection and day by day I saw the dry patches disappear. My fine lines around my mouth have smooth out as well. This cream is thick but it is perfect for my skin as it regenerates surface cells. In the past few weeks there has been a healthier glow to my skin, it is softer yet tighter, it is no longer a combination skin as my entire face is dewy fresh! I highly recommend this cream...Momma loves Olay and now I do too!
raemoe1
Olay regenerist Micro-sculpting cream
So at 47 yrs young, I find that my skin has gotten drier and a loss of elasticity these past few years. Along with this I'm noticing these frown lines on my forehead are getting noticeable. . I've tried high end luxe products, and drugstore, low end, creams and potions. Some work ok, some better than others. However, after trying this Olay Regenerist Micro-sculpting cream for the past two weeks, I have seen a wonderful improvement in my skin. My skin drinks it up, it blends so nice and smoothly, and it's plumping up my skin. I've noticed an overall rejuvenation and glow on my face, and so far I'm just over the moon with these results! Quite frankly, it works better than some high end products I've tried! I'm definately impressed with Olay. This works great at night, and also in the morning I'm applying it before my foundation and this way I don't have any dry patches as it sinks in seamlessly. Thanks Olay for continuing to give us a product we can trust!
Melanie3013
Olay regenerist Micro-sculpting cream
Olay Regenerist Micro-Sculpting Cream is described as a lightweight moisturizer. I would say that this is not a thin moisturizer nor is it the thickest that I have used; it is somewhere in the middle. It goes on and immediately leaves my skin feeling hydrated. I am a bit shiny after application and I do have to let it on to absorb for a few minutes before adding on my makeup. After a few uses, it seems to have softened the look of fine lines a little. My forehead lines have soften as my skin has "plumped up" some after 3 weeks of use. My favorite part of this moisturizing cream is that it has Broad Spectrum SPF 30 protecting my skin from the sun. It works very well. It provides everyday protection and does not irritate my eyes if I happen to sweat. It would also be good to have a small jar to take and go with you to offer additional protection when in the sun as all sunscreen should be reapplied after a few hours; however, even without reapplication, I still have some protection from the sun as it really seems to last. I had the pleasure of reviewing this product as part of the Insiders program. Overall, I would recommend this Olay Regenerist Micro-Sculpting Cream as an addition to your skin care regime. I know that I will be.