Olay Regenerist Regenerating Serum, Fragrance-Free Light Gel Face Moisturizer, 1.7 fl oz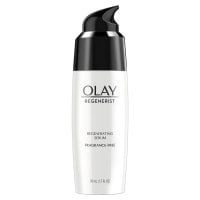 MSRP :

$20.44





Sale :

$18.9

Sold & shipped by Walmart
Product Description

Additional Information

Reviews
Product Description
Younger, firmer-looking skin is within reach with the hydrating formula of Olay Regenerist Fragrance Free Regenerating Serum. With a fast-penetrating formula, this silky, ultra-lightweight moisturizing face serum regenerates surface cells while restoring skin's elasticity with plumping hydration. With advanced Amino-Peptide Complex, this formula is designed to deliver moisturizing ingredients 10 layers deep into the skin's surface. After just four weeks, skin's appearance is visibly firmer. The appearance of fine lines and wrinkles is also visibly improved. Non-greasy, fast-absorbing, and fragrance-free, it's the perfect addition to your everyday beauty routine for hydration to achieve firmer, younger-looking skin.
Additional Information
Regenerist is Olay's Advanced Anti-Aging Collection. The supercharged Regenerist formulas, with key anti-aging ingredients like amino-peptides, are engineered to regenerate surface skin cells and deliver visible, transformative results for younger-looking skin.
Olay Regenerist Regenerating Serum, Fragrance-Free Light Gel Face Moisturizer, 1.7 fl oz:
Olay's Hydrating Serum is a Light Gel Face Moisturizer with Advanced Anti-Aging Ingredients for Visibly Smoother Skin Starting Day 1
Regenerates Surface Cells While Restoring Skins Elasticity with Plumping Hydration
After Just 4 Weeks, Skins Appearance is Firmer and Appearance of Fine Lines and Wrinkles are also Improved
Amino-Peptide Complex II, this Formula is Designed to Deliver Moisturizing Ingredients 10 Layers Deep into the Skin's Surface
Fragrance-Free, Non-Greasy and Fast-Absorbing
Reviews
CoastalDreams
My Miracle Product!
I love, love, love this product!! I was absolutely amazed at the results in just the first week! I have never really had a problem with wrinkles until recently, but due to an illness, my skin suddenly aged by years over just a few months. I researched for a solution after trying several other skin products, and decided to give this a try. For me, the improvement started showing within a few days, and by 4 days it was obvious to others, too! The bottle looks small, as if it won't last long, but it is such a silky, wonderful consistency that it only takes a few small dots of it on your finger to apply to my entire face. I use it morning and night, just a little bit is necessary. This is a product I would never want to be without, and I recommend it 100%. I'm not overstating it when I say that for me, this is a miracle product. I don't want to ever be without this.
Lena1235
I could see results after one use!!
This product is amazing!! And I'm very picky on things I absolutely love it I seen results after one use! My skin was dry in some spots and it helped wth it. It also smells amazing as well
KingRJ
Good Product, Bad Bottle Pump 2
I love this product and recommend the product with 5 stars. However, I have had the exact experience as the other reviewer, Circa1820, with the pump (cap) not working. The old pump worked great, but the new one does not work at all! It appears the new pump is not strong enough to refill the tube attached to it due to the thickness of the serum and just stays down and does not come back up so you can pump it again.
Sadface
OLD FORMULA SO MUCH BETTER!
I loved the old formula from several years ago. It changed my skin from the 1st bottle. As soon as I used the new formula, my skin felt rough again and didn't look as good. I stopped using it and have tried so many other products. I've wasted so much $ as nothing compares to the old formula. WHY DID YOU CHANGE IT? Please bring it back even if it means charging more!! I wish I at least had the old ingredients list...
CAROL
OLD FORMULA SO MUCH BETTER!
I really like this product, especially for older women keeping their facial skin smooth.