Olay Complete Lotion Moisturizer with SPF 15 Normal, 6.0 fl oz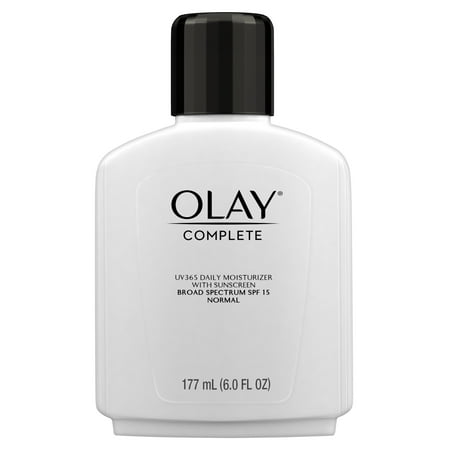 MSRP :

$9.47





Sale :

$8.84

Sold & shipped by Walmart
Product Description

Additional Information

Reviews
Product Description
Using Olay Complete All-Day UV Moisturizer gives your skin two essential things: hydration and protection from UVA and UVB rays, both of which contribute to a healthy, smooth and youthful appearance. Since your face is the part of you that is most likely to be exposed to sunlight, it is in need of extra protection. Olay Complete All-Day UV Moisturizer contains SPF 15 and moisturizer, which together hydrate and refresh your skin as well as defend it from the sun. While some sunscreen might block UVA rays, Olay UV moisturizer blocks these and UVB rays as well, offering complete protection. Olay Complete All-Day UV Moisturizer works all day, so you need only apply the SPF 15 moisturizer once daily to enjoy its benefits. Olay Complete All-Day UV Moisturizer also contains skin-nourishing vitamins such as vitamins B3, C and E to help keep your skin extra-healthy as well as moist. The light, oil-free formula is non-greasy and goes on smoothly.
Additional Information
Olay Complete Lotion Moisturizer with SPF 15 Normal, 6.0 fl oz:
Lightweight moisturizer with SPF provides 48 hours of hydration for normal skin
Daily SPF moisturizer helps prevent premature skin damage with Broad Spectrum SPF 15 UVA/UVB sunscreen
Conditions skin surface with antioxidants, Vitamins E, B3 & C to maintain healthy-looking skin
Oil-free, non-greasy & non-comedogenic (won't clog pores) formula for normal skin types
Nourishes 7 layers deep into skin's surface to help protect beautiful, younger-looking skin
Reviews
Unknown Customer
Essential for looking young
I live in FL, where the sun is a constant battle. I enjoy being tan, but I do not want the wrinkles that go along with a tan. I've use Olay daily moisturizer every day and people consistently card me, or think I'm younger than what I look like- I just turned 35yrs old. I think my young look is definitely attributed to the daily use of Olay face moisturizer. I highly recommend that all girls and ladies use this product.
Hearts
Best product
I have used Olay for years, and told my mother to use it also. She is now 94-yrs-old and everyone thinks she's much, much younger. This product really works, and I love it.
Hearts
Best moisturizer for sensitive skin
Light, non-greasy, great for sensitive skin. I highly recommend this.
Karen
Nice light weight moisturizer
Light weight, does not clog pores, SPF 15 included in a daily moisturizer is incredibly helpful, smells nice, works as well as more expensive moisturizers.
kristinsharum
Silky Creamy
Have you Olay'ed? I was a wee bitty girl when l tried my first Olay skincare products...soap, l was 4 haha. What l love about this Olay for combo\oily moisturizer with sunscreen is everything. Love the different packaging for the different products, easier which ito find what l like. This has a nice pleasing smell...mostly due to sunscreen which is not over powering. No greasy feel at all, none. First time that has happened in a very long time. I wore my skincare for about 5hrs today and no slips. My favorite Reason to use any Olay product...super smooth divine silky skin. I tried to upload photos but the site kept closing. Have a great day and happy soaping. Smiles @influenster @olayatwalmart have requested that l do an honest review on any products l have used. I have a chance to win a #contest for my free\ honest review. #influenster #olayatwalmart #[email protected]