Baby Magic Gentle Baby Lotion Original Baby Scent, 32.0 FL OZ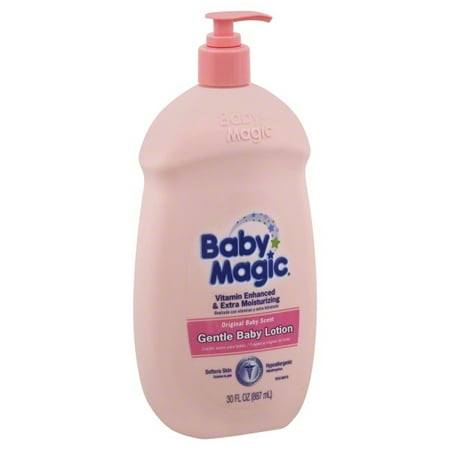 MSRP :

$4.92





Sale :

$3.97

Sold & shipped by Walmart
Product Description

Additional Information

Reviews
Product Description
Baby Magic Gentle Original Scent Baby Lotion is a rich, creamy lotion enriched with vitamins for your baby's sensitive skin. Baby Magic Lotion helps soften and nourish your little one's delicate skin. The original scent of this lotion for newborns will leave your baby smelling wonderful. This Baby Magic Gentle Original Scent Baby Lotion is available in a 30-oz bottle and is mild enough for newborns.
Additional Information
Baby Lotion, Gentle, Original Baby Scent
Vitamin enhanced & extra moisturizing. Softens skin. Dermatologist tested. Doctor recommended. Hypoallergenic. Trusted by moms for generations. Gentle baby lotion is a rich, creamy lotion enriched with vitamins that helps soften and nourish delicate skin. The original baby scent will leave your baby smelling wonderful - as a baby should. Moisturizing emollients. All-day moisturization. Vitamin enhanced. Doctor recommended.
Reviews
GalaxyGyrl
UPC : 075371050510 - Baby Magic Gentle Baby Lotion Original Baby Scent, 32.0 FL OZ - PickPanda.com
This lotion is the only lotion I have ever used. My mom said she has never used anything else on me. The smell is so fascinating. Nothing can compare. I have used nothing else on my children. It softens and moistens the skin without leaving it greasy. I get compliments all the time on the smell. When my oldest was a baby (12 years ago) they had baby magic baby wipes in the yellow tub as well. I have not seen those in years. They smelled the same as the lotion. My children and I have extremely sensitive skin, and baby magic does not irritate. If you use the bath wash, there is no need for the lotion really. However, since I love the smell and the feel, I do apply. (smile) Whatever you are doing when you apply the lotion the first time, when ever you smell that smell again, it will definitely take you back to that point in time. You cannot go wrong with baby magic.
Jennyl35
Love Babymagic lotion!!!
I've been using Babymagic babylotion for years and have always loved the scent and how soft it makes your skin. The only until recently, maybe a few years ago, the scent changed from that early orginal scent to a more powder scent and now its even has a bit of vitamin smell to it. Please bring back that old or original scent!
BabyMagicGal
Smells so clean!
I love this baby magic lotion! I can smell it on my skin all day. I was a baby magic baby and I still am to this day as an adult. I guess I never outgrew it.:) I also have the original hair and body wash as well. I have a lot of the baby magic products cause they're so clean and fresh smelling.
imwarbaby
The Magic Is No More
I used Baby Magic on both of my girls, whom are grown now. Yesterday, I bought the first bottle of BM I have purchased in 25 years. Although it said 'Original Scent'-this is NOTHING like the original, magical scent. As my review title says, the magic is no more. The smell is not very pleasant, and I am so disappointed. I will not buy this again. What a letdown!
MJay27
THANK YOU WALMART!!
I LOVE Baby Magic and cannot imagine ever using anything else. I'm so grateful Walmart is carrying Baby Magic and hope they will consider selling more or their products. They really have some great new ones out there! I have used Baby Magic for over 40 years. Like others, my Mom used it on me and I just kept on using it. It blows the competition away...yet it is so hard to find in stores. It's light, non-greasy, yet effective. I just bought THREE....and will be back for more!