Baby Magic Sweet Baby Rose Creamy Baby Oil, 16.5 fl oz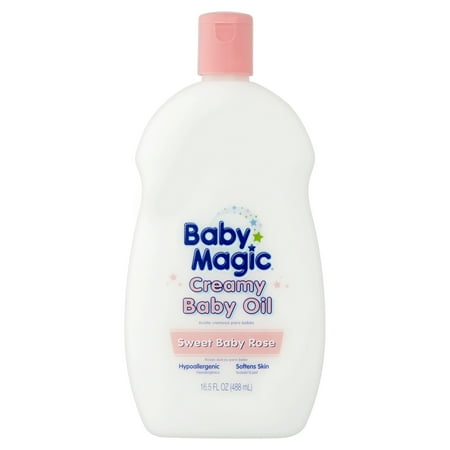 MSRP :

$10.62





Sale :

$2.98

Sold & shipped by Walmart
Product Description

Additional Information

Reviews
Product Description
Baby Magic Creamy Baby Oil is a unique blend of lotion and oil that is enriched with aloe and vitamins to help soften and seal in the natural moisture of baby's skin.
Additional Information
Product Features
Hypoallergenic
Softens skin
Dermatologist tested, doctor recommended
Packing - Recyclable
Recyclable
www.babymagicusa.com
Reviews
Sgtyeesgrl
Surprisingly Good Lotion
I have purchased this creamy baby oil 2 times now, and can honestly say that I love it. I use it immediately after shaving my legs on my VERY dry skin and it does a great job of moisturizing my skin for 24 hours. It goes on super creamy, it leaves a light sheen (but it is not oily at all), and it leaves my legs super silky. It has a soft scent, somewhere between baby powder and roses, but not overpowering at all - most of the time I don't even notice the scent it is so light. I have very sensitive skin, yet this lotion has yet to make my legs itch or feel uncomfortable at all. It seems to help slow down the growth cycle of my hair too as I notice that now that I have been using it regularly I have to shave less often. The only thing I don't like is that it does take a good 10-15 minutes to fully absorb - it's not greasy or oily at all, just slow to absorb, so that's something to be aware, but overall, for under $3.00, I would recommend this 100%!
tmd62
Wonderful lotion!
I've used this product for many years. Its gotten difficult to find. So glad I can find it at Walmart. Even though it states creamy oil, it's like a wonderful thick lotion that isn't greasy on your skin, so you can get dressed after applying.
Busybusy
Great for adults too.
Love this. Us it in the shower like after shower lotion. Locks in moisture.
ShanRFSch
Magic is an accurate description :-)
I usually buy Johnson's baby products because they put out a lot of coupons and are always on sale locally. I've always thought Baby Magic smelled way better and I prefer it, but we are on a budget and couponing is how I afford brand name stuff for our baby. I was using Johnson's wash and lotion, but she got really dry and scaly over most of her body. So I thought I would try Baby Aquaphor. I had used it on my son previously and it seemed to work well, although it was greasy. So I put it on my daughter. The next day she woke up bright red all over. I immediately bathed her to get the greasy residue off her. She looked a little better but was now red and still dry and scaly. So I looked for something else. We live in a small town with only a few stores. I figured Walmart was my best bet, but the in store selection wasn't huge. A bunch of different Johnson's lotions, baby oil, and baby oil gel. I already know their lotion doesn't work for her and I didn't want her greasy again. I saw some Baby Magic, but honestly thought it would be about the same as Johnson's. Then I saw the creamy baby oil. I figured I'd give it a try. But I was pretty sure I'd be looking online for some Burt's Bees or something. I waited a couple of days for her Aquaphor break-out to go away, so I could make sure she didn't have a reaction to Baby Magic, too. After her bath, I slathered her really good in the creamy bath oil. Then, I thought I probably should've only tried it on one leg or something and I anxiously looked for signs of a reaction. She looked okay though and wasn't immediately scaly like with Johnson's. That was last night. I checked her this morning and I cannot believe how soft she is. I can barely tell where her huge dry patches were. I'd say her skin is 90% better after a single use. I'm sure her skin will be perfect after a few more days of this. And my hands feel nice just from putting it on her. This is an awesome product and I'll continue to use it, even if I have to pay full price. It's worth it. :-)
Yorlielover
Great skin!
I love Baby Magic creamy baby oil, I have used it for years as a moisturizer! It's the best! I am 56 years and I have people ask me what to use on my skin because I have very few wrinkles!