Duck Standard Packaging Tape, 1.88 in. x 100 yd., Clear, 4-Count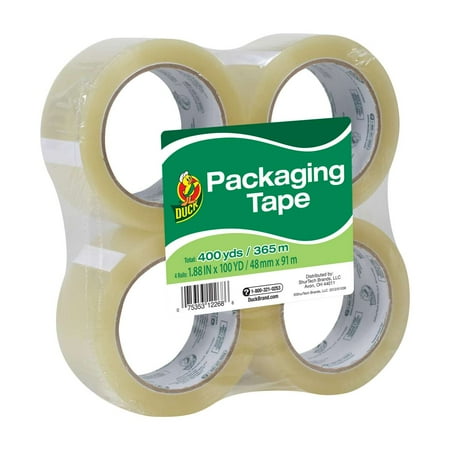 MSRP :

$9.17





Sale :

$7.84

Sold & shipped by Walmart
Product Description

Additional Information

Reviews
Product Description
The Duck brand offers quality, care and extraordinary value to consumers looking for friendly and convenient solutions to everyday problems. The brand is known for delivering excellent quality products at an everyday value in several household product categories. Key product categories include DIY, stationery and housewares. The Duck has been delighting consumers with these products for over 20 years and continues to innovate and offer solutions for the household. Got a project? Get the Duck to do it.

Additional Information
Duck Standard Packaging Tape, 1.88 in. x 100 yd., Clear, 4-Count

Duck Brand Standard Packaging Tape is an easy and affordable solution for all your lightweight shipping, moving and storage needs. This packaging tape is designed to seal boxes safely and securely to help prevent items inside from being damaged during delivery. Choose this clear tape for discreet packaging or storing
.
General purpose packing tape
Best for lightweight shipping, moving and storage
Affordable box tape solution
Rolls on clear and easy
Meets postal regulations for shipping tape
Reviews
TheCaptin
bad tape, but worth it!
I ship packages all the time with this stuff. There is a proper method to making bad tape actually do a good job. You have to wrap the tape around the entire package until the tape overlaps itself. Think of the savings. 400 yards for 7 bucks... you use 3 times the tape so it is really equivalent to about 133 yards. A roll of high quality tape is about 7 bucks for 55 yards. If you buy good tape and use it sparingly, the customer wonders why you packed so poorly. If you buy bad tape and use it liberally, the customer thinks you care. It may not be good tape, but it works and for me it is the best option. I gave this tape 1 star because it does not deserve a good review... but 5 value & meets expectations ticks because this is the best priced tape you can get and the best option for someone who thinks like I do.
alyssatay3
Duck lowered quality of this tape recently!!
I have been purchasing this same tape for years for shipping ebay packages. I'd say sometime in the past year or so, I've noticed a HUGE decline in the quality of the tape. Prior to the quality change, I would have rated this tape 5 stars, hands down. It was inexpensive, pulled nicely, and I never had a problem with it sticking to the plastic envelopes I ship with. I have used Scotch tape for awhile now because my husband picked it up for me while out shopping. I just ran out, and went to Walmart today to get tape, and forgot about the poor quality that Duck now has, and I bought this tape. When I got home, and pulled that first piece of tape, it immediately split into 2! That's when I remembered noticing a huge change in quality before I was using Scotch for awhile. This tape is going right back into the bag, and is being returned to Walmart! It is not worth the price, because if it doesn't work, it can't be cheap enough! I saw another reviewer mentioned buying tape on ebay. I'm going to look into that, since that's where I purchase my shipping envelopes at a much cheaper cost, and for better quality!
Jacque
awful, awful product
This tape is thin and doesnt stick well. Waste of money, spend alittle extra and buy the good stuff
sunnytampa
Used to be good shipping tape!
I used this Duck shipping tape for eBay packaging for years and it was a nice quality and thickness. In the last year this product has been remade much cheaper, the tape is now thin and it splits and tears. It doesn't hold nearly as well. It only works if you wrap the entire package and leave no loose ends. The real kicker is the tape is now made cheaper, but the price went up by a couple of dollars. I now buy my tape on eBay, in bulk it's a little over $1 a roll and a higher quality product. I would keep looking and not buy this Duck shipping tape!
Shaver
Good for the money
The Tape is thin. It still tapes up good and the rolls are a decent size. It is good for the money but if you need something high quality, buy something else, but it will be more expensive. This is great for taping up things that do not necessarily need high quality tape. It holds up fine though.