Duck Indoor Window Insulation Kit, Insulates 10 Windows, 62" x 420" Film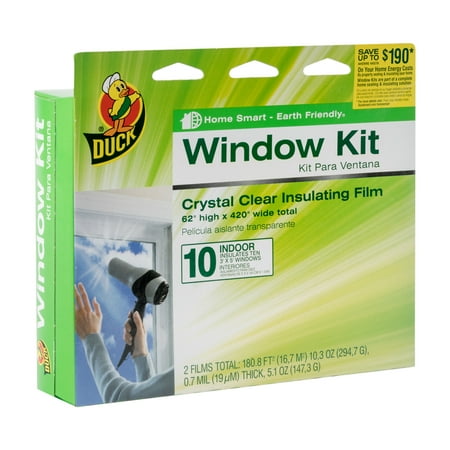 MSRP :

$11.99





Sale :

$11.44

Sold & shipped by Walmart
Product Description

Additional Information

Reviews
Product Description
Stop wasting money on energy costs with Duck Shrink Film Indoor Window Kit.
Additional Information
Duck Brand Shrink Film Indoor Window Kit, 10-Pack, Clear:

This easy-to-install kit helps block drafts and air leaks that lead to high heating costs.
Duck window kit will help block drafts and air leaks
Includes 2 films and 2 rolls of tape
Provides enough materials to cover and insulate ten 3' x 5' windows
Seal windows from exterior drafts
Keep out colder temperatures
Clear film maintains visibility
Easy to install and remove
Use with other Duck Brand weatherization products (sold separately) for added comfort and energy efficiency
Reviews
P19M
easy to use with immediate benefits
This worked really very well. Beyond expectations. Preparation of the surface is key to success- clean it with something such as isopropyl alcohol (not included in the box), warm it up with a hairdryer or hot air gun then apply the tape. Works well. Cut the panels with about 1- 1 1/2" excess all around and stick on- its easier than you think. Be patient with the shrinking when using a hair dryer. Too much heat will perforate the panel. Clean your windows before putting this on- a dirty window behind the sheet will just irritate. Takes about 20 mins per (large) window including cleaning. If you have larger than standard windows (I do) then the panel width is too small so you need to cut it lengthwise- which is wasteful as you end up with thin unusable strips but it doesnt seem to come in the size I needed (70" tall). But at the price, that's not an issue. Noticable difference immediately. Been about a month and it is still working well and the tape is on solid
OLShpper
GOT EXACTLY WHAT I WANTED
My biggest concerns when purchasing this was the tackiness of the the tape, and the amount of film and tape inside the box. There was plenty of product inside. Most of my windows I used about 33"W of product. It is pre-cut to length and they give you plenty of overlap. I had to trim extra film off every window. I had plenty of tape to do the job also. I ran out of film before tape. As far as the most important part of this product...tackiness of the tape...it did not disappoint. All i did was use a warm, moist wash cloth(water) to clean the area I was taping, and use a blow dryer to dry and warm the area and the tape had no problem adhering to the window frame. If you have old style, wooden, single pane windows, I would definitely recommend this.
ksjch
Great way to save on electric bill!!!
I like the film a lot! The installation was real easy and quick. I have old wood windows in my apartment which are nowhere near to be insulated and I constantly have moisture accumulating on them every morning and dripping down. So, the film on bottom of my windows have fallen off because of moister dripping down, but I have put a duck tape on the bottom and it holds! Be careful installing the film, do not over use the blow dryer otherwise the film will shrink so much that it will come off the sticky tape! But you wont believe how much cold air that film holds, on a windy nights I can just hear a wind blowing through my windows and making the film shake, but guess what? None of that cold air is coming through! Wonderful way to save on winter electric bills! I highly recommend it!
JillyBeanJewelry
AWESOME Product
My husband and I took about 2 hours last Saturday to apply this to all of our windows. Make sure to read the instructions and really measure your window before you cut the film, but that being said; this product is incredible. We noticed a HUGE difference within minutes of putting them on. It really keeps the heat in, and the proof was in the pudding. It cut down on my gas bill, and I was thrilled. My house has stayed warmer without using more gas and electricity. We would definitely recommend this to anyone. I will never go another winter without these. Living in below freezing weather for the last month and a half has proven to me just what a great product this is even with the learning curve.
Sam
AWESOME Product
Duck Window Kit is very easy to to install on any size windows. Once all windows was covered, the drafts were stopped. I can.t wait to see my next bill to see how much we saved.