Duck EZ Start Packaging Tape 1.88 in. x 54.6 yd., Clear, 4-Count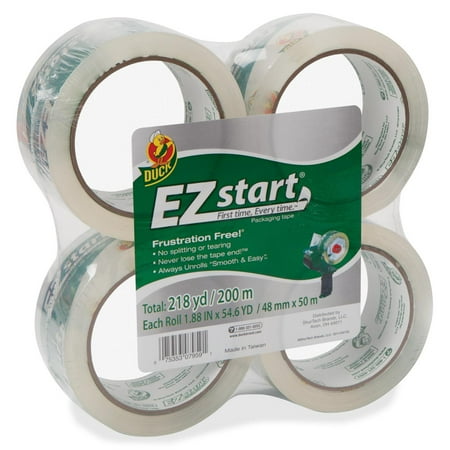 Sale :

$9.44

Sold & shipped by Walmart
Product Description

Additional Information

Reviews
Product Description
Make sealing boxes, packages, and other items hassle free with the Duck 4pk EZ Start Packaging Tape with Dispenser. Use this tape for packaging all your holiday shipments. The tape offers frustration-free performance. Crystal clear in color, the tape allows users to see fine prints and labels underneath for simple organization and moving. The EZ start tape unrolls smoothly and the end does not get lost, which saves the user both time and energy. Without the chance of splitting or tearing, the tape is an effective choice. Duck packaging tape is ideal for use in all temperature and weather conditions and is also ultraviolet resistant, which increases its lifespan. Designed to satisfy all postal regulations, the tape is an excellent choice for mailing packages.
Additional Information
Duck EZ Start Packaging Tape 1.88 in. x 54.6 yd., Clear, 4-Count
Duck Brand EZ Start Packaging Tape is designed with Frustration-Free technology so that it unrolls smoothly, easily and quietly. It's perfect for a quiet office or packing while the kids are asleep.
Long-lasting hold on boxes
Meets postal regulations
Designed with frustration-free technology
Unrolls smoothly, easily and quietly
Long-lasting adhesive
Use for moving, shipping or storing boxes
Reviews
aalienlady
Perfect for eBay!
I wrap a lot of pkgs and boxes for my eBay items I send out. This is super Strong tape - QUIET when using the dispenser and holds tight. The one review that mentioned tape wouldn't stay on boxes must have had dirty or slightly dust coated boxes. 30 other people have never HAD THAT PROBLEM! But there's ALWAYS ONE... And then there are the 4 star people, where THEY LIKE IT - works well - BUT 4 STARS? Common - these people wouldn't give 24 karat gold a 5 star anyway. You can't get any better than this stuff. Ask any eBay'er that sends packages all over the world that uses this stuff. ONLY ONE PROBLEM. Walmart does not keep the 4 pack stocked all the time. It is very costly one roll at a time. I try and keep an extra 4 pack for the times they are out... which is most of the time. I am afraid to order online because they might BACK ORDER IT. Then my money is on hold when I can possibly go to another Walmart and find it.
Gracie
Perfect
Exactly what I needed and it was very affordable. It fits well in my tape dispenser.
EPSP
EZ start doesn't stick!
EZ start is right, it is very easy to start and comes off the role with ease and without that tearing sound of other tapes. You also get a lot on each role and the tape is a good thickness, so it doesn't tear easily. That is the good. The bad is it doesn't stick to the boxes! I'm preparing for a cross country move and every day I'm finding boxes where this tape has lifted and completely lost its grip. Today I found three boxes packed last week where the tape holding the top flaps closed had completely lifted and the boxes were open and FOUR boxes where the tape holding the bottom of the boxes together had let go from the sides of the boxes. I'm using brand new boxes, not old dirty ones that may have something on them to affect the stickiness. Needless to say I'm upset because this tape isn't cheap and now I have to buy new tape and re-tape 50 boxes before the truck gets here. Never again will I buy this tape.
Nate
Awesome!!!
love this tape very smooth and strong adhesive. fast shipping and must buy
Online22Shopper
Awesome!!!
This is awesome packaging tape! It is super QUIET! Makes no noise when you pull it off of the roll. Nice amount of sticky. It has never come undone on any of my packages. The tape is thick enough to withstand mailing. The only drawback is that the item says that it comes with a dispenser but it does not! It's too bad because I need a dispenser and now I have to spend more money to purchase one when it should have come with my original purchase.