Duck Brand Basic Strength Duct Tape, 1.88 in. x 55 yd., Gray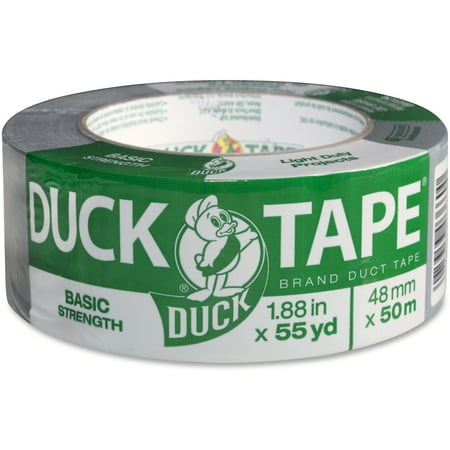 Sale :

$6.13

Sold & shipped by Walmart
Product Description

Additional Information

Reviews
Product Description
The Duck Brand Duct Tape, Basic Strength, 1.88" x 55 Yards is an economical solution for general repairs. It provides a good adhesion for all your basic jobs. This silver duct tape tears easily by hand without curling making it fast and easy to use. It conforms to uneven surfaces and sticks to almost anything. It is recommended for temporary applications giving you many options when using it. It works well for minor repairs and is an ideal supply to keep on hand in your tool box.

Additional Information
Duck Brand Basic Strength Duct Tape, 1.88 in. x 55 yd., Gray

Featuring great strength and conformability, this duct tape is perfect to have on hand for general repairs and DIY projects.

Basic-strength design is great for general repair needs
Good adhesive quality works for temporary applications
Waterproof material conforms to uneven surfaces
Perfect for packing, bundling, sealing, holding and more
Reviews
symcat
Utility Grade poor quality adherence
I always buy DUCK TAPE brand as I consider it the best holding for my purposes. I usually get the 60 yd. length DUCK TAPE that I think is ALL PURPOSE type? I thought Utility Grade sounded just as good and affordable (as I buy several rolls at a time). I don't use for normal household use. Besides the usual packaging applications, I buy as 'medical supplies' to strap around bandages/pads (tip: Super Maxipads make excellent bandages - a LOT MORE absorbent and MUCH cheaper - about 48 or more - than those flimsy thin medical pads/squares - 9 to 12? - that soak through in an hour). Wrap around lymphedema (fluid leaking) leg. Use up the other type quickly as it is, but this DOES NOT ADHERE as well so must use more (less 'sticky'). This version of the tape just not very strong hold as the usual I get. Will not buy this type again.
AvidRemodeler2
Non-Functional as tape. Buy a better grade product
I am a long-time homeowner and avid DIY person; this is the first review of a product that I have ever written. Why? Because, I wanted to spare others the frustration they will almost certainly encounter if they purchase this product. This is the lowest quality / performing "tape" that I have ever purchased. As several previous reviewers noted, it will not even stick to itself! (think waterproof post-it notes) I cannot think of a single application for which this product is suited. I do not think that you could even use this to make a craft wallet! If you are looking for DUCT tape, this is certainly not suitable. Spend a few extra dollars and purchase a quality product. (Unfortunately, I removed/replaced all of this "tape" before I took any pictures, but there was little to take pictures of, as most of it was literally on the floor below where it had been placed just days before!) Frankly, I am disappointed that Wal-Mart caries this particular product. I realize that they want to carry several grades of products at different price points. That is a reasonable approach. However, even the lowest cost product should have some utility or value. This product has absolutely no value IMO. I would return the remaining 3/4 of a roll that I have, but it is simply not worth my time for the few dollars I would get back. I do hope that company people read these reviews and challenge their suppliers to provide quality products, even at low price-points. Until there is a change with "Duck Tape Basic", I would strongly recommend any potential purchaser to STAY AWAY from this product!
xcfghjki
Thin, Flimsy, Won't Stick, Total Garbage.
This has to be the worst duct tape I have ever seen. This tape has nearly no cloth fiber at all, so it has no strength. The vinyl tape is extremely thin. There is barely enough adhesive on it to keep it taped to itself on the roll of tape. It will barely stick to a clean, dry surface in 75 degree indoor temperatures. Try to use it in 50-60 degree temperatures, and it will not stick to anything at all. I splurged on this because Duck is a name brand that I expected to be superior to the generic, off brand alternatives. I was nothing but disappointed. And now I need to buy some more of that generic, off brand tape, to do the taping that the Duck brand product was incapable of sticking to, and too weak to hold together.
catfanattic
avoid this useless "unsticky" tape
This tape does not hold. Everything I have tried taping comes undone within a few hours. What a waste of money.
JaxBeachBoy
not worth a penny
The old saying is "you get what you pay for". If a roll of this tape was to be given to you for free, you paid too much for it. It isn't worth a dime. It should have a warning label on it, "Buy at your own risk".