S&T Always Off Makeup Cloths, 3-Pack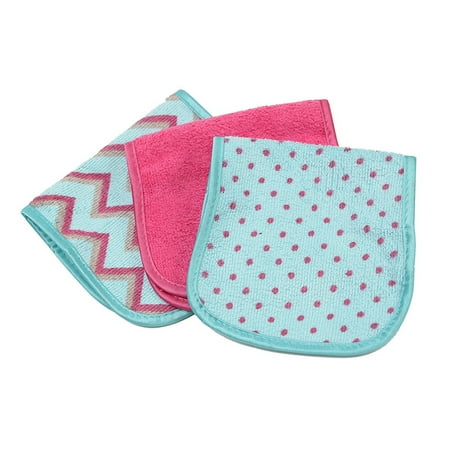 Sale :

$2.97

Sold & shipped by Walmart
Product Description

Additional Information

Reviews
Product Description
The S&T Always Off Makeup Cloths are easy to use and made of polyester/nylon.
Additional Information
Always Off Makeup Cloths:
6" x 12" cloths, (15.2 cm x 30.5 cm)
Quickly and easily remove makeups
Durable and washable
Eliminate the disposable cloths saving time and money
Use wet or with your favorite facial cleanser or makeup remover
Plush microfiber gently lifts away dirt, oil and makeup
Reviews
dwtbb
Way better than the original
I have seen this previously and then saw the original makeup eraser which goes for $20 for 1 towel. With this product you get 3 for a fraction of the price. I used it for the first time yesterday. Well let me tell you. I beat my face with foundation, concealer, contouring, bright eye and waterproof mascara. I wet the towel with warm water and no other product. I was able to remove my makeup effortlessly in a few swipes, no tugging. It also removed the waterproof mascara with no trouble. I'm definitely going to pick up a few more packs before it disappears forever.
Janeen
Game Changer
I don't normally write reviews, but this product is worth talking about. Most of the time I avoid wearing eye makeup entirely just because I hate taking it off at night. It always takes multiple tissues or cotton balls, and my eyes are stinging by the end. I turned around and noticed them in the aisle and bought them on a whim. Best $3 I've ever spent. I put my eye makeup remover straight on the cloth, and all of my mascara and eyeliner is gone after several swipes. It doesn't smear ANYTHING on my face, and it doesn't hurt. I washed it with my towels in a hot water wash today, and everything but the faintest little bit came completely out. Every girl should have these.
Memeface
Yes!!!
I have finally found a way to remove all the extra makeup that makes me look like the living dead. I love these cloths. I wash my face as normal in the shower. Normally when I get out, I have to reach for a wipe thanks to my eyeliner. Well, I don't have to burn my eyes with makeup remover wipes anymore thanks to these. Did I mention how much I love them?
Margo
Amazing Makeup Remover Cloths
I love these cloths. The Walmart that I purchased them at is not one that I normally go to, so I looked at Walmarts that are closer, but I could not find them in their store. I am definitely going out of my way to go back to the Walmart where I purchased them, and I hope they still have them!
ShayJay
Amazing!
Was a little skeptical because of how cheap it was & how it compared to the original Makeup Eraser. This product honestly is worth it! The price is amazing & the way it took my makeup off was even better! I have oily skin, & this left my skin soft & it wasn't oily after taking my makeup off. Makeup wipes leave my skin with a residue. I also washed the clothes with my face wash instead of putting it into the washer because then I knew it wouldn't irritate my skin. Save your $20 & buy this product instead of the original Makeup Eraser. It's a dupe for it!