Philips Sonicare Elite Replacement Brush Heads, 2-Pack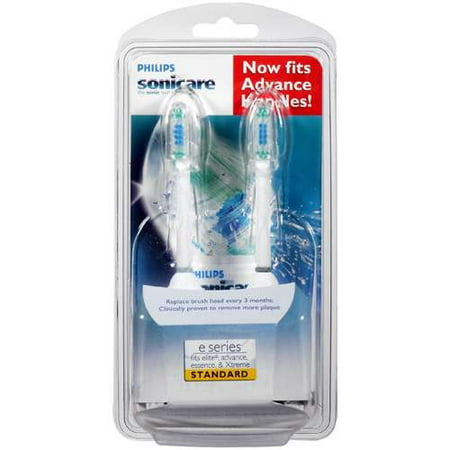 MSRP :

$34.22





Sale :

$16.99

Sold & shipped by Closeout Express Atlanta LLC
Product Description

Additional Information

Reviews
Product Description
Additional Information
The Philips Sonicare Brush Heads fit the Sonicare Essence 5000 and Elite 7000 toothbrushes. Each of the Philips Sonicare Elite Heads have eight rows of soft, extra-soft, and super soft bristles for gentle, effective cleaning. With longer bristles, the Philips Sonicare Replacement Heads are designed to clean hard-to-reach places. This slim angled neck on the Philips Sonicare Brush Heads is more comfortable when brushing. The color-coded Philips Sonicare Elite Heads make it easier to reach all areas of the mouth. This package of Philips Sonicare Brush Heads comes with two replacement heads.Philips Sonicare Elite Replacement Brush Heads, 2-Pack:Fits the 5000 series Essence and the 7000 series Elite handles 2 replacement brush heads, each with a slim-angled neck and 8 rows of bristles for optimum tooth coverage and cleaning efficiencyBristles are a combination of soft, extra-soft and supersoft rounded-end bristles that ensure deep but gentle cleaning Longer bristles designed to clean hard-to-reach areasSlim-angled neck is more comfortable when brushing and easier for reaching all areas of the mouthBrush heads are color-coded for convenienceModel No. HX7002Also available in select Wal-Mart stores
Reviews
gardenmrs
Saved my teeth
While having gum disease and great bone loss but strong, healthy teeth; this product saved my teeth by tightening the gums while massaging them. It's been 3 yrs now; and even with a few infections, antibiotics and Sonic Care Elite saved my teeth so far. Thank you for making a gum tingling and healthy product.
Ginnybydesign
Sonicare refills
I was very pleased to be able to buy these from Walmart at a very good price. Most of the places who stock them are from 4-5 dollars more. The Sonicare is a great product and I attribute my good dental checkups to its use.
FriscoShopper
I love this product!
I will keep using this toothbrush forever. I wish the replacement brushes weren't so expensive though.
Genie
Easy new toothbrush
I've had my Sonicare toothbrush for about 2 years now and I really like it! My teeth feel clean and my dentist always compliments me on my brushing habits when I go in for cleanings. Sonicare recommends changing the toothbrush heads every 3 months. That is just about right. When I change to a new head, I can feel the difference. As much as I like this product, I have 2 areas of concern. One is that the replacement brush heads are costly. Probably worth the cost, but it hurts when I have to buy new ones. The second area of concern is keeping the inside of the brush head clean. I've found that taking the brush head off and rinsing both the base and the brush head before putting it back on the charger helps alot. Recently, since my last brush head change, I've been separating the two parts and rinsing them, then putting the base on the charger and the brush head in the little tray that came with the toothbrush. This seems to let everything dry out and I'm not seeing the build-up of toothpaste and saliva that I've seen before. Overall, I love my Sonicare and I try to follow all the instructions that came with it. Advice on keeping it clean would be a benefit.
PDX23
Really Bad Product
The toothbrush head I put on only a month ago is already showing bad wear and tear. Quality is really bad and price is really high! It used to be that replacement brush heads would last six months.