Philips Norelco Series 5000 Nosetrimmer 5100, Nose, Eyebrow and Ear Trimmer, NT5175/49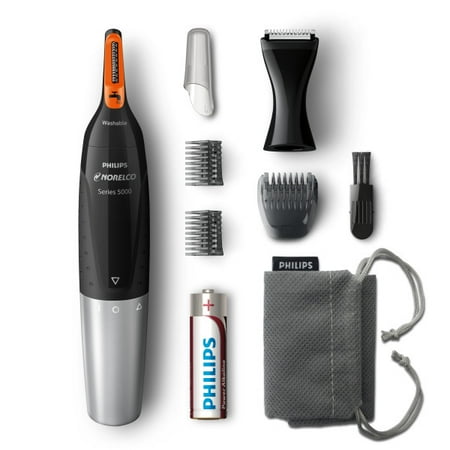 MSRP :

$17.95





Sale :

$14.95

Sold & shipped by Walmart
Product Description

Additional Information

Reviews
Product Description
The Philips Norelco NoseTrimmer is an all-in-one trimmer and styler. The trimmer removes unwanted nose, ear and eyebrow hair safely and comfortably. The skin-friendly detailer and comb have rounded tips to comfortably trim your neck, sideburns, stubble and beard. The ultra-sharp chromium steel blade avoids pulling for a more comfortable trimming experience. The unique skin-guard technology surrounds the blade and also protects against nicks and cuts. It has a non-slip grip for maximum control and comfort. The device is fully washable; simply rinse under faucet for easy cleaning.
Additional Information
Durable and compact, it has a variety of accessories included to ensure you get just the piece you need. Sharper blades provide a cleaner cut and smoother feel when you are done. The Philips Norelco Nose Trimmer is a useful solution for your styling needs.

Philips Norelco Nose Trimmer (Model # NT5175/49):
ProtecTube technology preventing pulls, nicks, and cuts
Ideally angled to easy reach inside nose and ears
With DualCut technology, twice sharpened for sharper blades and perfect edging
Soft rubber grip for maximum control
Fully washable all-in-one trimmer
Includes: Precision trimmer, DualCut trimmer, Lithium AA battery, 2 eyebrow trimming combs, beard comb, protective cap, pouch and cleaning brush
Model 5100
Reviews
pecantan42
Philips Norelco Nose Trimmer Kit
This Norelco trimmer is and all in one device with several different attachments that makes it so very easy to trim hair in the nose, ears, sideburns, mustache and neck. It is just the right size and right weight to fit comfortably in your hand and allow you to trim and shape the hair on your body. The attachments make it easy for you to zero in to the direct area that you want to shape or shave and this product also has skin guard technology that helps prevent you from cutting or nicking yourself while you are grooming yourself. This trimmer removes unwanted eyebrow hair also. It has comfortable rounded tips to help you smoothly remove all this unwanted hair without leaving stubble or razor bumps. This trimmer comes with an ultra-sharp chromium steel blade, and according to my husband does not pull on the hair and does not make it uncomfortable during grooming as some other products do. A couple great features of the Philips Norelco Nose Trimmer is that it is easy to clean. When you are through using the product, just simply rinse it under the faucet for quick and easy cleaning. It is now ready when you are ready again. It also comes with a convenient easy to use storage bag for when it is not being used. I would recommend this product to family and friends.
MoonFirez
Great Little Trimmer
Today I'm going to review The Phillips Norelco Nose Hair Trimmer, It Comes in a small box with a lot of options. When I opened the box. and took the trimmer out of the box. I looked at the trimmer . It's about six inches long. The trimmer measures about three and a half inches around witch means it sets comfortably in the palm of your hand. It's black and silver, Silver on the bottom and black on the top. It also has a black rubber back with a sure grip and wont fall out of your hand while using it. When I turn it on I only hear a small buzzing noise. It's very quiet and I only feel a small vibration in the handle. You twist the bottom on the trimmer handle to turn it on and off. The handle separates to change the battery. This product runs on one double AA Battery. The battery is also lithium for extra long life. There's a clear plastic top for storing the trimmer and keeping it dust free. There's an attachable head for the trimmer you can put a bear comb For trimming you beard and sideburns with ease This product also comes with two eyebrow combs. One short and one long for trimming you eyebrows This product come with a cleaning brush for cleaning. Last of all The Phillips Norelco Nose Hair Trimmer comes with a carry bag for on the go. What I really like about this trimmer. It has a dual cut technology, It wont snag or pull hairs. Cleaning of the trimmer is important to keep it functioning at peak performance. I give The Phillips Norelco Nose Hair Trimmer five stars.
BigAl21701
Excellent trimmer with really sharp blades.
I really like this trimmer. I have been using one for years and I did not realize how dull the blades were until I used this one. This cuts exceptionally well. Especially when trimming my beard and mustache. I also like how well the attachments work and the little bag to keep everything in. This is an excellent value for the money. I would highly recommend this to any man with facial hair.
FlaFigJo
WASHABLE & works like a Pro trimmer!
I waited until it had been used with ALL the add-ons - I was really skeptical when it arrived. It really is WASHABLE! Now my husband has now used ALL the add-ons & I used it to trim up my long eyebrow hairs. It never tugged like other trimmers, it has a lithium battery that comes with it, & it still is running at full power. This is simplicity at its finest. It has a VERY narrow head on it so nose hairs are trimmed, & no Tugging! The sideburn trimmer / shaver works really well with a close to the skin trim like a full size shaver - without the worry over over shaving the area. The only down side is the directions. Just save yourself, just use the diagrams. And it really can be cleaned with water not just the brush that comes with it. And it is balanced, it feels "right" no matter if my hubs big hand or my smaller one is using it. I'm hoping we will be able to buy replacement heads when these dull down, otherwise I will definitely buy one. This will be a stocking stuffer this year!
CeeNB
Not what I expected, but very good
Please accept my apology for the late review on this item. I know I had read the review about the item before selecting it, but I was expecting a head trimmer (I don't remember seeing the nose trimmer label), but this is really for the trimming of hair on the face, nose and ears. Despite that I still do not regret selecting it as while it takes more time to trim a head of hair it can still be used to do so. The trimmer came very nicely packaged, with a battery (I didn't know the manufacturer would send it with a battery), the various heads, a head cover and a pouch for it. It shapes hair nicely and can give a clean shave without the combs or a nice fade with the use of the combs. I like it because it's easy to use, from inserting the batteries to changing the heads and the combs. So much so that I can trim my son and avoid the long drive to the barber. A grown man would also benefit from this product. I definitely recommend.