Mueller Adjustable Ankle Stabilizer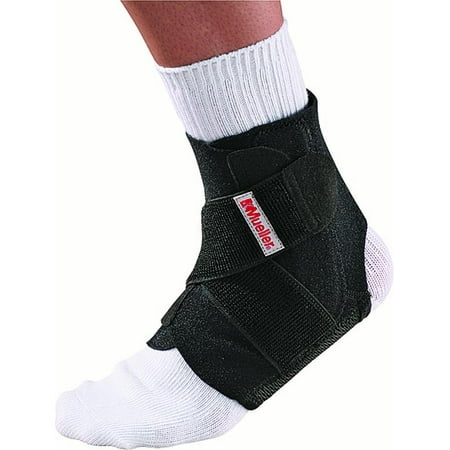 MSRP :

$15.35





Sale :

$12.95

Sold & shipped by Walmart
Product Description

Additional Information

Reviews
Product Description
Additional Information
Contains Natural Rubber Latex

Side stays help provide firm lateral support and protection

The soft neoprene blend retains body heat to help relieve pain and promote healing

Lightweight design is ideal for extended use and fits in most shoe styles

Figure 8 strapping system offers custom support and controlled compression
Reviews
theduff426
One Size Does NOT Fit All
I'm a very, very skinny girl and I got a bad sprain running in P.E. so after about a month or so of going through Ace bandages I decided to get an ankle brace. I went to Walmart and found this one and on the package it claims that one size fits all or that the brace can be adjusted to your size, something along those lines. The packaging is oh so very wrong. If I try to put the brace on like a normal person then the two side supports are on the front of my ankle, not on the sides where my ankle needs support. To get the side supports to where they need to be on my ankle I have to fold the back of it and it takes a really long time.This brace doesn't fit in most of my shoes and whenever I wear it now (it has been a year since I sprained my ankle and I sometimes still have pain and weakness in my ankle) everyone asks what happened because they think that my brace is a medical boot. Overall, I think size matters for this product. If you are normal sized and not a stick person like me then this brace would probably do the trick for you, but if you are a skinny stick like me, try to find something that actually is the right size.
Mcsun
It's wonderful.
My one ankle pronates badly and is badly swollen. The ankle stabilizer gives my ankle wonderful support and has relieved the swelling. It is a perfect fiit and is so comfortable that I hardly know it's on except for the wonderful support it gives my ankle. I have ms and the ease with which I can put it on is a real plus. I have tried various specially designed braces but this is the best of all.
wackymart
great value
i sprained my ankle and tore 3 ligaments 2 to 3 years ago i still have problems this is the best thing i have bought of all of the ankle braces
muzio01
Great Product & Price is Excellent
I just saw my podiatrist yesterday. He suggested I purchase hiking boots to support my weak right ankle. This was not an option due to fashion restraints. I opted for a maximum ankle stabilizer support. I did my research online, and found the prices greatly varied for the Mueller products. Walmart had the best price. So far I love this product. I have arthritis, and it is easy to put on and off.
sassyoneshopping
Adjustable Ankle Stabilizer
I purchased this product after reading all the reviews and I have to admit I was very satisfied! I severely sprained my ankle and was wrapping it with an ace bandage which was bulky and uncomfortable. This product offers more stabilization and is very comfortable and adjusts your ankle so you have less pain. WORD OF ADVICE: Since it's velcro, you do have to be careful not to let the velcro stick to your socks or accumulate any lint. Like all velcro, if it gets linty, it won't stick. I love it and would recommend it to anyone who has a sprained ankle. Thank you!!