SuperTech 5W30 Motor Oil, 5-Quart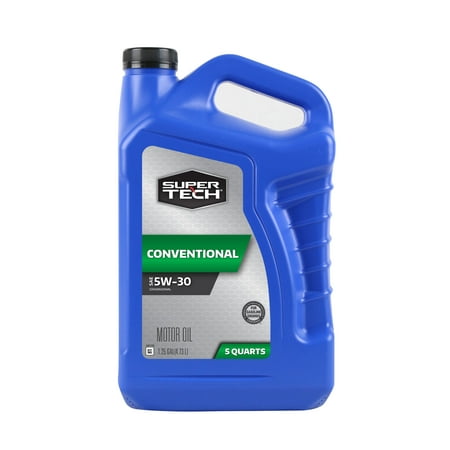 Sale :

$12.88

Sold & shipped by Walmart
Product Description

Additional Information

Reviews
Product Description
SuperTech 5W30 Motor Oil has enhanced wear protection and outstanding resistance to thermal breakdown at operating temperatures.
Additional Information

SuperTech 5W30 Motor Oil, 5-Quart:
SuperTech motor oil is designed for extremely high temperatures
Protects against harmful deposits and acids, which helps in a clean-running and lasting engine
Fully compatible with conventional oils
High-performance formulation for gasoline engines
Enhanced wear protection and resistance to thermal breakdown
SuperTech engine oil meets or exceeds U.S. and foreign passenger car and light truck requirements for all gasoline engines
Reviews
fkjghkfjghkl
It's ok
Usually, I use penzoil for 97 Lexus ES300. I tried ST conversion oil a few times. With ST oil the engine runs noisier right after change or after 1500-2000 miles. With penzoil or valvoline engine works smoothly and quietly. The difference is like you drive a newer car. This condition last up to 4000 m. (dint drive longer with one oil change). I would recommend change ST not longer than 3000 miles, or use a good brand oil during 5000 m, if you want to compensate for the difference in price. Also, brand new ST oil is darker and smells bad. I think it is because this oil contains higher (maybe 40-50%) proportion of recycled oil. To be fair, didn't see any difference in mpg and cleanness.
RB
No need to pay more!
I have been using Supertech conventional and full synthetic motor oil for years in everything from my cars to lawnmowers and have never had a problem. It meets the same API and ILSAC specs as the other more expensive name brand oils on the shelf beside it. You can pay more for a boutique oil if you want too but the only thing you are improving are the big oil companies profit margin.
MomHS
why pay more?
Wal Mart's Super Tech engine oils are a fantastic value. If you use conventional oil in your gasoline engine, the Super Tech brand of oils will give you the same-or better-performance as the overpriced big name brands. I remember buying motor oil for 59 cents a quart in my early driving days....I realize those days are gone, but I don't see why I should have to pay $4 to $5 a quart for a big name oil when the Super Tech stuff does the job at a fraction of the cost. It has the same API certification as Mobil, Pennzoil, Valvoline and all the rest. Buy it in the 5-quart jugs and save even more. Use it worry free!
PostalBound
Great oil at good price
For normal oil changes you can't beat the supertech oils. Pushing 150k miles now on Hyundai Sonanta with 5k oil changes with supertech filters and oil. Both are high quality items and perform very well. Just look around on the web for oil analysis on this oil and you will see what I mean. It is as good as any other comparable dino oil and cost less.
walmartshopper3211
excellent value oil
Supertech 5W30 has been the exclusive oil for my 2001 Camry 4-cyl for over 150,000 miles. I still get 29 mpg on the highway. I change the oil every 3000-5000 miles and there has never been any sign of sludge (you can tell when the oil is draining). I don't know if Supertech is better than brand name oils but it certainly is an excellent value oil.