SuperTech 5W30 Motor Oil, 5-Quart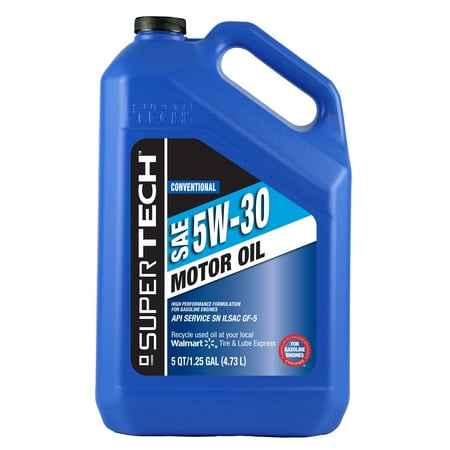 Sale :

$11.97

Sold & shipped by Walmart
Product Description

Additional Information

Reviews
Product Description
SuperTech 5W30 Motor Oil has enhanced wear protection and outstanding resistance to thermal breakdown at operating temperatures.
Additional Information

SuperTech 5W30 Motor Oil, 5-Quart:
SuperTech motor oil is designed for extremely high temperatures
Protection against harmful deposits and acids, which helps in a clean-running and lasting engine
Fully compatible with conventional oils
High-performance formulation for gasoline engines
Enhanced wear protection and resistance to thermal breakdown
Reviews
fkjghkfjghkl
It's ok
Usually, I use penzoil for 97 Lexus ES300. I tried ST conversion oil a few times. With ST oil the engine runs noisier right after change or after 1500-2000 miles. With penzoil or valvoline engine works smoothly and quietly. The difference is like you drive a newer car. This condition last up to 4000 m. (dint drive longer with one oil change). I would recommend change ST not longer than 3000 miles, or use a good brand oil during 5000 m, if you want to compensate for the difference in price. Also, brand new ST oil is darker and smells bad. I think it is because this oil contains higher (maybe 40-50%) proportion of recycled oil. To be fair, didn't see any difference in mpg and cleanness.
delsol0128
Super Tech is King
Firstly it carries the API starburst so you know you are going to be good to go. Thats all you should need to purchase this oil in the first place but the price should keep you buying it. Under $12 for 5 quarts of oil is a crazy deal in 2017. There is only 1 other oil thats cheaper sold at Walmart and thats Chevron Supreme sold at $11.77 so only a few cents cheaper than Super Tech. I have been using Super Tech motor oils since 2005 and I have had zero issues or reason to use anything else. Ive used it in every vehicle Ive owned several times over that range from a basic Toyota Yaris to a Ford Mustang GT and a lawn mower with no problems under manufacture specified change intervals. I highly recommend it to anyone who wants the rare quantity and quality combination.
Airwuf1
First time purchase of this brand oil.
There are many questions about the quality of this oil from Walmart. So far I've had this oil in my vehicle for 250 miles without any type of problems. I really believe that this oil is just as good as any if you are going to change your oil Within 3000 miles or maybe if your vehicle calls for 5,000 miles. With that being said it does say that you can use this in your turbocharged or supercharged Vehicles which I do own a turbocharged vehicle. Now this is where I question the viscosity of the oil and a force inducted engine I have no proof in that it would be bad but when you own a Force inducted engine you would really like claims that can back up that there will be no harm done to a very expensive engine that can put out extreme amounts of power. But once again on the flip side of that coin this oil does seem to be worth its while for purchase if you are going to change your oil within the normal intervals.
MomHS
why pay more?
Wal Mart's Super Tech engine oils are a fantastic value. If you use conventional oil in your gasoline engine, the Super Tech brand of oils will give you the same-or better-performance as the overpriced big name brands. I remember buying motor oil for 59 cents a quart in my early driving days....I realize those days are gone, but I don't see why I should have to pay $4 to $5 a quart for a big name oil when the Super Tech stuff does the job at a fraction of the cost. It has the same API certification as Mobil, Pennzoil, Valvoline and all the rest. Buy it in the 5-quart jugs and save even more. Use it worry free!
Wart
Very good oil
Used this oil on a Mazda Protégé we owned from the time it was new. Ran the car for 360K miles until it was rear ended and totaled. Had no problems with the engine. Had the oil pan off at about 300k to reseal and to my surprise you could look into the cylinders and see the factory crosshatch in the bore. Been using in all my vehicles. one has 350k one with 260k and one with 120k. Absolutely no trouble with this product. I have converted several of my friends to it and they have been pleased also.