Super Tech Conventional SAE 10W-40 Motor Oil 5 qt. Jug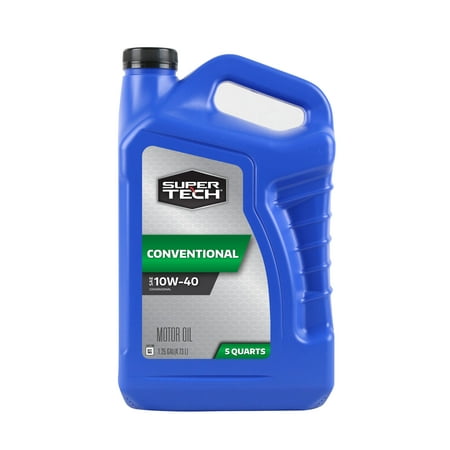 Sale :

$12.88

Sold & shipped by Walmart
Product Description

Additional Information

Reviews
Product Description
SuperTech 10W40 Motor Oil has enhanced wear protection and outstanding resistance to thermal breakdown at operating temperatures.
Additional Information
SAE 10W-40 motor oil
5 QT or 1.25 Gallon sized motor oil jug
High performance formula for gasoline engines
Please recycle used oil at your local Walmart Tire and Lube Express
Provides excellent protection against viscosity and thermal breakdown
Reviews
JXP292
It's motor oil
Here we go again! I love the amount of drama people place on the type of motor oil they use in their cars. Guess what? It's slippery. It has detergents. It has viscosity modifiers. If you're driving a mazzaratti maybe you should run some super fancy oil. But for your run of the mill car this oil is just fine. Change it at 5000 miles and quit yer belly-aichin'! Seriously. I picked up some of this the other week before the Mobil Super came on sale. I put it in my crank case and it runs just fine. I'm not going to run it for 15,000 miles. 5000 miles and it gets changed anyway. This oil is just fine, although now that Mobil super is only a quarter more, I'll probably get some of that just for giggles.
JXP292
No need to buy brand name oil these days!
If you compare the specs on a brand name container of HD oil with the SuperTech brand you will find that they are identical per grade of oil, conventional, high-mileage, or synthetic. Makes no sense to buy a brand name because a major oil company is supplying WalMart with SuperTech at a very nice discount to branded product.
humpthedog
Been using this oil for last 10 years
I have Been using this oil for last 10 years in 4 different cars, and its done a great job.
mmash5
SuperTech 10W40 Motor Oil, 5-Quart
Good price and fast delivery will watch for future AD, been using product for years, 230K miles with same engine
Rick
SuperTech 10W40 Motor Oil, 5-Quart
I like this oil. However, recently they changed the seal located under the cap. The seal is made of paper and clear plastic. It is very difficult to remove. It shreds. I am afraid of pieces getting into my engine. The old seal made of foil was better.