SuperTech 10W30 Motor Oil, 5-Quart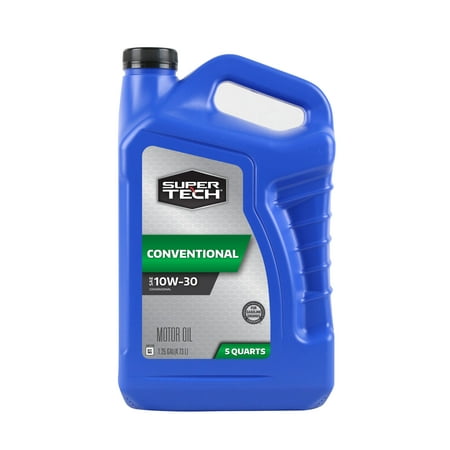 Sale :

$12.88

Sold & shipped by Walmart
Product Description

Additional Information

Reviews
Product Description
SuperTech 10W30 Motor Oil has enhanced wear protection and outstanding resistance to thermal breakdown at operating temperatures.
Additional Information

SuperTech 10W30 Motor Oil, 5-Quart:
SuperTech motor oil is designed for extremely high temperatures
Protection against harmful deposits and acids, which helps in a clean running and lasting engine
Fully compatible with conventional oils
High-performance formulation for gasoline engines
Enhanced wear protection and resistance to thermal breakdown
Reviews
a70duster
It just works
It is more important to keep up on the frequency of oil changes than to get a super oil. An engine is inherently dirty and it will contaminate the lubricating oil. The best way to get rid of that contamination is to replace the engine oil frequently (4k mile change interval). With a low price oil I am more inclined to change my oil rather than extent its use with a higher priced oil. I just took apart a perfectly good Subaru engine with 165k miles that ran SuperTech oil. I found the internals clean, no coke buildup, and minimal wear. I almost regret taking that engine apart.
Frugal
Customer
Super Teach has become a trusted brand. I relay on the aforable price and quality. Auto maintenance is a long time practice for myself. I really like the different weight choices available in the Super Tech brand.
ksir
Great oil
Been a mechanic for 28 years, I know a lot about lubricants. Don`t let the price fool you, the oil walmart markets under supertech is manufactured to the highest standards available by a major oil company, I`ve used this stuff for years without a hitch. My Ranger has 240,000 + miles and still going strong.
Stuntsalv
Super tech oil one of the best until changed
I have been in the auto industry for over 18 years. I have seen oil come from jugs quarts and barrels. If you read the rating on the back of the bottle it gives you a little insite on the quality of oil. I have used super tech in boats jet skis cars and bikes. A lot of performance guys including myself stand behind the oil. I am starting to see synthetic oil burn faster and disappear in cars being quart low. So I disprove of name brands as the best of the best. If you don't try to get 8 thousand miles on a oil change and drop it at 25000 you decrease slugging and have a heatlh conscience engine. I have seen motors slugged up on name brands just as much as any oil. Super tech is good for everyday driving. If you are racing I would start with super tech and add your own additives.
brummx5
good oil
we drive a lot of miles and change oil every month. great value