Bright Starts 3 Ways To Play Walker Ford F 150, Choose your color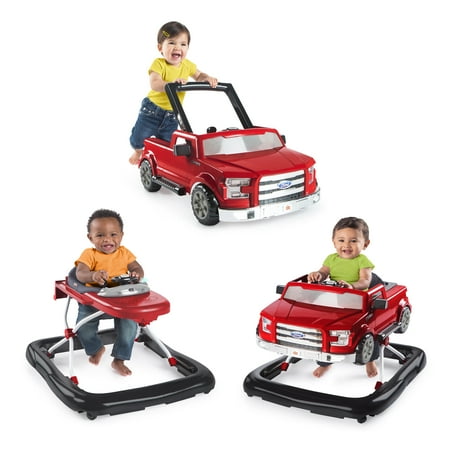 MSRP :

$79.98





Sale :

$79

Sold & shipped by Walmart
Product Description

Additional Information

Reviews
Product Description
"This amazing 3 in 1 walker for baby supports both beginning and more experienced walkers. Two can play at once! One baby can play in normal walker mode to encourage gross motor skills and more advanced walkers can use the push-behind mode! To use in push-behind mode, simply lift the push bar and remove the truck from the walker base. Baby will ""steer"" right into imaginative play with the authentic truck sounds, lights, gear shifter, steering wheel and the look of this rugged Ford-tough walker. The removable steering wheel play station can be used for floor play or on the go. A high seat back provides comfort and support for baby. The design of this baby walker allows for easy fold, storage and portability. Easily keep clean by wiping down where needed and tossing the seat cushion into the washing machine. It is safety enhanced with rubber feet that ""brake"" and a sturdy frame. Make the fun last even longer by adjusting the walker frame to three different height positions."
Additional Information
Reviews
Kinder
Cool look!
I loved the way the Ford F150 looked, and wanted it for my son especially since dad's car is the same:) But mom plans and the boy laughs: he was way too tall for it, so I should have gotten it when he was about 5-6 months, not 9, so it's not something to get if your kid is on the tall side (would be if the adjustable height went higher). And on top of that, although not related to the product, he took his first steps independently three days later:)) The walker, though, seems well built otherwise, easy to assemble and disassemble, safe, and fun with the horn and the steering wheel- we took that off and he loves playing with it. I would recommend a better quality plastic on it, it looks sort of old and scratched, but I would recommend this product especially for the cute picture opportunities [This review was collected as part of a promotion.]
Dannyandarleneevans
Really Nice!
My son got this as a christmas present yesterday and loves it. He is styling like he belongs. He pushes the buttons on it already like he already knew what he was supposed to do. He is starting to move it back and forth a little at a time. With this thing he should be walking before no it.
tarapwhite
Daugther loves to play in truck like her Daddy's!
Our little girl loves this truck. Now she has one that looks like her daddy's truck! The design of this product is super sleek and resembles a real Ford truck. The three in one feature is also neat; however, we have only used it one way so far. The truck honks, plays music, cranks up, and makes other fun sounds. Our baby loves to listen to the music which sounds like real rock music. She is 7 months and has not figured out how to walk in this yet, but she just sits and plays. She has scooted backwards a few times. The wheels do not glide easily; it takes a bit of effort to get them to roll and it seems to roll only front to back and not sideways. Truck was very easy to assemble which is always a plus! [This review was collected as part of a promotion.]
D and D
Vroom, vroom!! America's most popular vehicle!
Our little one loves, loves, loves this walker!! America's most popular vehicle for many years is a huge hit as a toy and a developmental aid. This is beautifully designed and engineered, handles great, and is well commandeered by our son. He likes the sounds and gears, although as shown in the first image he is a little young to be texting and driving... And he has to learn to drive with both hands on the wheel... Vroom Vroom! [This review was collected as part of a promotion.]
Mcc21
Best toy ever!
I can't say enough about this toy. We've had hours and hours and hours of fun chasing our little one around the house in this car. If you want to hear your baby giggle continuously and contagiously buy this immediately! [This review was collected as part of a promotion.]