Bright Starts Lights & Sounds Funpad Musical Toy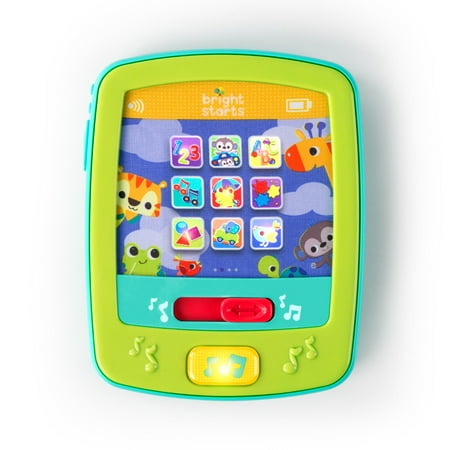 MSRP :

$12.99





Sale :

$10.99

Sold & shipped by Walmart
Product Description

Additional Information

Reviews
Product Description
Additional Information
Introduces baby to shapes, colors, numbers, and more
Large, soft, buttons on fabric screen are easy for baby to press
Features 5 colorful lights that dance across the screen
Slider switch activates fun clicking noise
Press blue button for light and fun melodies
Reviews
bubbasbabe1
Cute toy!
Bought this for my 1 year old granddaughter. It's very basic, a normal lights and sound toy for her age group. Everybody thinks they need a high tech gadget for their children, but this is the perfect toy for a 1 year old.
peesy
Cute toy!
Bought this item for an 8month old little girl about 3 weeks ago, she is now trying to say the words she hears in the songs. This is a perfect toy for little ones, very entertaining and educational. Planning to buy another one for my brand new grandson
TT1982
Baby loves!
I got this for my baby about a month ago and he really liked it. He was 6 months old then. He really liked to watch the lights and listen to the music but was reluctant to push the buttons on his own. Now, a month later, he is still just as interested but plays with it independently. The only downfall is the front "screen" is covered in fabric so when baby spits-up it's hard to clean especially if you don't catch it right away.. Other than that it's a great product for the price!!
Ridetogether
Great toy
I purchased this for my son for Christmas and he absolutely loved it! He is always trying to play with my iPad so this is a great inexpensive substitute. It has a cloth piece over the buttons so its soft on babies hands, and it makes lots of lights and sounds that my son loves. He is 20 months old now and he still loves to play with this toy, and it's lasted through a lot of play time.
VeryHappyWIMom
Surprisingly Good for Baby
We all know kids can be rough with things, which is why I got this tablet for my baby boy. I wanted to keep him away from my own electronics (tablets & laptops). He has his own. Of course then we "lost" it for a few months. I didn't expect him to leave it outside, but that's what happened ... all through a winter in Wisconsin ... buried beneath several feet of snow in temps that dropped well below zero for weeks at a time. Much to my surprise, we found it! Went outside to play on first real good warm day of the year and saw the FunPad tablet. I fully expected it to be ruined. Flipped switch on and...it fired right up with lights and music! Yep, I'm a happy Mommy. LOL My much more expensive electronics would've never survived, but this "FunPad" tablet certainly did! So now my little one is joyfully playing with HIS "lappy top toys" and not Mommy's. :) Only Con is that I know he'll soon outgrow the simple music & flashing lights and want one that does much more. Hope I can find a replacement as sturdy as this one, but I doubt it.