Bright Starts Shake & Spin Activity Balls Toy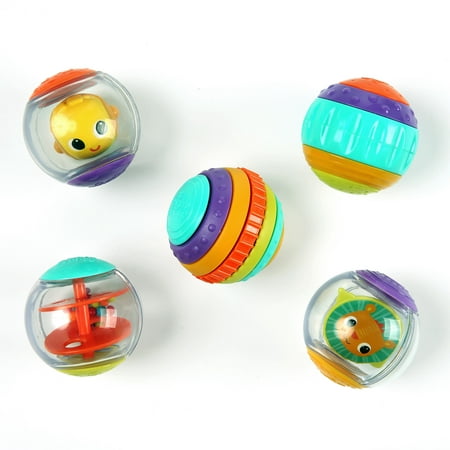 Sale :

$6.87

Sold & shipped by Walmart
Product Description

Additional Information

Reviews
Product Description
Fun Comes First! Shake, rattle, and roll these fun activity balls from Bright Starts! These 5 unique ball toys each feature a different fun activity for baby such as rattle, spinner, and ratcheting.
Additional Information
5 unique balls each feature a fun activity such as rattle, spinner, or fun clicking soundsMultiple textures are easy for baby to hold and grasp
Reviews
iLuvAutumnBest2013
Stimulates the senses, sight, sound and touch.
Got these for my granddaughter over the holidays, and we really just started to use them on her play mat. She's 5 months old now, and grabbing as well as pushing objects pretty well so this is a wonderful addition to her collection of learning toys. Each ball has it's own individual features. The multi-striped balls twist and turn making clicking noises, each of these have a different texture to them to also help stimulate touch. The clear balls are so cute, and smooth to touch with an object inside. One is a little flat spin piece, when it moves the little tiger I think it is twirls around. Another has a fish in it, that is dimensional and spins as well but in a horizontal manner. The third clear ball has beads in it that shake around a spiral column with holes in it-this makes lots of rattling noises. Great buy, and a very economical as well as transportable toy to be used anywhere. Fits nicely in a diaper bag.
GRANDMAKERRY
5 SHAKE AND SPIN ACTIVITY BALLS
I bought these for my grandson who is turning 1. I live in Connecticut and my daughter lives in Missouri so we got together on Wal-Mart dot com read the product description and decided for the price to give them a try!! I bought them from my living room in CT. my daughter picked them up at Wal-Mart in Carthage Missouri!!! My grandson loves them they make noise they are colorful they are textured two of them have different with rings that turn and the animals inside the other ball is bright and makes a great sound then the one with the little turn style that the little balls fall through is just a blast as far as my grandson is concerned!!! if your product can engage a 1 year old for hours it's great and the fact that they roll too!!!!!! DOUBLE BONUS!! GREAT TOY GREAT VALUE GREAT FUN!!! HAPPY GRANDSON HAPPY GRANDMA!!!!
mamammy
great!!!!
i was a little skeptical when we got these balls, but my baby loves them!!! they make noise, she throws them and then follows them by herself. we had them for couple months, she is 9 month now and she still plays with them. throw them under the couches or somewhere across the room and trynna get them and crawl there as fast as she can! so hillarious. for that price!!!! yep yep!!!! great buy!!!!!
SummerSet2011
So Many Options!
One ball has little balls that fall through a little maze. Two of the balls have a cracking sound and the pieces can turn in different directions. There is a fish that spins inside which is my childs favorite and a rattle ball.
whooo62
So Many Options!
my 5 month old loves these activity balls..endless fun. I love watching hime try to move about to grasp the colorful balls.