Bright Starts Click & Giggle Remote Toy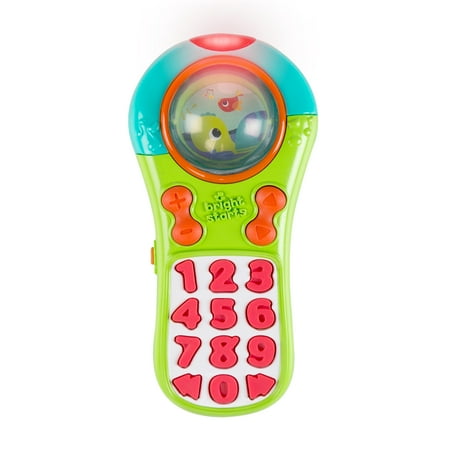 Sale :

$9.99

Sold & shipped by Walmart
Product Description

Additional Information

Reviews
Product Description
Fun Comes First! Give baby his very own remote control to play with! The Bright Starts Click amp; Giggle Remote features over 25 nursery rhyme melodies, numbers, and fun television sounds. As the buttons are pressed, the remote lights up to keep baby engaged.
Additional Information
Large, easy to press buttons activate 25+ melodies, numbers, and silly sounds
Spinning roller ball
Introduces baby to numbers
Press buttons to activate light
Automatic shut-off
Reviews
poohbear7882
A great alternative to the tv remote
My son started to play with our television remotes and then we gave him this remote. He still likes ours, but he loves to play with "his own remote." He got this toy at about 5 months old and played with it when he went for the real remotes but they were taken away from him. Now he plays with this almost everyday. We have taken the purple attachment thing off of it and he chews on it as though it were a teether. The buttons for the volume plays songs, the buttons for channel changing play sounds that are almost like they changed the channel to a certain type of show (baseball game, animal sounds, sci-fi sounds, a laugh track, etc). The numbers play all kinds of songs and they count up to 9. The 1-6 are separate from the 7-0. It's a cute toy that has allowed him to feel important enough to have his own remote.
skipper5o
My son loves it!
My son is almost one and loves this. He especially likes to spin the clear bubble that has the pictures. While he still prefers real phones and remotes, he is happily distracted with this. This has two volumes and an off. It is on the larger size, so children that are much smaller may have a harder time holding it - you'd have to check that out in the store. The purple clip at the top doesn't stay on well, but we're fine without it. I think the companies charge too much for these things. If it weren't for the clip and the cost, I probably would have given it 5 stars.
Ann3011
My son loves it!
After seeing another child play with this toy, I decided to purchase several for my daycare children. It has become a favorite and I have duplicates to eliminate fighting over it. The children love to carry it around. I love the counting, the various sounds, music and the songs. The children in my daycare are from 10mos to 3yrs, and they all love playing with this remote. This toy is an excellent value, it's fun, and they learn too.
GamingGoddess22
My daughter loves this toy remote!
I bought this because my daughter wants to play and chew on our electronics rremotes. She is 7 months and loves it! It has two different sound settings, which is nice. It also has a link on it to attach it to things so it doesn't get lost when you're out and about. Love it!
Bre
My daughter loves this toy remote!
I like how it has multiple buttons that my baby can press.