Visine Advanced Redness + Irritation Relief Lubricant/Redness Reliever Eye Drops, .5 Fl. Oz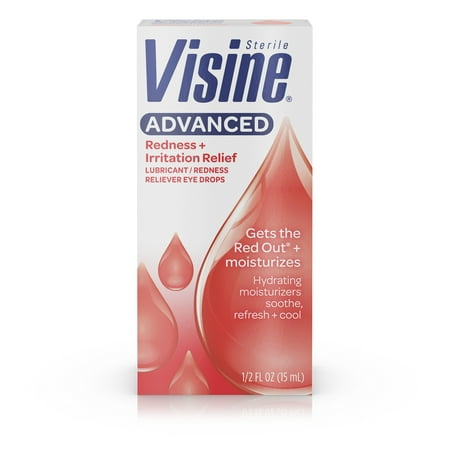 MSRP :

$5.42





Sale :

$4.59

Sold & shipped by Walmart
Product Description

Additional Information

Reviews
Product Description
This product may be FSA eligible. Learn more about
FSA
.
Red, irritated eyes get moisturizing relief with Visine Advanced Relief Lubricant Redness Reliever Eye Drops, 0.5 oz. When the blood vessels near the surface of your eyes become irritated, your eyes start to feel and look like they're on fire. The Visine eye-soothing formula is designed to refresh eyes, so you can see comfortably and more clearly. This advanced-relief formula combines the redness-relieving power of the original Visine formula with three added moisturizing agents. If you spend most of your day on the computer, you can also use this lubricating eye drop formula to refresh strained eyes. Or, if you wear eye contacts, you can use these energizing eye drops to relieve minor eye irritation. Plus, the active ingredient tetrahydrozoline is a proven redness reliever. Available in a 0.5 oz size, these Visine Eye Drops are gentle enough to use whenever you need it.
Additional Information
Relieves dry, red eyes due to minor eye irritation
Tetrahydrozoline hydrochloride redness reliever
Hydrating moisturizers soothe, refresh, and cool
Protects against further irritation
.5-fluid ounce bottle
Reviews
Ryanyc
works great
Works just as advertised. Definitely moisturizes your eyes and gets the red out just like normal visine. I find myself using these eyedrops more than any of the other visine products.
Brian
Visine
Red eye relief Dry eye relief
Pauljohn09
Great for my eyes
I use this product a lot of the times when o wake up pr after showering os good also when u inna quick date ans if u have hangover
Keith b
Wouldn't wish it on my worst enemy!
I bought this product about a week ago for dry eyes. I put it in my right eye and it got red, two days later I went into the doctor and turned out I had an eye infection. I've never had an eye infection before nor had I been exposed to anyone with pink eye. Figuring it was unrelated I used it in both eyes after I recovered from having an eye infection... Same result! My eyes turned brick red, felt like someone put a paper towel in both eyes they were so dry, and literally could not see for over an hour - they were that painful. I could only conclude it was to this product it was the only thing I was exposed to. I wouldn't use this product for my worst enemy, seriously, it could probably used for a torture method.
LizHG
Reliefs your eyes and gets the red out
I am a member of Home Tester Club and I received Visine Advanced Redness & Irritation Relief drops for in exchange of my honest opinion. I would highly recommend Visine Advanced Redness & Irritation Relief drops, because it really does work. I have used the Visine Advanced Redness & Irritation Relief drops quit a few times this summer. During the summer months I do a lot of swimming, because of the all the chemicals we use to clean our pool my eyes get very irritated my and get red . After using Visine Advanced Redness & Irritation Relief drops, my eyes feel so much better and look as if I didn't have any kind of irritation or redness. I am a big fan of Visine Advanced Redness & Irritation Relief drops. [This review was collected as part of a promotion.]