Desitin Maximum Strength Original Diaper Rash Paste, 4 oz.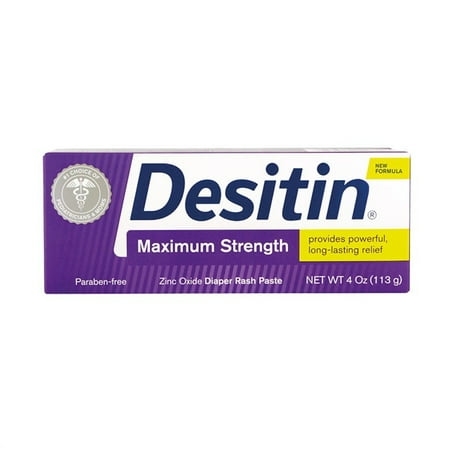 MSRP :

$5.38





Sale :

$5.19

Sold & shipped by Walmart
Product Description

Additional Information

Reviews
Product Description
The rich, thick formula of Desitin Maximum Strength Original Paste contains the maximum level of zinc oxide to immediately form a barrier to promote healing and soothe rash discomfort. This formula provides powerful, long lasting relief for baby's tender skin, making Desitin Maximum Strength Original Paste your trusted partner for treating diaper rash.
Additional Information
Desitin Maximum Strength Original Paste, 4 Oz:
Diaper rash paste 4 oz tube
Helps treat and prevent diaper rash
Formulated for babies tender skin
#1 choice of pediatricians and moms
Clinically shown to provide barrier protection to skin for up to 12 hours
Maximum level of zinc oxide to fight rash
Hypoallergenic, dermatologist and pediatrician tested
Free of parabens, dyes, fragrances, soaps and phthalates
Reviews
Unknown Customer
Not what it used to be...
With my first child, I LOVED the 16 oz Max strength desitin. It worked wonders very quickly and was nice and thick. Now (7 years later), with child number 2, I've looked everywhere for the 16 oz tub and realized they don't make it anymore so I settled and bought the small 4 oz. VERY liquidy compared to the old stuff. I still have an old 16 oz tub left (although its expired) and compared the two. The old one is MUCH better. Now, it seems you are paying A LOT more per ounce and getting a lesser quality, more watery product. Looks like a business move on Desitin's part to make more money for less product and quality. I guess I'll take my business to a different brand. I wouldn't recommend this product anymore (Back in the day, I SWORE by it).
Smilediva
Does the job
A tad bit messy but clears up the rash super quick.
Diane
Not just for babies!
Pease bring back the 16 Oz Maximum Strength tub!!! I used Desitin on my babies like everyone else, but I have horses and the Maximum strength formula has become a staple around my barn and is used in large quantities. It is a miracle worker on the many type of skin conditions horses can be susceptible to including scratches, dermatitis, rain rot, etc. I have one horse who has a sarcoid on his back and every spring it would flare up, often turning into a bloody, scaly lesion. I tried various expensive treatments recommended by my vet to no avail. This spring I started using Desitin Max strength alone when it started to flare up and it stopped progression of the lesion dead in its tracks. No hair loss, no scaling,no itching. I think the 40% zinc oxide concentration is key here for both its healing and sun blocking qualities. But I need the 16 oz tub!! Please bring it back!
Jaxelyn
Oily mess; not the same ingredients it used to be!
Just ran out of the 16 oz. tub I bought YEARS ago. Finally bought a new 16 oz. tub for my newest addition, and it's a runny, oily mess. I compared ingredients and realized Desitin changed it. Well they should have called it some other name and still kept the old stuff because the new doesn't compare to the old. We got rid of it and switched to another brand. It was a waste of money! And I feel bad because I've recommended the product to so many people without realizing it had been changed!
LiamandGraysonsmom
Best product out there!
My almost two year old just woke up screaming with the worst case of diaper rash I have ever seen. He rarely gets diaper rash, but this case was awful...red, raw, and if you even touched it he screamed in pain. After he finally let us soak his bum in the tub to clean it, we put a heaping amount of paste on him...instant relief! "Boo boo better" he proclaimed! I can rest easy tonight knowing that he will wake up with it almost completely gone. We have only used Desitin Max on our two babies at the recommendation of the NICU nurses who cared for our first born. When our youngest was born this summer, we had issues with yeasty areas in his skin folds. Live and learn, he got Desitin to all his creases and folds after every bath, and it quickly solved the issue. As a nurse and mother of two, I amazed at how great this product works, and quickly too! I give every expecting mother I know a large tube of Desitin Max and tell them not to bother ever using anything else...it's the best!