Desitin Maximum Strength Original Diaper Rash Paste, 4 oz.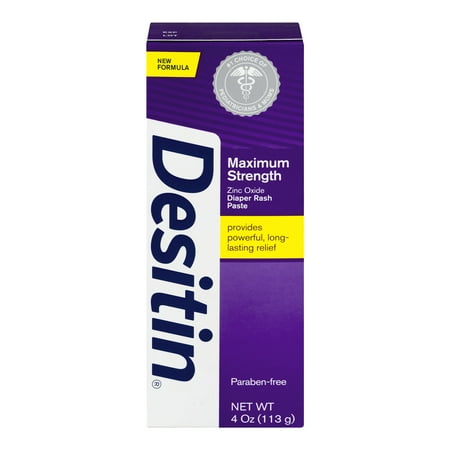 MSRP :

$5.38





Sale :

$5.19

Sold & shipped by Walmart
Product Description

Additional Information

Reviews
Product Description
The rich, thick formula of Desitin Maximum Strength Original Paste contains the maximum level of zinc oxide to immediately form a barrier to promote healing and soothe rash discomfort. This formula provides powerful, long lasting relief for baby's tender skin, making Desitin Maximum Strength Original Paste your trusted partner for treating diaper rash.
Additional Information
Desitin Maximum Strength Original Paste, 4 Oz:
Diaper rash paste 4 oz tube
Helps treat and prevent diaper rash
Formulated for babies tender skin
#1 choice of pediatricians and moms
Clinically shown to provide barrier protection to skin for up to 12 hours
Maximum level of zinc oxide to fight rash
Hypoallergenic, dermatologist and pediatrician tested
Free of parabens, dyes, fragrances, soaps and phthalates
Reviews
Diane
Not just for babies!
Pease bring back the 16 Oz Maximum Strength tub!!! I used Desitin on my babies like everyone else, but I have horses and the Maximum strength formula has become a staple around my barn and is used in large quantities. It is a miracle worker on the many type of skin conditions horses can be susceptible to including scratches, dermatitis, rain rot, etc. I have one horse who has a sarcoid on his back and every spring it would flare up, often turning into a bloody, scaly lesion. I tried various expensive treatments recommended by my vet to no avail. This spring I started using Desitin Max strength alone when it started to flare up and it stopped progression of the lesion dead in its tracks. No hair loss, no scaling,no itching. I think the 40% zinc oxide concentration is key here for both its healing and sun blocking qualities. But I need the 16 oz tub!! Please bring it back!
Shawna
Not ok
I originally bought this while I was pregnant to help with chafing. I noticed it burned when I initially applied, but would be fine after a few seconds and it seemed to help treat the irritated skin and help prevent anymore irritation. But when my son was almost a month old he got a diaper rash so I used this on him but he screamed, it burned when I applied. At first I thought it was just because I was touching the irritated skin, but after applying a couple more times the rash got worse. I immediately tossed the tube in the trash. I picked up some boudreauxs butt paste and triple paste instead. I will not be going back to this cream, I get that every baby's skin is different but there is something wrong when a diaper cream burns.
Shay
It's not the same something changed
My family has always used Desitin for all of the kids. I'd have to say since growing up with a mom who babysat many kids that this Desitin is not the same. It is thinner, it easily wipes off my finger and rinses off with water. I remember it being sticky and making my fingers waterproof. When I go to change my daughters diaper after 2hrs all the Desitin is gone and did not leave a protective barrier. Despite applying generously at every diaper change she still ended up with a diaper rash and she is only 1.5 months old! Desitin used to be a brand our whole family trusted and used. What happened?
Frustrated Mom
Bring Back the 16oz tub
My daughter has extremely sensitive skin and Desitin Maximum strength was a staple in our home. Rapid relief just doesn't cut it. I'm sending a new 4oz tube to daycare every 1-2 weeks right now. It's hard to keep up. So I'm looking for a replacement for the tub. So far what I've found has had too much fragrance and which she doesn't tolerate. I will be switching once I find a suitable cream in a large container. Please bring back the 16oz tub!
Nikki
This product in the 16 oz contianer
LOVE LOVE LOVE this product but can't find the 16oz jar anywhere. We go through the tubes too fast and they are very inconvenient to use. PLEASE PLEASE PLEASE bring back the 16oz jar! Thanks!