Desitin Maximum Strength, Original Paste, 2 Oz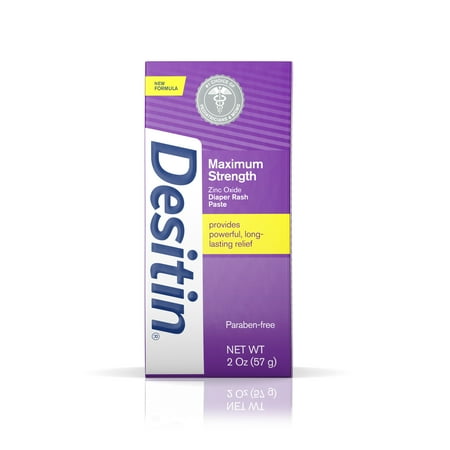 MSRP :

$5.64





Sale :

$3.67

Sold & shipped by Walmart
Product Description

Additional Information

Reviews
Product Description
The rich, thick formula of Desitin Maximum Strength Original Paste contains the maximum level of zinc oxide to immediately form a barrier to promote healing and soothe rash discomfort. This formula provides powerful, long lasting relief for baby's tender skin, making Desitin Maximum Strength Original Paste your trusted partner for treating diaper rash.
Additional Information
2-ounce tube of diaper rash paste
Helps treat and prevent diaper rash
#1 choice of pediatricians and moms
Clinically shown to provide barrier protection to skin for up to 12 hours
Maximum level of zinc oxide to fight diaper rash
Free of parabens, dyes, fragrances, soaps, and phthalates
Hypoallergenic, dermatologist and pediatrician-tested
Reviews
Unhappy Former Customer
16 oz Tubs
You've now known for MONTHS that so many people are requesting you bring back the Max Strength (purple) 16 oz Tubs, yet your responses to reviews sound like a bunch of lip service instead of actual concrete information about the future of this product's availability. I've even called the company directly and received the same corporate boilerplate non-answers. You are losing customers in droves at this point. If there were any hope on the horizon, I'd hang in there and stay loyal to the brand, but if the Max Strength 16 oz tub is never coming back, then there's no sense in continuing to waste our money on the inferior Regular Strength product. And the Max Strength tubes are only convenient for on-the-go usage. At this point, my next purchase will be a competitor's product. Also, I'm sure I'm not alone in feeling like the company is just trying to boost profits by strong-arming desperate parents into buying the more expensive tubes. After all, if the product is still being produced for tubes, why can't it just as easily be placed in a tub instead?
American Mom Living in London
Please bring back the 16oz tub!
I live in in London and like this product so much that I stock up on this every time I visit the U.S. or have visitors from the U.S. The tubs are so much more effective when you have a child that suffers from severe diaper rash. I usually need enough stock on this stuff to last me 6 months and now I'm having to buy so many tubes at a time which is just so wasteful and hard to use! I'd happily pay more just to have the tub back! The tubes are just too hard to use when you need to use a lot of product.
Chris
Bring back the tub!!!!!
The tube is so small and useless. Also, more expensive. Why did you discontinue the tub?
LiamandGraysonsmom
Best product out there!
My almost two year old just woke up screaming with the worst case of diaper rash I have ever seen. He rarely gets diaper rash, but this case was awful...red, raw, and if you even touched it he screamed in pain. After he finally let us soak his bum in the tub to clean it, we put a heaping amount of paste on him...instant relief! "Boo boo better" he proclaimed! I can rest easy tonight knowing that he will wake up with it almost completely gone. We have only used Desitin Max on our two babies at the recommendation of the NICU nurses who cared for our first born. When our youngest was born this summer, we had issues with yeasty areas in his skin folds. Live and learn, he got Desitin to all his creases and folds after every bath, and it quickly solved the issue. As a nurse and mother of two, I amazed at how great this product works, and quickly too! I give every expecting mother I know a large tube of Desitin Max and tell them not to bother ever using anything else...it's the best!
DD
Not our Desitin from the 60s through the 80s!
Not the Desitin I used in the 60s on my kids and my daughter used in the 80s on her kids. This Maximum Strength washes right off with urine and leaves no barrier. We miss the heavier fromula with more cod liver oil and lasting barrier. We bought the new Desitin Maximum Strength for our new great granddaughter based on our experience. Very disappointed.