Sally Hansen Miracle Gel Nail Color, Top Coat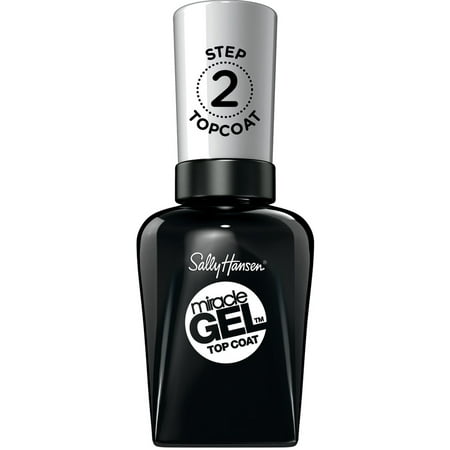 MSRP :

$8.76





Sale :

$8.52

Sold & shipped by Pharmapacks
Product Description

Additional Information

Reviews
Product Description
Seal in your nail color with Sally Hansen Miracle Gel Top Coat. This unique product is a leader in revolutionary gel technology that eliminates the need to use a light for drying. It provides up to 14 days of dazzling-looking nails. When it's time for a new color and a fresh coat, the second-step nail top coat is quick and easy to remove without having to soak your nails.

Additional Information
Reviews
Geni
MY NAILS LOOK HORRIBLE AFTER THE SECOND DAY
I bought this about a week ago and already removed and re painted my nails twice to give it a second chance but the ends of my nails are cracking it looks awful i don't know why the pictures provided are from the third and fourth day. I usually love sallly Henson polish but miracle gel isn't worth the money.
ChiffonCoffin
Extremely durable!
I read so many positive reviews of this polish that there was no way that I couldn't try it! As an avid nail painter of my long natural nails, having them look nice really means a lot to me. I applied this gel polish on Tuesday of last week and today is Sunday. The polish has lasted and gone through my daily typing at work, golfing, 10+ rounds of beach volleyball, and just general wear and tear. My normal nail polish wouldn't have lasted 3 days on my shaped nails. The only chipping of the polish that was done was due to myself actually chipping my nails, and thus the polish with it. I do however have one thing negative. I read on another review that someone's polish began to have miniscule cracks in the polish all on the nail. I also am experiencing this, not on all colors or nails but just the teal colors(I tried to photograph this, but my camera couldn't focus enough on them). Overall, this polish really is amazing and I will probably be switching over completely from regular to this formula. Great great buy!
aleea
not great
I got this polish because I wanted to try out a gel polish that didn't require the use of uv light. I thought looking at other reviews that it could go either way. Seems people either love this polish or they don't. Unfortunately for me it was the latter of the two. I'm not impressed. The color is just the same as the rest of Sally Hansen nail colors. There's nothing special about it. The coverage wasn't great. After applying two coats I realized I would still need to apply more and ran out of patience at that point. It does get streaky. It doesn't go on smoothly and it feels as though it starts to dry as you're applying it so if you're not applying it quickly you won't get nice even coverage. I was not aware that you needed the top coat for this which is kind of riridiculous to have a nail color that requires additional polish that it doesn't come with. That being said I noticed almost immediate chipping after I washed the dishes following the first time applying it. The wear is like any other polish I've used, doesn't stay long. Overall I'm not really impressed and I don't think it's something I would purchase in the future
LaniBee
Gel Top Coat -
Because I have quite a collection of various brands of nail polish, I thought I would try this gel top coat over a silver polish that was NOT Sally Hansen brand nor was it a gel. The first try was not very successful. I put on one thin coat of the silver polish and waited for about 10 minutes for it dry, then applied the gel top coat. The polish immediately thinned out and pooled around my cuticle. It left the polish looking streaky and see-thru in spots. I tried it again on the other hand with the same silver polish and waited about 45 minutes to dry before adding the gel top coat and I got the same results. The pictures show one nail before the top coat was applied and the same nail (10 minutes later) with the top coat. It dried quickly and looks shiny. I decided to leave the polish as is just to see how long it would last. I left it on for 7 days and I've been doing all of my normal activities (laundry, cleaning, shopping, typing, etc.) and there are no chips in the polish. I just removed the polish from both nails with 100% Acetone and it came right off with one wipe. I will definitely try this again with some other brands and colors (and eventually Sally Hansen Gel) and maybe try putting on a thicker coat of base polish. I didn't test this for the full 14 days, but other than experimenting with the polish itself, getting 7 days out of a manicure is pretty great!
VSarj
Color changed
I normally love this brand, but I got a new color today and my peach turned splotchy purple once it dried.