Valvoline™ 4-Stroke Motorcycle SAE 10W-40 Full Synthetic Motor Oil - 1 Quart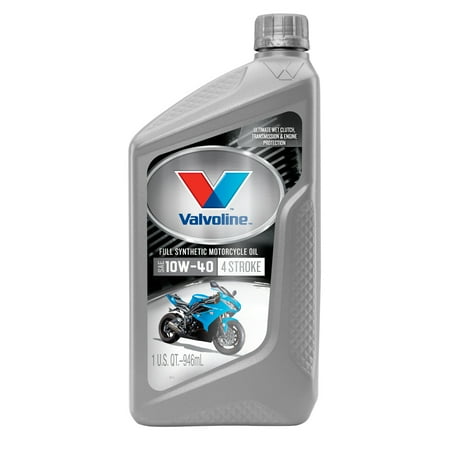 Sale :

$7.37

Sold & shipped by Walmart
Product Description

Additional Information

Reviews
Product Description
4T Stroke Full Synthetic SAE 10W-40 Motorcycle Oil For performance trusted by motorcycle owners and race teams around the world, use Valvoline Motorcycle Oil. It's formulated for the specific needs of motorcycles, including high temperatures, high RPMs, and wet clutch systems. Synthetic formula maximizes power and acceleration Outstanding wet clutch protection for maximum power transfer & smooth shifting Added protection against harmful deposits that can decrease engine performance Excellent wear & corrosion protection to help keep the engine performing its best
Additional Information


Exceeds API services SJ/SG/SF, JASO MA2
Reviews
Luckymann77
A great Group III oil @ a great price !!!
I've done a LOT of research on oils and have concluded the Valvoline 4T 10w 40 is as good or better than all the competitive brands. You want a great performing oil for your precious motorcycle??? Your search is over... Match this with a Purolator PureOne or Bosch filter and you have one of the best performing-best value combinations available. If you are using Dino oil in your bike now, you are doing a disservice to yourself AND your bike, plain and simple. Seriously, this oil will make your bike run cooler and SHIFT SMOOTHER immediately... I'm a believer now that I've tried it... Trust me, you don't have to spend any more for any other brand !!! This is THE STUFF !!!
Thisisanempire
Valvoline Oil
Perfect for my 2005Suzuki GS500F. Don't let the myth that full synthetic oil makes your clutch slip scare you. My bike has a wet clutch and this oil works just fine. Mixed with a K&N oil filter, my bike runs amazingly well.
Chris
Good Oil
I use this oil in my 2010 Yamaha Majesty since new. Also in the Final Drive. Over 6k miles and no problems. even with my engine running 5-6k Rpm at highway speed. The only problem I have is, The Availability at my local store. They keep running out. Have to buy it when I see it.
carbco
Slick Shifting Oil
Tried other Synthetic oil in my GL1800 and this is now My go to oil. price is right and my GL1800 is quiet and doesn't use any. Tried Rotella and after 800 miles shifting became almost impossible. took it out and now use this. Wally World has a great price and my trike loves it.
carboncrank
Motor oil really is just motor oil.
I was a Valvoline user for 50 years and used the quick oil change shops from day one until they at first would no longer let me look under my car as they had for decades to get a look at things like tie rod bushings and especially CV boots, then stopped even letting me out of my car at Valvoline quick oil change shops. That is right, they don't even allow you to get out of your car at quick oil change locations anymore. Nobody does anything to my car that I can't see. As a former service manager in a transmission shop for years, I've seen what some shops will do. when you aren't looking. That is not an accusation, it merely means that if I can't see, the door is open, and cars are an open target for scammers. What they didn't know was that I already knew motor oil is motor oil and the only thing they had going for them was brand loyalty. I was just using their shop out of convenience, not because it's a great product. That fact is that motor oil is not a product, it's a marketing device. All you need to know about any brand of oil is the federally mandated information right on the bottle. API SG, JASO MA for instance totally describes Valvoline 4 stroke motorcycle wet clutch application oil. It is no better than any other oil that is certified in the same way. The brand on the label is irrelevant. The ONLY difference between brands is the way they are marketed. Motor oil is not a product, it is a marketing device. (and synthetic motor oils are not synthetic in any way most people think of when they hear the word synthetic. The base oil they use is out of the ground petroleum. So if you think you doing a good thing by not using petroleum, you are not.) If you doubt anything I've said about oil here just do your homework and go to google and find unbiased facts. Also, notice Walmart doesn't put the mandated information in their product descriptions.