Valvoline Full Synthetic with Max Life Technology SAE 5W-30 Motor Oil 5qt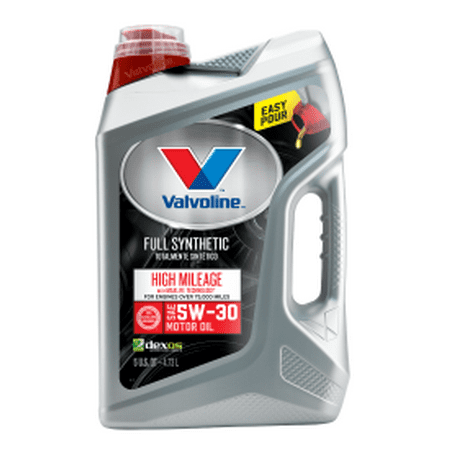 MSRP :

$24.97





Sale :

$21.97

Sold & shipped by Walmart
Product Description

Additional Information

Reviews
Product Description
Full Synthetic with Max Life Technology SAE 5W-30 Motor Oil Choose our ultimate oil for long engine life! Engines over 75,000 miles have added stress from aging seals and typical running over 400F. Full Synthetic with MaxLife Technology handles the heat and has extra ingredients that recondition seals to help reduce leaks and future wear.
Additional Information
Product Features
Dexos approved
High mileage - for engines over 75,000 miles
Must enroll vehicle by 125,000 miles.
See valvoline.com or store for benefits and limitations
Engine Guarantee 300,000 miles 482,780 km
Guarantee valid only in the U.S.A.
For Free car care tips, visit valvoline.com
Don't pollute. Conserve resources. Return used oil to collection centers.
Packing - Recyclable
Please recycle used motor oil
Valvoline,
Lexington,
Kentucky 40509.
Reviews
bwtral
LESS CONSUMPTION
Does not use oil like Mobil 1 did. Engine seems to be a little quieter.
Zesauce
Valvoline Full Synthetic with Max Life 5w30
This motor oil has 40% more protective Film than Mobile 1. This is the BEST 5w30 motor oil on the market!!!! Google (540 Rat Blog) this engineer did independent testing of 200 motor oils. This has "Seal Swell" Conditioners to prevent leaking as do all High Mileage motor oils. This is the best!! Quaker State Ultimate Durability Full Synthetic in 5w30 is $4.00 less and is 2nd best. But it is not a high mileage oil meaning it does not have seal swell. Best Prices on Walmart. com
MickyB
Good stuff
Of all the what's considered a group 3 motor oil this is better than Mobil One. The reason your new car (if you have one) comes with Mobil One it's because the company gives money and perks to companies and shops that will use it. It use to be great 20 years ago. Valvoline is a American company and makes outstanding products.
MickyB
Good stuff
I've been using Valvoline Full Synthetic in my 2000 Mercury Grand Marque sense new. It will turn over the 300,000 mark this year.....
SeattleZach
Keeps my 2004 Camry running smooth
I noticed that with Mobil 1, I would here a slight "click click" of my valves whenever I started the car. Using the Valvoline, it's been nice and quiet! I recently changed the gasket on my engine. When I looked at the cam shafts, everything looked nice and clean. Not a trace of sludge to be found! Looking forward to another 150k of worry free miles.