Valvoline Full Synthetic with Max Life Technology 5W-30 Motor Oil, 5 Quarts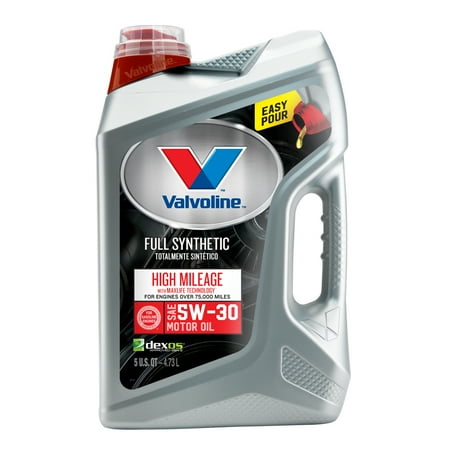 MSRP :

$25.97





Sale :

$22.97

Sold & shipped by Walmart
Product Description

Additional Information

Reviews
Product Description
Every Engine Should Run Like New. From the first use, Valvoline Full Synthetic with MaxLife Technology 5W-30 Motor Oil, (5 qt) (FSwMT) provides your car's engine our maximum protection against heat, deposits and wear. Formulated with more anti wear additives that stay in your oil longer, FSwMT supplies 40% more anti-wear film than Mobil 1*. FSwMT is specially formulated to meet the needs of vehicles as they age past 75,000 miles. It's advanced formula can also be used in newer cars to help prevent the causes of engine breakdown before they begin. Valvoline Full Synthetic with MaxLife Technology is our ultimate level of protection helping your engine run like new longer. *Based on anti-wear film generated in Cameron Plint Test, Valvoline Full Synthetic with MaxLife Technology 5W-30 vs Mobil 1 5W-30
Additional Information
Valvoline Full Synthetic with MaxLife Technology 10W-30 Motor Oil, 5 qt:
40% more anti-wear film than Mobil 1* to the important metal surfaces of your engine
Special seal conditioners rejuvenate seals within the engine block to help prevent oil leaks
Increased anti-oxidants reduce oil breakdown to help prevent engine-clogging sludge and deposit formation
Additional friction-reducing additives help enhance fuel efficiency and horsepower
Shear stable viscosity modifiers help prevent viscosity break down
Enhanced detergents bond to metal surfaces to help prevent deposit formation
Additional advanced ashless anti-wear agents help prevent pre-mature engine wear
All of the benefits of a Full Synthetic motor oil with added technology for engines over 75,000 miles
*Based on anti-wear film generated in Cameron Plint Test, Valvoline Full Synthetic with MaxLife Technology™ 5W-30 vs Mobil 1 5W-30
Reviews
Tator
Great synthetic oil. The best you can buy.
Excellent synthetic oil. Best price you can find. Put in my 2005 Toyota Tacoma - with 75,000 in mileage. Runs smooth.
RandomN1cknam3
Does what it promises
Really quieted my 300,000 mile Pontiac G8 6.0. Highly recommended!
MickyB
Good stuff
Of all the what's considered a group 3 motor oil this is better than Mobil One. The reason your new car (if you have one) comes with Mobil One it's because the company gives money and perks to companies and shops that will use it. It use to be great 20 years ago. Valvoline is a American company and makes outstanding products.
SeattleZach
Keeps my 2004 Camry running smooth
I noticed that with Mobil 1, I would here a slight "click click" of my valves whenever I started the car. Using the Valvoline, it's been nice and quiet! I recently changed the gasket on my engine. When I looked at the cam shafts, everything looked nice and clean. Not a trace of sludge to be found! Looking forward to another 150k of worry free miles.
Money
Best Bang for the Buck!
Best name brand high mileage full synthetic at the best price. You just cannot beat Walmart for oil pricing!